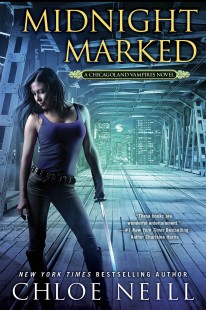 Midnight Marked
(
Chicagoland Vampires #12
)
by
Chloe Neill
Add to:
Goodreads
Synopsis:

As the Chicagoland Vampires series continues, Merit and Ethan find themselves in a deadly game of cat-and-mouse, where winning may require the ultimate sacrifice...

A vampire's grudges don't stay dead long...

Merit is one of Chicago's most skilled vampire warriors; these days, she doesn't scare easily. But she and Master vampire Ethan have made a new and powerful enemy, and he won't give up until he owns the Windy City.

With his last plan thwarted, he's more determined than ever to watch Cadogan burn. Ethan has put the House's vampires on high alert, but their enemy will stop at nothing, including pitting vampire against vampire...

In this deadly game of cat-and-mouse, the stakes are life or death—and winning might mean sacrificing everything...
Review:
"We may fight again, Sentinel. We may rail at each other until the sun breaches the sky. But the truth is this. I love you. And I found you once, that April night. I will always look for you, and I will always find you."

If you were to ask any one of my friends, they'd tell you just how much this series holds my heart. It's not merely the genre or the author, but a deep-rooted connection to these characters. From book one on I've been an avid and invested fan-From the first eyebrow raise and swivel of a chair, Ethan stole my heart. It was insta-love at it's finest…and oh boy do I hate insta-love. What a hypocrite I am.
Throughout the series there have been many ups and downs, in-betweens, and tremendous character growth. Ethan and Merit have been through it all-with and without each other. Stubborn and not to be trifled with, they make an intimidating team. But with each new book, there are many challenges to face, and though they are close to the end, it seems trouble still has a way of finding them.
"Do you remember, Sentinel, the first words you ever said to me?"
I grimaced. "No. But I bet they were rude."
I'd be lying if I said this was my favorite installment….It would also be a gross overstatement to say I didn't like it. Literally so much has happened to these two people, this house, and all their friends that it's about that time where things start to get complicated and begin to circle to a close. I think I know where this author is leading….and I'm more than okay with it. And speaking of such things..
OH-EM-GEE. I just…I can't….I mean…FINALLY. I am beyond words excited for a certain development that might have finally happened! For 12 books I have waited and waited and waited on a baited breath…to no avail. Ms. Neill is the tease of all teases, messing with my heart at each and every turn. Once again I found myself losing breath with every smoldering look, touch, and caress my boy gave Merit, and I became an unintelligible fangirl every time his name was mentioned. As one of my top guys, I will never forget this man…he just exceeds any and every expectation in each installment, putting himself in danger just to keep the girl he loves safe. I will NEVER get tired of my man putting his life on the line for his girl….he will always own me in ways I don't even understand. Just…sighs all around.
He formed a box with his fingers. "I believe it has cars."
I just shook my head. "How have you lived here so long without a ride on the Ferris Wheel?"
"I'm a vampire," he said, as if that was the obvious explanation.
I just sighed.
So, you know, while I wish more things would have transpired (patient I am not), I was more than happy with the direction this story was going. I'm a greedy greedy Ethan whore, him being my only vampire book boyfriend, so is it really that bad that I wanted just a little MORE?? I mean, that's hardly a crime. It says so much that I have stuck with this series through thick and thin, following this wonderful author on her journey to make Ethan and Merit's lives as complicated as possible. I don't read long series-AT ALL-so it really is a big deal I've come this far. Chloe Neill's writing and hilarious banter between characters remains some of my favorite-ever-and now I cannot wait to see how the story concludes. I will miss my dear Ethan so so much….but if his starry eyed look for Merit in this installment is any indication, I know I'm in for a spectacular treat next year. I just hope I can wait. Ugh.
**************************
Interview:
Chloe Neill has come up with a completely fun twist on the interviewing process, allowing access into the mind of the Head of Cadogan House himself-Ethan!!! Take a look at this …… 
1. When you saw Merit for the first time, what was the first thing that crossed your mind?
That she was lovely. And that she was destined for more than even she knew.
2. So, you've only ever had consorts…what made Merit different? What makes her so special?
She is entirely unlike any vampire I'd ever met before. So strong, so stubborn, and so very human. She has been a delightful challenge. An ally and an opponent in very unexpected ways.

3. You have been through Hell and back-of that we are all certain-But this makes me wonder…What is your greatest
fear?
I've no fondness for aspen stakes or sunlight. But the only thing I fear is the possibility of losing Merit. She has become the better half of me.

4. Throughout your very long life, you've lost a lot of people. I'm sure you miss them every day. If you could bring one
person back…who would it be?
My sisters. Even so many years in the past, I still miss them.
Words cannot express how much I love my Ethan and Merit (see any and all of my fangirly reviews for this series). They have stolen a large chunk of my heart and I don't know if I'll ever be able to get it back-or if I even want to. I am so excited to be hosting this wonderful blog tour centering on a wonderful set of characters that have a personality as big as, well, 12 books. If you haven't gotten to try this series out, I suggest you pick up the first story, Some Girls Bite, where Ethan and Merit meet for the first time. Much love and thanks to Chloe Neill for letting our blog join this wonderful event. 🙂
Midnight Marked will be available on March 1st.
Preorder Here on any of these sites!
Amazon | Barnes & Noble | iBooks | Books-A-Million | Kobo | Indiebound
Giveaways:
Us Star-Crossed Ladies are ecstatic to have a special little giveaway of our own, courtesy of Chloe Neill! Hurry and ENTER TO WIN!
The packet will include:
Cadogan House mini-pennant
Cadogan House tote bag
Swag, including bookmarks, a pen, and a Cadogan House key chain
a Rafflecopter giveaway

The fun doesn't stop here. Want more chances to win? You can also enter the Midnight Marked Grand Prize Giveaway, which runs February 11 through March 4 on Chloe's web site.
What is the Grand Prize Giveaway prize?
Engraved Cadogan House medal pendant
$25 Amazon gift card
Tote bag containing Chicagoland Vampires and Devil's Isle Swag
And here is a full list of all the other blogs participating on the tour:
Week One
Monday, February 22 – Booklovers for Life | Snoopy Doo's Book Reviews
Tuesday, February 23 – Fallen for Books | The Book Whisperers
Wednesday, February 24 – Bad Bird Reads | Wild Wordy Women
Thursday, February 25 – StarCrossed Book Blog | Rantings of a Reading Addict
Friday, February 26 – BiblioJunkies | Love Laughter Foreverafter
Week Two
Monday, February 29 – Rabid Reads | The World of Francesca
Tuesday, March 1 (Release Day) – Goldilox and the Three Weres | Saucy Wenches |Literary Escapism | Vampire Book Club | YA Reads
Wednesday, March 2 – Consummate Reader
Thursday, March 3 – Urban Fantasy Investigations | Fangirls Read It First
Friday, March 4 – Paranormal Haven | My Paranormal Kink
Related Posts
Here is my 4 star review for Midnight Marked...being back in Ethan and Merit's world was so exciting!  Be sure to also check out my interview with Ethan and the two giveaways below!