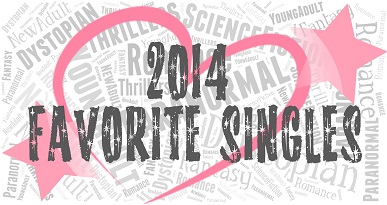 2014 was a phenomenal year, and we are so happy that we get to share our favorites reads with you! Below is a list of all of our favorite books that are stand alone. They may be part of a series or have a spinoff, but how they read you are given closure upon completion. They were read in 2014, but they could have been released a previous year. Click our reviews to learn more about each book, or click the cover to purchase a copy. Below our lists is also a summary of each book – jump to that by clicking here.
Enjoy!
♥ The Star-Crossed Ladies
Jen's Favorite Singles:
Chelsea's Favorite Singles:
Anna's Favorite Singles:
Summary of each book:
Ugly Love by Colleen Hoover
– I loved this book that is wholly controversial. I loved that Miles was a jealous, possessive, closed off ass. I loved Tate with her fragile heart and their stolen moments. I loved it all. When Tate Collins meets airline pilot Miles Archer, she doesn't think it's love at first sight. They wouldn't even go so far as to consider themselves friends. The only thing Tate and Miles have in common is an undeniable mutual attraction. Once their desires are out in the open, they realize they have the perfect set-up. He doesn't want love, she doesn't have time for love, so that just leaves the sex. Their arrangement could be surprisingly seamless, as long as Tate can stick to the only two rules Miles has for her. Never ask about the past. Don't expect a future. They think they can handle it, but realize almost immediately they can't handle it at all. Chelsea's Review
✩✮✩✮✩
Rule by Jay Crownover
–
Rule is the epitome of a douche bag, man whore and a charming, sexy bad boy all rolled into one. Shaw is classy, rich, gorgeous and loyal. Put them together and their interactions were electrifying. Such a sexy, amazing, touching book! Sometimes opposites don't just attract – they catch fire and burn the city down. Shaw Landon loved Rule Archer from the moment she laid eyes on him. Rule is everything a straight-A pre-med student like Shaw shouldn't want – and the only person she's never tried to please. She isn't afraid of his scary piercings and tattoos or his wild attitude. Though she knows that Rule is wrong for her, her heart just won't listen. To a rebel like Rule Archer, Shaw Landon is a stuck-up, perfect princess – and his dead twin brother's girl. She lives by other people's rules; he makes his own. He doesn't have time for a good girl like Shaw – even if she's the only one who can see the person he truly is. But a short skirt, too many birthday cocktails and spilled secrets lead to a night neither can forget. Now, Shaw and Rule have to figure out how a girl like her and a guy like him are supposed to be together without destroying their love…or each other. Jen's Review
✩✮✩✮✩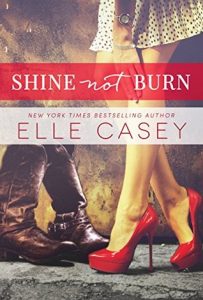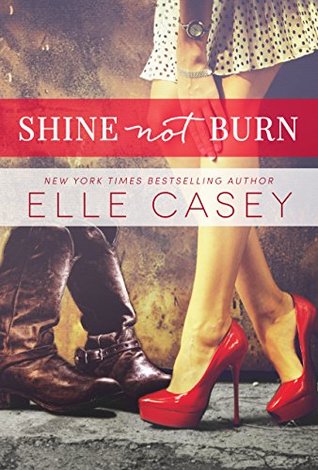 Shine Not Burn by Elle Casey
–
Holy hot cowboys, I love this book! I laughed A LOT, Mack is sooo sexy, Andie is a hysterical drunk, the chemistry between the two of them is HOT and the story reads as though you are watching a movie. IT HAPPENED IN VEGAS. I can't be held responsible. Things that happen there are supposed to stay there, right? Right? Yeeeah. Not so much. Andie's just days away from tying the knot, but there's just ooooone little glitch. Apparently, she's already married. Or someone with her name is married to a guy out in Oregon of all places, and the courthouse won't issue her a marriage license until it's all cleared up. Tripping her way through cow pies and country songs to meet up with a man who gets around places on horseback is her very last idea of how to have a good time, but if she's going to get married, make partner at the firm, and have two point five kids before she's thirty-five, she needs to get to the bottom of this snafu and fix it quick … before her fiance finds out and everything she's been working toward goes up in flames. Jen's Review
✩✮✩✮✩
Wait for You by J. Lynn (Jennifer L. Armentrout)
– Traveling thousands of miles from home to enter college is the only way nineteen-year-old Avery Morgansten can escape what happened at that fateful Halloween party five years ago—an event that forever changed her life. What she never planned on was capturing the attention of the one guy who could shatter the precarious future she's building for herself. Cameron Hamilton is six feet, three inches of swoon-worthy hotness, complete with a pair of striking blue eyes and a remarkable ability to make Avery want things she believed had been irrevocably stolen from her. Getting involved with him is dangerous. Yet ignoring the simmering tension that sparks between them—and brings out a side of her she never knew existed—is impossible.
✩✮✩✮✩
Be with Me by J. Lynn (Jennifer L. Armentrout)
– I love the way J. Lynn books make me feel! They are sweet, sensual and have just enough angst to drive me the right kind of crazy. Teresa Hamilton is having a rough year—she's in love with her big brother's best friend, but he hasn't spoken to her since they shared a truly amazing, mind-blowing, life-changing kiss. Then she got out of a terrible relationship. Now an injury is threatening to end her dance career for good. It's time for plan B: college. And maybe she'll have a chance to convince Jase that what they have together is real. Jase Winstead has a huge secret that he's not telling anyone—especially not his best friend's incredibly beautiful sister. Even though he and Teresa shared the hottest kiss of his life, he knows that his responsibilities must take priority. He certainly doesn't have time for a relationship. But it doesn't help that all he can think about is kissing the one girl who could ruin everything for him. As they're thrown together more and more, Jase and Teresa can't keep denying their feelings for each other. But a familiar danger looms and tragedy strikes. As the campus recovers, the star-crossed couple must decide what they're willing to risk to be together and what they're willing to lose if they're not. . . . Jen's Review
✩✮✩✮✩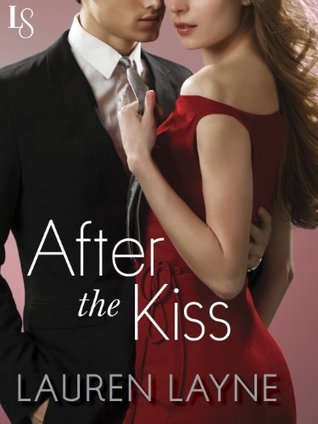 After the Kiss by Lauren Layne
– This one by far had the most painful explosion between the two leads, making my heart tear in two, but it was a beautiful disaster and I loved it. Julie Greene loves flings. Loves steamy first dates, sizzling first kisses, and every now and then, that first sexy romp between the sheets. Comfy pants, sleepy Sundays, movie nights on the couch? Shudder. But when Julie gets assigned the hardest story of her career—a first-person account of that magical shift between dating and "I do"—she'll need a man brave enough to give a total commitment-phobe a chance at more. Normally, Mitchell Forbes would be exactly that man. A devastatingly hot workaholic who tends to stay in relationships for far too long, he should be the perfect subject for Julie's "research." But what Julie doesn't know is that Mitchell is looking to cut loose for once in his life. And the leggy journalist notorious for avoiding love is exactly the type of no-strings fling he's looking for. In other words, Mitchell is the polar opposite of what Julie needs right now. And, at the same time, he's exactly what she wants. Chelsea's Review
✩✮✩✮✩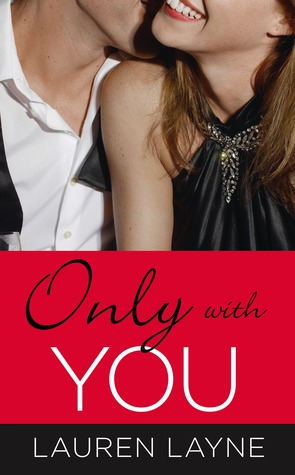 Only with You by Lauren Layne
–
I came out at the end with a huge smile on my face and in the giddiest of moods. Cocktail waitress Sophie Dalton doesn't exactly have a life plan. She's perfectly happy being everyone's favorite party girl. But when a Las Vegas bachelorette party goes awry and an uptight businessman mistakes Sophie for a prostitute . . . well, Sophie wonders if it's time to reevaluate her priorities. Swearing off her thigh-high boots for good, Sophie slinks back home with damaged pride-and a jackpot of a hangover. Yet what happens in Vegas doesn't always stay there. On a trip to Seattle to open a new office, Grayson Wyatt meets his latest employee-who turns out to be the same woman he recently called a hooker. Wealthy and gorgeous, Gray is a man used to getting what he wants. And it doesn't take long to figure out that smart, sassy, sexy Sophie is everything he's been looking for. As their late nights at the office turn into hot morning-afters, they realize their Vegas misunderstanding may lead to the real thing . . . Cheslea's Review
✩✮✩✮✩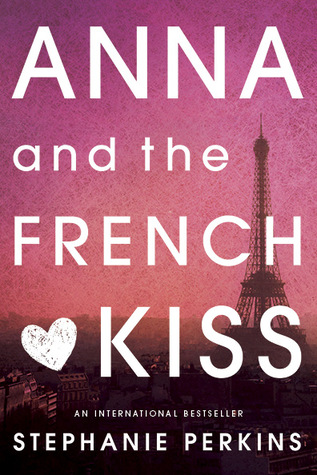 Anna and the French Kiss by Stephanie Perkins
– I loved it. I devoured it. I longed for it when I put it down, and I picked it back up to re-read my favorite parts (turns out? There were a lot of favorite parts) even after I'd finished. Anna can't wait for her senior year in Atlanta, where she has a good job, a loyal best friend, and a crush on the verge of becoming more. So she's not too thrilled when her father unexpectedly ships her off to boarding school in Paris – until she meets Etienne St. Clair, the perfect boy. The only problem? He's taken, and Anna might be, too, if anything comes of her crush back home. Will a year of romantic near-misses end in the French kiss Anna awaits? Cheslea's Review
✩✮✩✮✩
Jellicoe Road by Melina Marchetta
– Well, you have seen me gushing frantically obsessing over this book for a while now, so you know you have to brace yourself because this book? It possibly became my favorite. Ever. That kind of means something when we read a million book a year, right? Abandoned by her mother on Jellicoe Road when she was eleven, Taylor Markham, now seventeen, is finally being confronted with her past. But as the reluctant leader of her boarding school dorm, there isn't a lot of time for introspection. And while Hannah, the closest adult Taylor has to family, has disappeared, Jonah Griggs is back in town, moody stares and all. Anna's Review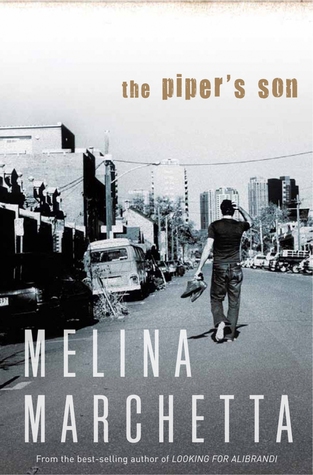 The Piper's Son by Melina Marchetta
– Psss! Hey, you, readers! Months after my reading I still find me thinking about Tom and his family, inside in knots, and that's so rare I couldn't not acknowledge that feeling. Please, if you feel the urge to step out your comfort zone, just try it. The story reopens the group of friends from her acclaimed novel Saving Francesca – but five years have passed, and now it's Thomas Mackee who needs saving. After his favorite uncle was blown to bits on his way to work in a foreign city, Tom watched his family implode. He quit school and turned his back on his music and everyone that mattered, including the girl he can't forget. Shooting for oblivion, he's hit rock bottom, forced to live with his single, pregnant aunt, work at the Union pub with his former friends, and reckon with his grieving, alcoholic father. Tom's in no shape to mend what's broken. But what if no one else is either? An unflinching look at family, forgiveness, and the fierce inner workings of love and friendship, The Piper's Son redefines what it means to go home again. Anna's Review
✩✮✩✮✩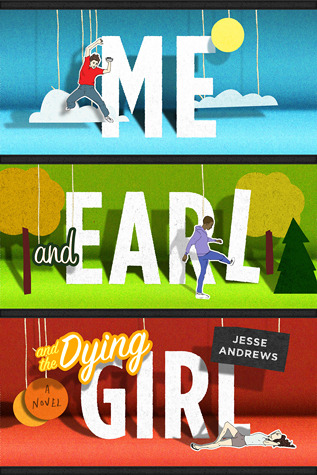 Me and Earl and the Dying Girl by Jesse Andrews
– To read this book was the best and the worst idea I could have : – Perfect because I couldn't stop laughing. – Not-so-perfect because I couldn't stop laughing in public. Out loud. Up until senior year, Greg has maintained total social invisibility. He only has one friend, Earl, and together they spend their time–when not playing video games and avoiding Earl's terrifying brothers–making movies, their own versions of Coppola and Herzog cult classics. Greg would be the first one to tell you his movies are f*@$ing terrible, but he and Earl don't make them for other people. Until Rachel. Rachel has leukemia, and Greg's mom gets the genius idea that Greg should befriend her. Against his better judgment and despite his extreme awkwardness, he does. When Rachel decides to stop treatment, Greg and Earl make her a movie, and Greg must abandon invisibility and make a stand. Anna's Review
✩✮✩✮✩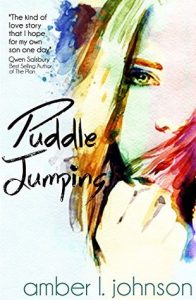 Puddle Jumping by Amber L. Johnson
– When it comes to love there's no such thing as conventional. Everyone thinks Colton Neely is special. Lilly Evans just thinks he's fascinating. Once friends when they were younger, their bond is cut short due to her accident prone nature and they go their separate ways. Years later, they meet again and Lilly learns that there is something special about the boy she once knew, but she has no idea what it all means. And she's not sure if she's ready to find out.
✩✮✩✮✩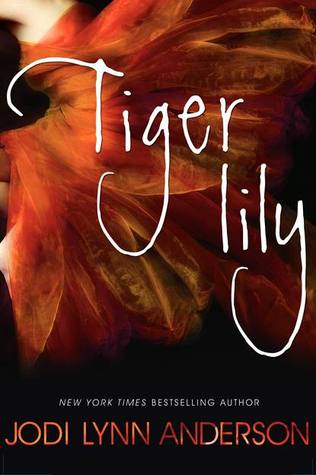 Tiger Lily by Jodi Lynn Anderson
– I took a huge breath when I closed the book then I felt the need to reopened it almost instantly. I'm pretty sure this striking story will be etched in my mind –Tiger Lily slowly enchanted me, worming its way into my heart – and will haunt me for a long time. Before Peter Pan belonged to Wendy, he belonged to the girl with the crow feather in her hair… Tiger Lily. When fifteen-year-old Tiger Lily meets the alluring teenage Peter Pan deep in the forbidden woods of Neverland, the two form a bond that's impossible to break, but also impossible to hold on to. As the leader of the Lost Boys, the most fearsome of Neverland's inhabitants, Peter is an unthinkable match for Tiger Lily. However, when Wendy Darling, a girl who is everything Tiger Lily is not, arrives on the island, Tiger Lily discovers how far she is willing to go to keep Peter with her, and in Neverland. Anna's Review
✩✮✩✮✩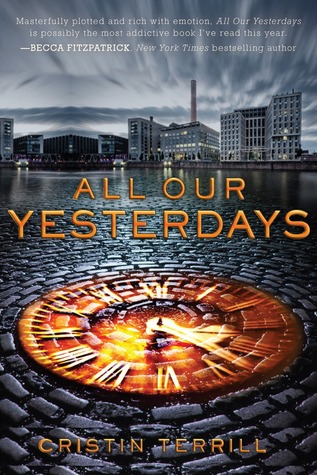 All Our Yesterdays by Cristin Terrill
– A compelling, fascinating and fast-paced plot served by a never boring writing. You have to kill him. Imprisoned in the heart of a secret military base, Em has nothing except the voice of the boy in the cell next door and the list of instructions she finds taped inside the drain. Only Em can complete the final instruction. She's tried everything to prevent the creation of a time machine that will tear the world apart. She holds the proof: a list she has never seen before, written in her own hand. Each failed attempt in the past has led her to the same terrible present—imprisoned and tortured by a sadistic man called the doctor while war rages outside. Marina has loved her best friend James since the day he moved next door when they were children. A gorgeous, introverted science prodigy from one of America's most famous families, James finally seems to be seeing Marina in a new way, too. But on one disastrous night, James's life crumbles apart, and with it, Marina's hopes for their future. Now someone is trying to kill him. Marina will protect James, no matter what. Even if it means opening her eyes to a truth so terrible that she may not survive it. At least not as the girl she once was. Anna's Review
✩✮✩✮✩
Maybe Not by Colleen Hoover
– When Warren has the opportunity to live with a female roommate, he instantly agrees. It could be an exciting change. Or maybe not. Especially when that roommate is the cold and seemingly calculating Bridgette. Tensions run high and tempers flare as the two can hardly stand to be in the same room together. But Warren has a theory about Bridgette: anyone who can hate with that much passion should also have the capability to love with that much passion. And he wants to be the one to test this theory. Will Bridgette find it in herself to warm her heart to Warren and finally learn to love? Maybe. Maybe not.
✩✮✩✮✩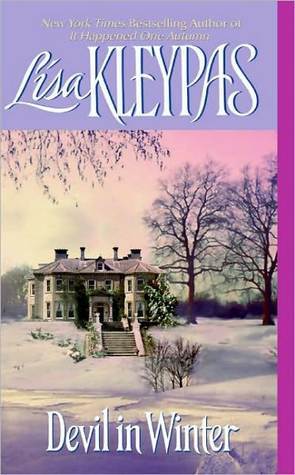 The Devil in Winter by Lisa Kleypas
– Easily the shyest Wallflower, Evangeline Jenner stands to become the wealthiest, once her inheritance comes due. Because she must first escape the clutches of her unscrupulous relatives, Evie has approached the rake Viscount St. Vincent with a most outrageous proposition: marriage! Sebastian's reputation is so dangerous that thirty seconds alone with him will ruin any maiden's good name. Still, this bewitching chit appeared, unchaperoned, on his doorstep to offer her hand. Certainly an aristocrat with a fine eye for beauty could do far worse. But Evie's proposal comes with a condition: no lovemaking after their wedding night. She will never become just another of the dashing libertine's callously discarded broken hearts — which means Sebastian will simply have to work harder at his seductions…or perhaps surrender his own heart for the very first time in the name of true love.
✩✮✩✮✩
We hope you enjoyed our favorite books that are stand alone and that you found some fabulous new books to read!
You can see more of our yearly recommendations for Favorite Single Books HERE.
You can also see more of our yearly recommendations for Favorites From a Series HERE.
Related Posts