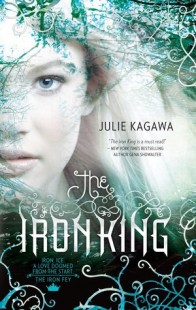 The Iron King
(
The Iron Fey #1
)
by
Julie Kagawa
Purchase on:
Amazon
, 
iBooks
Add to:
Goodreads
Synopsis:

MEGHAN CHASE HAS A SECRET DESTINY—ONE SHE COULD NEVER HAVE IMAGINED…

Something has always felt slightly off in Meghan's life, ever since her father disappeared before her eyes when she was six. She has never quite fit in at school…or at home.

When a dark stranger begins watching her from afar and her prankster best friend becomes strangely protective of her, Meghan senses that everything she's known is about to change. But she could never have guessed the truth.

For Meghan is the daughter of a mythical faery king…and a pawn in a deadly war. Now Meghan will learn just how far she'll go to save someone she cares about, stop a mysterious evil no faery creature dare face…and find love with a young prince who might rather see her dead than let her touch his icy heart.
Review:
***3.75 stars*** I enjoyed the first 12% and LOVED the last 42% but everything else in between was not my style. Even though I didn't enjoy almost ½ of the book I'm DEFINITELY continuing on because that last 42% was gripping, enchanting and left me with the urge to figure out what in the world is going to happen to them. I became attached to the characters, ok maybe I fell for one of them ;), and I am absolutely more than intrigued to continue reading about them.
Megan Chase is getting ready to turn 16 and her life has never been just normal. Her father disappeared when she was 6 years old, her stepfather seems to forget she even exists and her little brother honestly believes that his stuffed toy Floppy talks to him. After Megan starts seeing "things" her world gets turned upside down. Her best friend Robbie isn't who she thought he was and a situation forces her hand to travel to the faery world to rescue someone she loves. I loved everything up until this point and this is where the book turned strange for me. The world building, creature descriptions and situations were colorful, livid and I felt as though I was there in every scene with Megan. BUT I didn't enjoy it like I should have. The world was strange, the creatures were creepy and the situations in the middle of the book made me feel blah. I wasn't intrigued by anything that was happening. I had heard and read great things about this series, so I trudged along and then something finally happened; I became immersed in the book again. Around 58% I became glued to my book!
I enjoyed the character Megan but I loved Prince Ash, Robbie and Grimalkin. Prince Ash came across as such a cold hearted jerk. But I knew, just knew, that I would eventually fall for him right along with Megan. Prince Ash is loyal to his word, can be compassionate when he wants to be, and his words and attitude make you want to punch him, run away from him or fall into his arms. Fortunately the last one won out more and more 😉 I can't wait to see what the future has in store for Ash and I hope that his facade and heart continue to thaw out. And then we have Robbie. I wasn't a huge fan of Robbie in the beginning. He came across as blunt and I just didn't get his type of humor. But somewhere through the journey I started to love Robbie. He is endearing, has a good heart and truly cares for Megan. And lastly there is Grimalkin. He is a cat. I NEVER thought I would enjoy a cat in a book but I did! I loved his "whatever" attitude and his commentary on what was happening around him. Whenever he popped in, you just knew you were going to be completely entertained.
Overall, the beginning and end of the book was more than enough to make me want to follow Megan through her future journeys and read hopefully A LOT more about Prince Ash. I can't wait to see what happens!
Related Posts