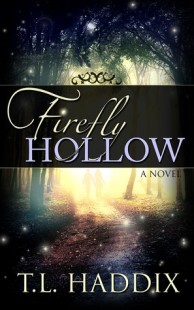 Firefly Hollow
(
Firefly Hollow #1
)
by
T.L. Haddix
Purchase on:
Amazon
, 
iBooks
Add to:
Goodreads
Synopsis:

In 1960, a tragic death in the family calls young Sarah Browning back from college to her Appalachian homestead. Unable to return to school and finish her degree, she finds herself facing a future that isn't what she'd planned. Lost and grieving, she wanders onto her reclusive neighbor's property where she stumbles across the all-too-attractive Owen Campbell, a man hiding secrets she'd only ever thought were legend.

Owen Campbell was raised on the folklore of Eastern Kentucky, tales of men and women with magical abilities from shape-shifting to healing powers. Rejected by those he loves because of his own abilities, he isolates himself from the world. When he meets Sarah, he's faced with the tough decision of whether to let her in or stay hidden away to keep his heart safe.
Want to know what happens while reading Firefly hollow? Actually, that's pretty simple : this novel takes your expectations and quietly blows them away.
► The story takes place in the 60s. We expect sexism, or at the best case, some infatuated girl. We get an incredibly independent and rational heroine.
"Listen, Tony, I don't mean any offense, but I need this job. I'm not looking for a man to take care of me. I can take care of myself."
I can't express how much I liked Sarah : contrary to many books, we're not only told that she's smart and rational, no. This side of her personality can be seen in each and every one of her actions, and saying that I enjoyed following her would be an understatement. Indeed she never overreacts, knows what she wants and is ready to fight to obtain it – she's courageous, and doesn't need a savior. During my read there were so many times I was proud of her, even if the choices she has to make aren't world saving choices. No, that's life, and that's fucking great as it is, because would I have been able to live in the 60s as a woman? I'm not sure. Okay, she's a virgin, but as I've already said with historical heroines, what annoys me something fierce in New Adult don't bother me at all here. Why? Because what I find completely ridiculous and unbelievable in 2015 was perfectly understandable at this time. So, what, she's a virgin. She's unmarried. She lives in 1960 for Pete's sake. That's pretty believable to me.
"Oh, no! Tony, are you okay? I am so clumsy. This sort of things happens to me all the time," Sarah said, standing over the injured man. To Owen's utter astonishment, and not slight satisfaction, as she bent over the insurance agent, she managed to drop three of the books she'd be carrying… right on Tony's groin."
► This is a romance with paranormal elements. We fear some stalkerish alpha male. We get a protective but adorable male-lead.
Owen Owen Owen. I guess I have to warn you that I'm pretty sure I fell in love with him. He's just so adorable, so gentleman – Damn, he manages to succeed in handling perfectly every situation where others could have been changed to jerks.
Let's have a look at some of them :
– Have women the right to work, even married?
– What about the dishes and other housework?
– What's up with the sexual needs of a woman?
Here's a man who isn't afraid to let the woman he loves live, make her choices.
Here's a man who wants to protect her but never tries to deny her ability to stand for herself.
Here's a man who is so fucking adorable in each and every one of his attentions.
Here's a man so selfless that I wanted to hug him. Damn, I was grinning like a fool even when he was saying "I adore rhubarb."
"Sarah and I haven't discussed marriage yet, thank you, but when and if we get to that point, Sarah's free to make her own place however she sees fit. I don't hold with the tradition that a woman should stay pregnant and barefoot unless that's what she wants."
Congratulations, Owen, you're perfect, and for once I'm not even chastising you for it, because you have your share of mishaps and doubts. Go meet him, all of you romance lovers, you won't be disappointed.
Because OWEN. OWEN. OWEN. Sigh.
► This is a shifter story. We intend to meet a wolf or a coyote. Well, okay, there's a wolf, but there's also a deer. A fucking DEER. And I know, I know, that shouldn't be important but what can I say, I was changing into a giggling child each time we got to see this adorable deer. I don't know what that says about me. Oh, well.
► This is an indie author. Maybe the writing isn't that great. Now, I'm not saying that indie authors don't know how to write a story, of course. But I wanted to stress how much I adored T.L. Haddix's writing : it's beautiful, and above that, it just flows smoothly and I was completely hooked from page one, stars in my eyes and smile on my face. That's all.
► This is a romance. Don't expect to meet great secondary characters. I am in love with this family, especially Sarah's mother.
That's really rare when the mother of a main character pleases me that much, but I must confess that her apparitions were one of my favorite parts in the book : in a nutshell, she raises her daughter in a way that gives her the ability to stand for herself, be independent and never ashamed of what she wants. Plus, she's hilarious – the condoms scene makes me laugh out loud, I must admit. However, if I had a complaint to make, it would have been the way Sarah's sister is portrayed throughout the book – I can't deny that I had a hard time understanding her but in the end, I get it, and well, I hope she'll have her HEA someday.
"A good twenty minutes later, Sarah said, "It helps if you turn the pages. Makes the story much more interesting."




Owen's face heated, and he gave a rueful shake of his head. "I've heard that."
► Again, this a romance. We can brace ourselves for an unbelievable love-story. The relationship between Owen and Sarah is gradual, believable, and all kinds of cute.
From the first time they meet to the sex scene, via the first kiss, I never rolled my eyes. Not once. Because although it was cute, it always stays realistic and believable.
THANKS FOR THAT.
▒ This book made me happy, smiling, laughing and feeling so much that I'm pretty sure it won't be long before I'll grab the sequel. ▒
Related Posts