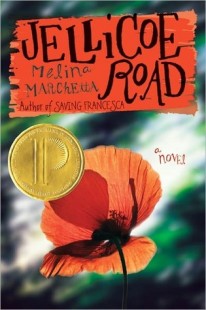 Jellicoe Road
by
Melina Marchetta
Purchase on:
Amazon
, 
iBooks
, 
Book Depository
Add to:
Goodreads
Synopsis:

In this lyrical, absorbing, award-winning novel, nothing is as it seems, and every clue leads to more questions.

At age eleven, Taylor Markham was abandoned by her mother. At fourteen, she ran away from boarding school, only to be tracked down and brought back by a mysterious stranger. Now seventeen, Taylor's the reluctant leader of her school's underground community, whose annual territory war with the Townies and visiting Cadets has just begun. This year, though, the Cadets are led by Jonah Griggs, and Taylor can't avoid his intense gaze for long. To make matters worse, Hannah, the one adult Taylor trusts, has disappeared. But if Taylor can piece together the clues Hannah left behind, the truth she uncovers might not just settle her past, but also change her future.
Review:
Jellicoe Road was not for me.  I'm not one for stories where every single thing is shrouded in mystery.  Where nothing makes sense and I am left stumbling through the dark.  Where at 40% I can only understand a few things and then thankfully by 50% I can stop looking at my notes for who is who.  That in itself kept shocking me.  I don't think I've ever had to make notes for characters or could not for the life of me remember the heroines name.  I kept trying to find something, anything that would suck me in.  That would make me feel!  That would snare me and make me become enraptured.  But besides liking one character, I couldn't find anything to connect with.  Everyone else loves this book and I'm clearly not in that camp.  So here I am, knowing sadly that yes, this book was definitely not for me.
This is a story about a girl, Taylor Markham.  She lives at a boarding school and not only has she been placed in charge of her fellow classmates, but she also overseas a territory war against neighboring schools/students.  She has been abandoned by her mother and the rest of her past is well, the best way to describe it is hazy.  But then again, so are the people around her.  Hannah is the closest person to her, and I couldn't understand their friendship or interactions at all.  I know that we aren't supposed to understand everything.  That this book is filled with mystery and I probably should have found beauty in that.  But sadly, I just couldn't.  All I know is that I couldn't connect to the storyline or Taylor.  She was so angry, self-centered and immature for her age and it kept rubbing me the wrong way.
Honestly, I kept contemplating a DNF.  But I loathe doing that because I'll always wonder what if.  What if the future pages of the book could suck me into the story?  So I trudged along and FINALLY at 60% the storyline got interesting.  I'm not sure if it was because of Jonah or if I finally got a strong grasp on what everything was about?  Either way, I'm thankful that I got to that mindset.  Now Jonah, for me, was an amazing character.  He is a military student who in any other book would become one of my book boyfriends.  He was that sexy, amazing and tons of other descriptions that I don't want to say because his highs and lows are better left to find out for yourself.  But unfortunately, Jonah and his interactions with Taylor could not make me become invested.  I've never been more disappointed that I couldn't love a book that others do.  So, well,  it's safe to say that this style of book was definitely not meant for me.
Related Posts