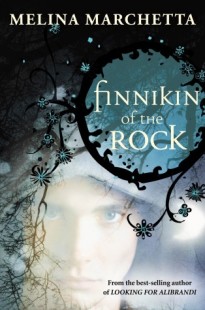 Finnikin of the Rock
(
Lumatere Chronicles #1
)
by
Melina Marchetta
Purchase on:
Amazon
, 
iBooks
Add to:
Goodreads
Synopsis:

Finnikin of the Rock and his guardian, Sir Topher, have not been home to their beloved Lumatere for ten years. Not since the dark days when the royal family was murdered and the kingdom put under a terrible curse. But then Finnikin is summoned to meet Evanjalin, a young woman with an incredible claim: the heir to the throne of Lumatere, Prince Balthazar, is alive.

Evanjalin is determined to return home and she is the only one who can lead them to the heir. As they journey together, Finnikin is affected by her arrogance . . . and her hope. He begins to believe he will see his childhood friend, Prince Balthazar, again. And that their cursed people will be able to enter Lumatere and be reunited with those trapped inside. He even believes he will find his imprisoned father.

But Evanjalin is not what she seems. And the truth will test not only Finnikin's faith in her . . . but in himself.
4 stars – 4.5 stars – 5 stars? Oh, well, I don't know people. Sorry.
Finnikin of the Rock is the story of people who try to step forward, and forward, and forward… Until perhaps, one day, perhaps they'll share a land called home again.
"Speak, Finnikin wanted to shout at her. Lay blame. Shout. Rage. Rage!"
Ready to travel with me?

Finnikin of the Rock is a journey. The journey of Lumatere people who struggle to survive after their exile. I'll be honest, I didn't expect it to move me so much – and yeah, I realized pretty fast what a fool I'd been to underestimate Melina Marchetta's ability to take my heart and squeeze it. Hard.
The fact is, I'm always fooled in the same way with this author : I'm travelling through her words, confident, conceited even, until I come across a sentence which breaks my heart. Repeatedly.
"Men who in Lumatere had voices loud and passionate, who provided for their families and were respected in their villages. Now they sat in silence and relied on their children to translate for them as if they were helpless babes. Finnikin wondered what it did to a man who once stood proud. How could he pass on his stories without a language?"
There's a lot of talking in this book but it never bothered me. Why? Because as Sir Topher expresses it, stories and languages and well, talking are links we don't want to destroy. They're bonding, history, family.
People of Lumatere are going through all the trials refugee have to face. Yes that's fantasy, yet their suffering sounds so real and reminds me so much of what happens near every one of our houses I got chills. Sadly, I don't think there's a country in the world which doesn't have its refugee, somehow, and yeah, sure, we could argue that their country didn't disappear magically like Lumatere – no, war and poverty and corruption and selfishness did it. I'm not sure it isn't worst.
"You are evil," he seeted.
"Oh, the way that word is thrown around!" she said. "Everything is evil that humans can't control or conquer."
In addition to the necessity to forget their own language, entire families find themselves scattered throughout the kingdoms closed to Lumatere after the disappearance of their home. Desperate. Abused. Threatened. Hopeless.
Cursed.
There's so much to say about the plot and yet I'm feeling as I've already said too much. The only thing you need to know is this : following Finnikin, Evanjelin, Sir Topher and all the other *cough* Froi! *cough* has been a meaningful experience for me and I can only hope you'll feel even a glimmer of the emotion I felt.
As per usual with Melina Marchetta, the characterization is flawless. Really, I'm in awe of this author for her ability to create characters so real. Far from perfect. Both loveable and detestable. Each and every one of them found the path to my heart, each in their own way. Although I can be annoyed by their doubts (yes Finnikin, I'm totally staring at you – but yes, I still love you), amused by their repartee, in love with their courage, frightened for them – and sometimes, by them, they can make me feel restless, proud, mad, confused –
If I you ask me to tell you one thing about them, it'd be that they never ever leave me indifferent.
Finally, what can I say about the writing apart from repeating how beautiful it is? I always trusted Melina Marchetta to create complex and so dynamic characters. Now I know she can also deliver full-detailed settings. Indeed her words resonate within us, mesmerizing, alternating between descriptions full of details and short sentences when the action requires it.
Well, I think that's pretty clear that I loved this book, even if in some parts I felt a bit lost and wavering, especially in the third part which was a bit anticlimatic. But then, in my opinion no book is perfect, and I enjoyed so much this journey I can't hold a grudge.
I'll let you with this quote –
"Perhaps they would act as a deterrent. He could not believe anyone who heard such stories of wickedness would allow it to happen again."
Oh dear Finnikin, if you knew…
Related Posts