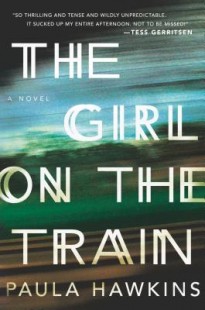 The Girl on the Train
by
Paula Hawkins
Purchase on:
Amazon
, 
iBooks
, 
Book Depository
Add to:
Goodreads
Synopsis:

A debut psychological thriller that will forever change the way you look at other people's lives.

Rachel takes the same commuter train every morning. Every day she rattles down the track, flashes past a stretch of cozy suburban homes, and stops at the signal that allows her to daily watch the same couple breakfasting on their deck. She's even started to feel like she knows them. "Jess and Jason," she calls them. Their life—as she sees it—is perfect. Not unlike the life she recently lost.

And then she sees something shocking. It's only a minute until the train moves on, but it's enough. Now everything's changed. Unable to keep it to herself, Rachel offers what she knows to the police, and becomes inextricably entwined in what happens next, as well as in the lives of everyone involved. Has she done more harm than good?
۰•● One sudden disappearance.
۰•● Two train journeys a day while Rachel seeks happiness out of her life. Morning, evening, morning, evening. All these fucking useless days. I suffered for her, because she's so lonely and hopeless – yet her story could appear to be banal. Alcoholic, divorced, ashamed. So much shame on her shoulders, so much shame but not the force to change, not the force to fight. Because why fighting? Why fighting when we've nothing to gain? Why? I couldn't help but ache for her, in a way that I'm not accustomed to feel. Who could we call, who, to help her?
Are there people out there who are able to help someone without wanting a paycheck in exchange? A money paycheck, a virtuous paycheck, a reconnaissance paycheck, a foil to make you look good paycheck? All different but all the same old shit.
"I have never understood how people can blithely disregard the damage they do by following their hearts. Who was it said that following your heart is a good thing? It is pure egotism, a selfishness to conquer all."
۰•● Three unreliable narrators who make us wandering blind throughout the whole story. The creepy factor is always here between the lines, while we start getting hints of truth, the tension slowly growing until we can't help but suspect each and every one of the characters we meet. Okay, maybe not the police officer though. Or yeah? I don't know anymore, and trust me, you won't either. Despite the fact that I guessed a great part of the end toward the 70% mark, the story never became boring – that's quite the opposite, actually.
"They're a match, they're a set. They're happy, I can tell. They're what I used to be, They're Tom and me, five years ago. They're what I lost, they're everything I want to be."
۰•● Three women whose lives are shattering.
۰•● Four men's smiles I didn't trust at all.
۰•● Five reasons to read it.
① To savor this compelling writing, which makes this book literally unputdownable.
② To travel through this fast-paced and haunting story.
③ To meet these fleshed-out, multi-layered characters.
④ To start an excruciating journey into the worst side of human lives – or is it the most banal, in fact? The truth we're hiding in the light of the day? This despair we don't want to aknowledge?
⑤ You just want to know what happens, don't you?
۰•● Six feelings I endured. Angst. Despair. Anger. Heartbreak. Shame. Fascination.
"The holes in your life are permanent. You have to grow around them, like tree roots to grow around concrete ; you mould yourself through the gaps."
۰•● Seven for a secret never be told.●•۰
۰•● A million quotes. I had to choose, though.
Related Posts