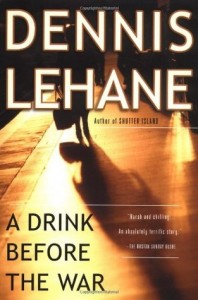 A Drink Before the War
(
Kenzie & Gennaro #1
)
by
Dennis Lehane
Purchase on:
Amazon
, 
iBooks
, 
Book Depository
Add to:
Goodreads
Synopsis:

Patrick Kenzie and Angela Gennaro are tough private investigators who know the blue-collar neighbourhoods and ghettos of Boston's Dorchester section as only natives can. Working out of an old church belfry, Kenzie and Gennaro take on a seemingly simple assignment for a prominent politician: to uncover the whereabouts of Jenna Angeline, a black cleaning woman who has allegedly stolen confidential Statehouse documents. But finding Jenna proves easy compared to staying alive. The investigation escalates, implicating members of Jenna's family and rival gang leaders, while uncovering extortion, assassination and child prostitution extending from bombed-out ghetto streets to the highest levels of state government. With slick, hip dialogue and a lyrical narrative pocked by explosions of violence, A Drink Before the War confronts a city in which institutionalized bigotry and corruption are often the norm, and the true nature of 'racial incidents' is rarely clear. Dennis Lehane's remarkable debut is at once a pulsating crime thriller and a mirror of our world, one in which the worst human horrors are found closest to home, and the most vicious obscenities are committed in the name of love.
Once that ugliness has been forced into you, it becomes part of your blood, dilutes it, races through your heart and back out again, staining everything as it goes. The ugliness never goes away, never comes out, no matter what you do. Anyone who thinks otherwise is naive.
There have been so many books I've read and fallen in love with, lately. I'd love to say I'm just that good at picking out books and taking extraordinary leaps to try new and exciting genres and different authors…but that's rarely the case. Yes, I have gotten so picky nowadays that I don't generally find many stinkers…but I don't usually take many risks. But I guess that's what I can count on one of my best friends and co-bloggers for-In the last year, I can attribute about, hmm, 80% of my favorite/absolute favorites to an adventurous alien named Anna. She takes risks I never would have had the guts to go through with, ie I Hunt Killers, This is Not a Test, Pines, etc. As you can see, she is my proverbial guinea pig, if you will.
I looked at the grenades. Didn't have a clue what to do with them. I had the feeling that if I left the house, they'd roll off the bed, take out the entire building. I picked them up, gingerly, and put them in the fridge. Anyone broke in to steal my beer, they'd know I meant business.
My point in saying all this, if you haven't guessed, is that she has helped me find some amazing books that I never would have tried. And with this gift, I have began to really expand my horizons, to really open my eyes wider to greater, grander stories. Do you realize how nice it is, how very very nice, to not be pigeon-holed to one genre? I LITERALLY go through moods and mercurial spurts for months on end where I don't know what the fuck I'll be in the mood to read. Meaning, it could be three months of fantasy, and then, inexplicably, all of a sudden I just HAVE to try a contemporary, or a dystopian (when done right, still my favorite), or a paranormal or whatever I feel like, really. I never have a clue, month-to-month, day-to-day, what I will want to read. That's why, when in the mood, I hurry to devour the very genre I'm obsessed with because I have no clue-literally none-when I will be in the mood for it again.
Vanity and dishonesty may be vices, but they're also the first forms of protection I ever knew.
As it is-I'm obsessed with tortured boys and thrillers right now. It kind of goes hand in hand that I'm so obsessed with this genre, though. What's not to love about peril, mystery, and young men who are ambiguous in character and tortured within? Whoops. Did I say that out loud….Yes, okay, I'm a sick little weirdo-get over it! You know this, if you read any of my reviews. I love flawed characters that long for a better life, for the girl they can't have, etc. etc. I don't know, call me crazy, but I just can't seem to get enough of these types of books.
I'd been a punching bag for my father for eighteen years, and I'd never hit back. I kept believing, kept telling myself, it'll change; he'll get better. It's hard to close the door on optimistic expectations when you love someone.
I guess, even if just briefly, I need to talk about the book and it's characters right? Patrick…boy have I heard a lot about this Patrick ;). He and Angie, his partner….okay. Never mind. I don't know how to do this!!
I ran my hands through my hair, felt the grit and oil from the last day, smelled the trash and waste on my fingers. At that moment, I truly hated the world and everything in it.
They get cases. They investigate crimes. They turn the people in when they find them (to their clients). Patrick has been in love with Angie since the third grade. Angie is married to an asshole. Patrick doesn't like the asshole….so he puts him in his place, every now and then, in sensible ways with sensible objects….sensibly.
L.A. burns, and so many other cities smolder, waiting for the hose that will flood gasoline over the coals, and we listen to politicians who fuel our hate and our narrow views and tell us it's simply a matter of getting back to basics while they sit in their beachfront properties and listen to the surf so they won't have to hear the screams of the drowning.
In this story, they are hired by real top-of-the-class types who have lost some documents after the maid up and left with them. What was supposed to be a simple case turns out to be deeper, scarier, more deathly than they ever could have imagined. And it is only opening them up to what I'm sure will be a very exciting series.
My gun is, as Angie would say, "not a fuck-around thing." It's a .44 magnum automatic-an "automag," they call it gleefully in Soldier of Fortune and like publications-and I didn't purchase it out of penis envy or Eastwood envy or because I wanted to own the goddamned biggest gun on the block. I bought it for one simple reason: I'm a lousy shot.
Bahaha this is all I thought about-
I wish I had gotten more time to read this because I know I ruined many parts because I was so tired. I would pick up the book, totally excited, and then only get 10% done when I would start to nod off-seriously, my puppy is psycho. And I'm not so stupid as to think this book was boring-it wasn't. I would just be getting somewhere, something happening, and then BAM-my eyes started to close. Ugh. ARGHHH! So aggravating. So, a 3.5, I think, is fair. I can't say for sure it wouldn't have been higher or lower…but, from what I read, I liked that I felt deeply…and everyone knows I go based on feelings. I got good vibes from this one.
I looked at Angie again. I wasn't worried about her; I was considering what would happen to my business if my partner shot the dicks off a barful of people in Lansington. I wasn't sure, but I didn't think we'd be able to keep that office in the church.
All in all a wonderful addition to add to my list of ever-growing Anna wins. I only hope the series continues to grow on me. I hear great things about this wonderful cast of complex and flawed characters, making me excited to dig deeper into their world. I'm 10% into book two, and I already have a 5 star sitting pretty and ready to go…I figure it couldn't get any lower, right?? RIGHT?! Sigh. Guess I'll see!
Angie once said, "Maybe that's what love is-counting the bandages until someone says, 'Enough.'"
Maybe so.

****************
Didn't even read the blurb.
Don't need to because Anna said….Patrick.
K.
Related Posts