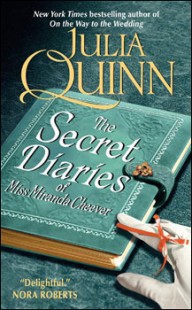 The Secret Diaries of Miss Miranda Cheever
(
Bevelstoke #1
)
by
Julia Quinn
Purchase on:
Amazon
, 
iBooks
, 
Book Depository
Add to:
Goodreads
Synopsis:

2 March 1810 . . . Today, I fell in love.

At the age of ten, Miranda Cheever showed no signs of Great Beauty. And even at ten, Miranda learned to accept the expectations society held for her—until the afternoon when Nigel Bevelstoke, the handsome and dashing Viscount Turner, solemnly kissed her hand and promised her that one day she would grow into herself, that one day she would be as beautiful as she already was smart. And even at ten, Miranda knew she would love him forever.

But the years that followed were as cruel to Turner as they were kind to Miranda. She is as intriguing as the viscount boldly predicted on that memorable day—while he is a lonely, bitter man, crushed by a devastating loss. But Miranda has never forgotten the truth she set down on paper all those years earlier—and she will not allow the love that is her destiny to slip lightly through her fingers . . .
▒ 24 JULY 2015 ▒
Good Lord. Today I fell in love. And then I fell out of love. Sigh.
I ought to be shameful, I know that. What is it exactly? Have I the attention span of a squirrel (don't ask why a squirrel, I have no idea)? I wonder, I wonder.
And yet things had started so well. It appears that I can't help myself : give me a smart, brave, strong-minded heroine who doesn't shy away from her desires and a – a what exactly? A sexy broken man? Put them together and then let the magic begin : hilarious and witty banter, ever growing sexual tension – how could I not fall in love now tell me? It must be a conspiracy or something.
And then Turner started to act like a selfish jerk, so childish, really (I mean really? Seven weeks?) – not to mention 2 or 3 occurrences of grabbing wrists to make people listen to him (I know I'm sensitive about that, maybe too much, but I can't help, there are other way to make a point than using your strength) – just get over yourself, guy, you've been betrayed in the past, yes, but come on. There's a difference between being tortured and bitter, broken and bully. Turner crossed this line and I couldn't find in me to care about him anymore.
And then everything went downhill : pages and pages of unnecessary drama (I mean 2 pregnancies, a wedding, ridiculous and downright stupid miscommunications, a near death experience Aaaghhh THIS IS TOO-MUCH!). Oh. My. God. Just stop already. And please don't give me a child to explain the big revelation (aka. Turner finally realizing that he loves her). I might choke on the cliché here.
They both stay too whiny and insecure far too long for me to bear.
In the end, I couldn't care less about their HEA, and the last page made me GAG. But hey, to each his own, right? As far as I'm concerned, I'll stick with Lisa Kleypas and Tessa Dare.
Can I have a cookie now?
Related Posts