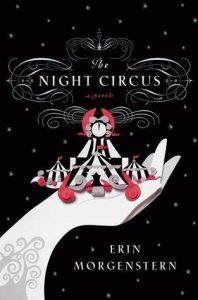 The Night Circus
by
Erin Morgenstern
Purchase on:
Amazon
, 
iBooks
, 
Book Depository
Add to:
Goodreads
Synopsis:

The circus arrives without warning. No announcements precede it. It is simply there, when yesterday it was not. Within the black-and-white striped canvas tents is an utterly unique experience full of breathtaking amazements. It is called Le Cirque des Rêves, and it is only open at night.

But behind the scenes, a fierce competition is underway—a duel between two young magicians, Celia and Marco, who have been trained since childhood expressly for this purpose by their mercurial instructors. Unbeknownst to them, this is a game in which only one can be left standing, and the circus is but the stage for a remarkable battle of imagination and will. Despite themselves, however, Celia and Marco tumble headfirst into love—a deep, magical love that makes the lights flicker and the room grow warm whenever they so much as brush hands.

True love or not, the game must play out, and the fates of everyone involved, from the cast of extraordinary circus performers to the patrons, hang in the balance, suspended as precariously as the daring acrobats overhead.

Written in rich, seductive prose, this spell-casting novel is a feast for the senses and the heart.
"You are in the right place, at the right time, and you care enough to do what needs to be done. Sometimes that is enough."
Books have the power to transport us. To transform us. To take us anywhere in the world we want to go. We can live different lives, become the hero, become someone we're too scared to be in real life. We get to be the best version of ourselves, and it's all nestled in the pages of books. But who tells us those stories? Are the storytellers the heroes themselves? Do the authors live their best life, or are they living out a fantasy right alongside us, bringing their dreams to life, letting us immerse ourselves into their delicately woven illusions? That's the power of storytelling…and it's the heart of this book.
The circus is one of those phenomenons that either strike you odd or ignite your whimsical, child-like side that can't help but be addicted to it's splendor. I'll admit I've never had an opinion either way-yes, I went as a child, but no, not often and not enough to truly obsess about it. But during college, I picked up a book centered around a circus because it was coming out as a movie-Water for Elephants. I loved it. And I can't say I immediately needed more books about a circus, but I wasn't who I am now. I didn't think to expand on a topic that was new to me, that appealed to me, because I simply didn't understand that I could. The thought didn't even cross my mind.. I didn't obsess like I do now. And…well…I can obsess like no one's business.
And here's the thing-circuses are, like, a coveted theme now. Caraval, Legendary (which is what lead me here because I NEED MORE CIRCUS), and, obviously, as mentioned above, Water for Elephants. And, ya know, I just can't seem to find that many circus books that appeal to me. Everyone is obsessed, there are movies that touch on it, and yet, these are the only circus books that speak to me, and they are all vastly different. One is about running away with the circus to chase your dream and finding out the circus is far darker than you could ever have imagined. One is whimsical and flowery and completely mysterious-a game within a game within a game. And then, inexplicably, one is literally made because of a game. The sole purpose of the characters' lives…is to win a game against an unnamed opponent. So here we are. My point in all this was-it's a total fandom and I'm just now jumping on the bandwagon, but I fell hard after Finale (especially), and now I have nowhere to go, like I've hitched my wagon to a horse that's reached the end of it's journey.
I wouldn't change it for the world-I've piqued with Tella and Scarlett, Dante and Julian, Jacob and Marlena, and, most recently, Marco and Celia. It's been a slow journey over the years, building up into something inexplicably magical and wholly unattainable, when you get right down to it. Nothing will ever live up to this wonderful batch of books. And, with this latest discovery, I feel so wholly…uplifted.
"The circus arrives without warning. No announcements precede it. It is simply there, when yesterday it was not."
When I finished this book, it was like the air was vacuumed from my lungs-I was breathless. Speechless. I was crying, FFS. Like…why? It wasn't as if this whole book wasn't beautiful-it was-and the romance??? My God the romance. It was everything. The atmosphere? Otherworldly. Mesmerizing. Dazzling. Glamorous. But it was as if a piece was missing. I adored it, mind you, but it felt unfinished, in a way. I couldn't explain it. I was missing that unforgettable 'wow' factor everyone seemed to have grasped onto. And I didn't get it because I had gotten what I wanted-the peril. The romance. The break down. The ultimate sacrifice. Yet my heart wasn't full. But then. Then.
"Someone needs to tell those tales. When the battles are fought and won and lost, when the pirates find their treasures and the dragons eat their foes for breakfast with a nice cup of Lapsang souchong, someone needs to tell their bits of overlapping narrative. There's magic in that. It's in the listener, and for each and every ear it will be different, and it will affect them in ways they can never predict. From the mundane to the profound. You may tell a tale that takes up residence in someone's soul, becomes their blood and self and purpose. That tale will move them and drive them and who knows what they might do because of it, because of your words."
I can't explain it. I still can't, even after sleeping on it. Words have truly failed me-And words are what help me express what's built up inside me, helps me move on and feel whole after finishing a book I love, or, in some cases, didn't love. But, the best I can explain it is like this: Imagine you got everything you wanted…but didn't know what you needed to make you feel complete. You just knew something was missing. And then. THEN. The end. The narrator. The representation of what it means to tell stories. To create worlds. To bring everyone together through intricately woven layers of words that bring vivid imagery to your mind, but still letting people see it as they wish, played out in their own minds as they want to-the story is the same, but everyone gets there differently-different images and different people and different ideas.
"The finest of pleasures are always the unexpected ones."
The way words are made so powerful with a few sentences…it makes your not-so-full heart suddenly overflow with words-so many words-too many words-Emotions, ideas, realizations. It makes the romantic peril so much more. The end of the game's meaning becomes vastly larger. The people surrounding the players come to life so vividly, like you didn't even see them the whole time, even though they were so clearly there. I don't get it. I don't understand it. All I know is I'm gone for this book, and it's like it all clicks into place, all at once, and this book is groundbreaking, jaw-dropping, and axis tilting. And never in my life has this happened to me. Ever.
Brilliant. Breathtaking. Awe-inspiring. Spellbinding. And still I find my review inadequate and feel as though I'm a kindergartner posing as an adult. But let's get to the reason this novel spoke to me (I mean yes the end, but the romance still owns my soul).
"Celia, wait," Marco says, standing but not moving closer to her. "You are breaking my heart. You told me once that I reminded you of your father. That you never wanted to suffer the way your mother did for him, but you are doing exactly that to me. You keep leaving me. You leave me longing for you again and again when I would give anything for you to stay, and it is killing me."
"It has to kill one of us," Celia says quietly."
I don't even know how to explain what Celia and Marco have, and I surely don't know how to explain what their game truly entailed-it wasn't what I expected in any capacity, and I find it almost jarring. It was technically a battle, yes, but was it really? To me it was watching from afar, gazing at someone that you could never possibly have, yet falling for them anyway, trying to dazzle them without them realizing it and, more importantly, you not even realizing it, yourself. Not realizing you have fallen for that someone yourself and that you're trying to impress them more than actually win the game. And, surrounding that, we have characters that I didn't think I could possibly be interested in, yet I had just as much of my heart at stake with them as with Celia and Marco.
"I have tried to let you go and I cannot. I cannot stop thinking of you. I cannot stop dreaming about you."
Okay. Well. Not AS much, but technicality.


And the sacrifice on top of sacrifice and technically forbidden love. The slow build. The feeling of falling for someone without trying to, fighting it every step of the way until you realize you're already too far gone. And, the end, when you reveal what we all already knew but needed confirmed-that wish tree. Revealing your deepest truth.. I got intense and immeasurable feels, tears sprang to my eyes (still, though, not as much as at the end, inexplicably), and it was like the saddest but happiest conclusion. Amazing. And still, I have no breath left to breathe.
And, I do feel I need to say this, but I feel as if I'm stealing someone else's words. Arielle is the reason I tried this book again, so I obviously looked at her review before giving this one a go. And I'll quote her indirectly to address one of the more appealing aspects of this book-the chapters that use 2nd person POV to make you feel as though you're walking around the circus yourself. She nailed it on the head-it's so surreal, and it almost doesn't work and you kind of question it, but, in the end, it immerses you into the story and it makes you feel as if you're a part of the world, which only heightens your senses and makes the feels more intimate. And, okay, that was EXTREME paraphrasing and lots of my own thoughts mixed in, but you get the idea. You feel like you're in the circus and, in the end, that adds to the breathlessness and utterly profound feeling, too.
I'll admit this one isn't for all. Yes, I will be pushing it on people, much like many of my favorites. Though, it takes someone special, someone willing to fight through not only an extremely slow burn romance, but a slow build-up to anything really happening, as well. But, once again, this new Chelsea has found a book that's slow paced and somewhat day to day, a book she'd have hated back in the day, a book that she will cherish forever. This book is made for us readers and storytellers, it's like a love note to those who want to voice their dreams…and it's so utterly magnificent and glamorous that I can't help but continue to ramble, continue to push, continue to buy all the editions of it (woo buddy I've got a pretty one coming!)-and what else can you really ask for in a story? I mean, honestly.
****
Words cannot express the emotion I felt upon finishing this book. This was so much more than a romance-and I never say that. This is for all the readers who feel they are never heard, understood. Who feel they are out on an island with no one to listen to them. For those who feel the world has lost it's whimsy. Who feel that storytelling is considered a lost form of art. This book has such a deep, profound message that you can't truly unfurl until the very last page-and, somehow, it makes this book so much better. So much more meaningful-it strikes you deaf and dumb and speechless. And, most importantly, it gives a voice to the readers and story-tellers who strive to keep words alive.
I was breathless when I closed this book. I had tears in my eyes. A story seared into my soul.
Dazzling. Enchanting. Breathtaking.
A forever favorite.
There are truly no words to express the depth of respect I have for this book and it's creator.
RTC.
Related Posts