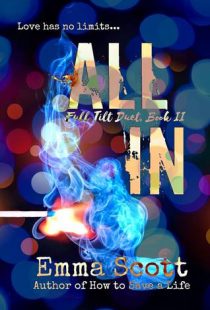 All In
(
Full Tilt #2
)
by
Emma Scott
Purchase on:
Amazon
Add to:
Goodreads
Synopsis:

*HUGE SPOILERS FOR THE 1ST BOOK - FULL TILT*

*********************************************************************************

Reeling from her loss, Kacey Dawson is grieving and heartbroken, her addictive demons hauling her back into the alcohol-soaked abyss she worked so hard to crawl out of. Kacey teeters on the edge of oblivion, and must fight her way through the pain, to build a new life for herself with her music, and somehow fulfill the promise she made to Jonah…one she feels is impossible to keep.

Theo Fletcher has a secret burning in his heart, one that he holds close, while he struggles to keep strong for his family that is falling apart. His mother's health is fragile and his father's disapproval is breaking him down. Theo is afraid if he follows his heart, he'll fail, and not just himself, but his brother who believed in him when no one else did.

Drawn together by their pain, Theo and Kacey slowly build a friendship, re-forge old ties, help each other to heal, and give one another the courage to reach for their dreams. Together, from the depths of grief and guilt, they learn to laugh again, to trust again, and quite possibly find something beautiful and lasting amid the shattered pieces of their broken hearts.
***HUGE SPOILERS FOR FULL TILT! You can read my review of the 1st book, Full Tilt → here***
*********************************************************************************************************
Review:
All In was an enjoyable conclusion to the Full Tilt trilogy. Their lives were nicely wrapped up, and we received not one but two epilogues looking into their future. I fell for both Kacey and Theo in the first book, and I loved the moments that showed us clues Theo was interested in Kacey. It gave me hope that Kacey would get her happily ever after since it seemed inevitable that Jonah wasn't going to survive. So I started this book with my heart in the palm of my hands. Especially since the Prologue backtracked to when Theo went into Jonah's hospital room to say goodbye for the very last time. Their conversation brought tears to my eyes, I miss Jonah so unbelievably much! But I knew Theo would keep the promise he made to his brother. That Theo would make Jonah more than proud!
Goddammit, Jonah, come back and fix all this because I fucking can't. – Theo
Fast forward six months after the funeral and Theo is still reeling. Not only from the loss of his brother, but Kacey has fled and he has no clue where she went. Watching Theo's interactions with his parents, friends and co-workers was devastating. He tried to put on a good show, but he was so stilted from all of the pain weighing him down. And when he was alone, the amount of suffering he radiated was monumental.
My chest constricted and tears burned behind my closed eyes. After six months, I should've been used to the way he snuck up on me. Little bits of conversation. Little slivers of memory.
Little moments.
Jonah. – Kacey
Kacey is in an even darker place than Theo. She is drowning herself in alcohol to numb the pain. Being drunk 24/7 allows her to continue on with her life and her music. Even if she knows she's teetering on the edge of killing herself. While Kacey continued to spiral hard out of control, I held out faith that Theo would rescue her. Much like how Jonah rescued her in Full Tilt.
But as the story progressed, I found myself struggling here and there. At times I couldn't fully connect to the characters. It was like what I went through while reading the second half of How To Save A Life. Which shocked me, because Full Tilt was a solid 5 Stars and I loved these characters. While I more than loved how the story played out, I constantly found myself being pulled away from being emotionally connected. I'm not sure if it's because I was still hung up on the epicness of Full Tilt or if in fact parts of this book just honestly fell flat. So I'm going to try and pick this book back up again down the road. These characters more than deserve that and I'm going to hold out hope that I fall just as madly for this story as I did for Full Tilt!
*ARC kindly provided by author via Netgalley in exchange for an honest review*
Reading Order & Links:
Amazon (click on covers) & Book Depository (click on book #)

Full Tilt #1
Reviews:
Jen

Full Tilt #2
Reviews:
Jen
Related Posts