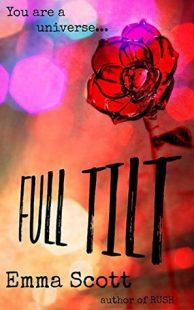 Full Tilt
(
Full Tilt #1
)
by
Emma Scott
Purchase on:
Amazon
Add to:
Goodreads
Synopsis:

"I would love you forever, if I only had the chance..."

Kacey Dawson has always lived life on the edge--impulsively, sometimes recklessly. And now, as lead guitarist for a hot up-and-coming band, she is poised at the brink of fame and fortune. But she is torn between wanting to be a serious musician, and the demons that lure her down the glittering, but alcohol-soaked path of rock stardom. A wrecked concert in Las Vegas threatens to ruin her career entirely. She wakes up with the hangover from hell and no memory of the night before, or how she ended up on her limo driver's couch...

Jonah Fletcher is running out of time. He knows his situation is hopeless, and he's vowed to make the most of the handful of months he has left to him. His plans include seeing the opening of his glass installation at a prestigious art gallery…they do not include falling in love with a wild, tempestuous rock musician who wound up passed out on his couch.

Jonah sees that Kacey is on a path to self-destruction. He lets her crash with him for a few days to dry out and get her head on straight. But neither of them expected the deep connection they felt, or how that connection could grow so fast from friendship into something more. Something deep and pure and life-changing…something as fragile as glass, that they both know will shatter in the end no matter how hard they try to hold on to it.

Full Tilt is a story about what it means to love with your whole heart, to sacrifice, to experience terrible grief and soaring joy. To live life with all its beauty, and all its pain, and in the end to be able to smile through tears and know you wouldn't have changed a thing.
Review:
Full Tilt was an emotional powerhouse that kept me on a wonderfully vicious cycle.  I found myself smiling, then laughing, then swooning and then crying.  And I would repeat that time and again.  I completely loved this book, even when I didn't want to.  Even when I was scared out of my mind, right alongside Kacey, that Jonah wouldn't make it. *shuddering breath*  So I must advise you to step into this story at your own risk, because your heart will definitely be on the line and put through the wringer.  But it's worth it.  I swear.  It's more than worth it.
I kissed Jonah Fletcher with all of my heart, and with every piece of my soul that would love him forever.
Kacey and Jonah met in the most different of situations.  You see Kacey was an up and coming rock star.  She was in a band that was on the brink of huge stardom.  She drank herself into blackouts to avoid the world and her reality.  And those that surround her sure as hell weren't going to help pull her out of that cycle.  Jonah on the other hand kept to his strict schedule, since receiving a heart transplant.  He didn't drink or smoke, ate crazy healthy and he had his days and life planned out for him.  Then one night, Jonah was Kacey's limo driver. Kacey was in one of her blackouts and Jonah being the good guy that he is, took her home.  So she could be safe.  He rescued her in a sense, and Kacey realized it.
"Every time I see you, I think, This is it. She cannot possibly look more beautiful than she does right now. And then I see you the next time."
While they seemed worlds apart, they were both desperately looking for a connection.  For someone who they could confess their deepest, darkest secrets and fears to.  A friend that would always be there.  No matter what.  And after spending not even five minutes together, you could just tell that they were going to be something spectacular.  You know how sometimes you meet someone and you just know they're going to be your best friend in the world?  Well that's how their interaction felt like.  While there was an underlying simmering of sexual tension, what stood out was their connection.  How they pulled out the best from one another.  How they were able to feel comfortable just being around each other.  I loved watching their friendship unfold.
"So, the whiskey bottles ," I said, nodding at the lights. "Are you repurposing my bad habits?"
He smiled. "No, just a friendly reminder."
"Of what?"
"That you can find beauty everywhere, even in the things that scare you the most."
I became invested in hoping that Kacey would get her act together and I became terrified of how Jonah's healing after his transplant panned out.  And as the pages passed, I can't even put into words how alive and real they felt to me.  How they became insanely important to my happiness.  The more I learned about them, the more they interacted, the more I fell for this book.  I loved how much I smiled, laughed and even had tears in my eyes.  Full Tilt was filled to the brim with characters whose emotions were pounding against my heart to feel what they felt.
"You don't give up," I shrieked, making him flinch. Making me flinch at the hysteria that was lurking just below the surface.
As the clues unfolded, I had a good idea where this book was headed.  Especially when it became.. View Spoiler »so obvious that his brother felt something for Kacey. The goosebumps on his arms when she touched him, to breaking up with his girlfriend, to him not having a date at the art exhibit etc. I had a guess that the 2nd book would be about them getting together. « Hide Spoiler  I don't want to say whether I'm elated or devastated, because I don't want to give away the ending.  But know that I am most definitely looking forward to diving right into the second book in this duology!  I can't wait to see what happens, even though this book doesn't have a cliffhanger!  While How To Save A Life and I didn't mesh all the way, I completely fell in love with Full Tilt.  Full Tilt was beautifully heart wrenching and I can't wait to read more of her books!
*ARC kindly provided by author via Netgalley in exchange for an honest review*
Reading Order & Links:


Amazon

(click on covers)

& Book Depository

(click on book #)


Full Tilt #1
Reviews:
Jen

Full Tilt #2
Reviews:
Jen
Related Posts