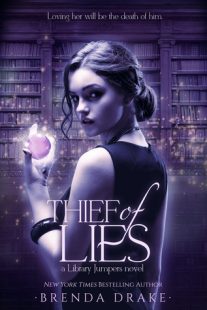 Thief of Lies
(
Library Jumpers #1
)
by
Brenda Drake
Purchase on:
Amazon
, 
iBooks
Add to:
Goodreads
Synopsis:

Gia Kearns would rather fight with boys than kiss them. That is, until Arik, a leather clad hottie in the Boston Athenaeum, suddenly disappears. While examining the book of world libraries he abandoned, Gia unwittingly speaks the key that sucks her and her friends into a photograph and transports them into a Parislibrary, where Arik and his Sentinels-magical knights charged with protecting humans from the creatures traveling across the gateway books-rescue them from a demonic hound.

Jumping into some of the world's most beautiful libraries would be a dream come true for Gia, if she weren't busy resisting her heart or dodging an exiled wizard seeking revenge on both the Mystik and human worlds. Add a French flirt obsessed with Arik and a fling with a young wizard, and Gia must choose between her heart and her head, between Arik's world and her own, before both are destroyed.
Review:
***Updated Review After Re-Read***
Thief of Lies was addicting and completely entertaining.  And I'm so glad that I re-read this book!  You see, the first time I picked this up, I struggled connecting to the characters.  The story was so much fun, but I never felt as though I was fully immersed until Bastien appeared on the pages, and well I'll talk more about him later.   But this time around, it all clicked into place.  I was so happy because Thief of Lies was an adorable story filled with adventure and magic!  And I can't wait to see how this series unfolds!
Time crept by as I waited for Bastien, and I closed my eyes.  But the nightmare of where I was and who I didn't know I was, strangled my breath.  Gia Kearns didn't exist anymore.  She'd been lost somewhere on that first day when the gateway book ripped her from her world, dumping her in a dark hole.  A fog surrounded me.
But to start, can you imagine what it would be like to jump from library to beautiful library?  Well Gia and her friends accidentally jumped through a book and landed in a library in Europe.  Yet it's not all ahhh this library is breathtakingly gorgeous and I'm going to sit here and read some fabulous books.  They become witness to the Sentinels, who protect the libraries with magic, kill a demonic hound that almost took out Gia, our heroine.  Within the group of magical knights that saved them was Arik.
"Did you just check out my boobs?" I whispered. Please say yes.
"No." He smirked. "Okay, yes. I am a guy."
That you are. I yanked the covers up to my chin and suppressed a smile.
At first, Arik was everything I adore.  Sexy, secretive, protective and with a wounded past.  He had so much potential!  Yet I had a love hate relationship with him.  Luckily, this time around I got why he was being standoffish and cold to Gia.  But at other times, he could be so sweet and charming.  Yet, I never felt any electricity between Gia and Arik.  Their moments together didn't leave me all smiley and giddy, so I truly don't feel like he's the right guy for Gia.  Especially when he said things like the quote above.  So I nicely stepped off Team Arik.
I gulped down my fear, drew my sword from its scabbard , and kept it close to my side.
Gia had a lot on her plate, and she tried her best adapt while leaving her old life temporarily behind (I can't say why, but you learn the why early on in the book).  Yet it took me a while to warm up to Gia.  At times, she got caught up in being jealous and boy obsessed.  It came across as immature, and I wanted her to work harder on finding herself. But as I watched her deal with her new world and a new set of people/creatures I loved her resilience.  Even though she kept getting thrown into situations that were way above her head, I loved how she reacted realistically while she also jumped right in to help others.  Gia is someone who showed huge possibilities for growth, and I can't wait to see how much she'll learn and improve as the series progresses.
"With time, I'll prove to you we belong together. Go ahead and have your fun with Arik, but it's my arms you'll end up in one day."He kissed my cheek and headed over to the gathering crowd. – Bastian to Gia
I have to talk about Bastien now, or I will burst.  Oh Bastien.  From the first moment that he appeared on the page, I was captivated.  He was a wizard who was confident, sexy and strived to do great things while dealing with a broken heart.  He fascinated me.  And whether it was his sense of knowing himself or knowing what he wanted, he felt so much more grown up than Arik.  The words and manor that Bastien spoke to Gia always left the hugest smile on my face.  He was respectful, caring and I loved that he seemed in control.  So I truly hope Gia sees what I see and comes around.  Please oh please don't end up with Aric by the end of this series and break my heart.
"I take it you're not used to rejection," I said.
He lifted a smile. "I'll admit it's a rare occurrence."
Arik took a step toward us. "All right, we're finished here."
Bastien stood and leaned over to my ear. "You not wanting nobility intrigues me.  I'm curious to learn more about you, Gianna." His whisper tickled my neck and sent a shiver down my back.  I held my breath, every inch of my body at attention.  He straightened, gave me a wink, and swaggered to the door with Arik on his heels.
Besides Bastian, Gia and Arik, we're introduced to a lot of characters who range from witches, wizards, sentinels, fae etc.  On top of that, we learn about many different places and kinds of magic.  But I never once felt overwhelmed or lost.  We're slowly introduced with little bits of info here and there, except for a few info dumps that  were relatively quick.  So it was easy to take it all in.  And ironically, I thought the story was somewhat simplistic a few chapters in, but I couldn't be more wrong.  It continually grew and become more elaborate and layered as each chapter went by.  Especially when I started to discover clues and meet people err creatures? who were bent on not only revenge, but also ruling their world and the humans world too.  It was so entertaining!  So I can't wait to see how the story proceeds, and here's hoping you'll join me and be on Team Bastien!
I grabbed a stapler and crouched behind the nearest cabinet. Nick and Afton ducked down beside me. I pulled the leg down on the stapler, held it up, and readied it to shoot.
"Yeah, that'll work," Nick said.
PS I have to give a shout out to her best friend Nick who could be grumpy at times, but I adored him.  And Afton, her other best friend, was this lovable girl who warmed me heart!  Ohhhh and Lei, she's a Sentinel that is funny, sweet and kick ass.  I can't wait for you to meet all of them!
PPS I finished Guardian of Secrets (the 2nd book in the series) last night and LOVED!  It's 4.5 Stars and this series just gets better and better!  My review will be posted on February 6th with the Blog Tour. ♥
Related Posts