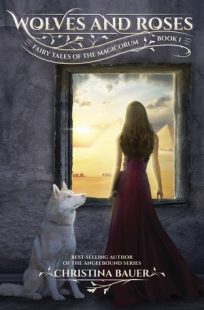 Wolves and Roses
(
Fairy Tales of the Magicorum #1
)
by
Christina Bauer
Purchase on:
Amazon
, 
iBooks
, 
Book Depository
Add to:
Goodreads
Synopsis:

Seventeen-year-old Bryar Rose has a problem. She's descended from one of the three magical races—shifters, fairies, or witches. That makes her one of the Magicorum, and Magicorum always follow a fairy tale life template. In Bryar's case, that template should be Sleeping Beauty.

"Should" being the key word.

Trouble is, Bryar is nowhere near the sleeping beauty life template. Not even close. She doesn't like birds or woodland creatures. She can't sing. And she certainly can't stand Prince Philpot, the so-called "His Highness of Hedge Funds" that her aunties want her to marry. Even worse, Bryar's having recurring dreams of a bad boy hottie and is obsessed with finding papyri from ancient Egypt. What's up with that?

All Bryar wants is to attend a regular high school with normal humans and forget all about shifters, fairies, witches, and the curse that Colonel Mallory the Magnificent placed on her. And she might be able to do just that--if only she can just keep her head down until her eighteenth birthday when the spell that's ruined her life goes buh-bye.

But that plan gets turned upside down when Bryar Rose meets Knox, the bad boy who's literally from her dreams. Knox is a powerful werewolf, and his presence in her life changes everything, and not just because he makes her knees turn into Jell-O. If Bryar can't figure out who—or what—she really is, it might cost both her and Knox their lives… as well as jeopardize the very nature of magic itself.
Review:
Wolves and Roses captivated my attention with unique ideas, characters that I quickly loved and a story-line that was tons of fun!  I was hoping to pick up a book that was entertaining and enjoyable, and by that first page I knew I had found the exact book I was looking for.  So if you adore paranormal romance that has a strong and snarky heroine, a fabulous best friend, a swoon worthy guy and a mystery that pulls you in, then definitely check out this book.
Now is not the time to worry about Knox. It's the time to tell my best friend that I killed someone and burned her house down.
Yipes.
Straightening my shoulders, I knock on the door. – Bryar
I've never read a story where characters are supposed to live out their lives according to their fairy tale theme.  What a fun idea!  They're referred to as Magicorum and they belong to one of the three magical races: shifters, witches, or fairies.  Bryar Rose is supposed to be following her Sleeping Beauty life template, but she's definitely failing at that.  Yeah she has three fairies watching over her, a charming Prince who wants to marry her, and she has to use an inhaler to keep from falling asleep.  But the girl could care less about following her path because she's obsessed with finding papyri from ancient Egypt.  And she dreams about this hot guy, Knox, that is definitely not the Prince she is supposed to marry lol.
"Don't order me around."
Damn. I want to do more than order her around. I want to build my life around this girl . Know her thoughts. Touch her skin. Bring her into my world and never let go.
How can one woman upend your entire existence so quickly? – Knox
Ohhh I loved Bryar Rose!  From her brutally honest thoughts to letting others know her opinion, she had me cracking up with her snarky ways!  She definitely doesn't take anyone's garbage and I loved how she stood up for herself and those she loved.  She's fiercely loyal, especially with her best friend Elle who is also failing at following her life template.  Elle's is Cinderella btw.  So between Bryar hunting for papyri and Elle being an expert jewel thief and con artist, they quickly find themselves in some situations that has them befriending two guys that I love, Knox and Alex.  I loved how the four of them formed a friendship and worked together.  The way they interacted made me into a smiling and laughing fool.  
I gently stroke Wolf-Knox's neck. "What can I do to help?"
"Run from here." Wolf-Knox's voice is so low I can hardly hear him. "Never come back."
My blood turns cold. "But you'll die."
Oh my gosh, I heart Knox so hard.  He's a powerful werewolf and I couldn't help but love his growly ways.  We quickly learn that he is protective, fierce and oh so sexy.  Thankfully some of the chapters are in Knox's voice, and I loved seeing the world through his eyes.  I loved hearing what he thought of Elle, the extra clues we learned from him and the internal fights he had with his inner wolf had me cracking up.  Knox is definitely book boyfriend material!  So I desperately wanted Bryar to fall for him as fast and as hard as I did.  But here's the thing, Bryar is stubborn and fights her attraction to Knox.  
This isn't the ending to any fairy tale template, but I'm not sure I want to follow someone else's path anymore.
This time, the choice is mine. – Bryar
So I'm going to be purposely vague about how the plot unfolds, because it's more fun not knowing what's going to happen!  Just know that the ending was perfect!  It wrapped up some pressing issues, but there's still a lot that needs to be resolved or figured out.  So yes, I can't wait to read the next book!  I can't wait to be surrounded by these characters I loved again.  Even if I did guess how a few things turned out, I didn't care at all.  This book was too much fun and the writing was so easy to devour.  So until that next book releases, I'm definitely looking forward to reading other books this author has written!
*ARC kindly provided by Monster House Books LLC via Netgalley in exchange for an honest review*
About Author:

Christina Bauer knows how to tell stories about kick-ass women. In her best selling Angelbound series, the heroine is a part-demon girl who loves to fight in Purgatory's Arena and falls in love with a part-angel prince. This young adult best seller has driven more than 500,000 ebook downloads and 9,000 reviews on Goodreads and retailers.

Bauer has also told the story of the Women's March on Washington by leading PR efforts for the Massachusetts Chapter. Her pre-event press release—the only one sent out on a major wire service—resulted in more than 19,000 global impressions and redistribution by over 350 different media entities including the Associated Press. Christina graduated from Syracuse University's Newhouse School with BA's in English along with Television, Radio, and Film Production. She lives in Newton, MA with her husband, son, and semi-insane golden retriever, Ruby.

Website / Blog / Facebook / Twitter / Instagram / LinkedIn

Want news about our latest releases and deals? Sign up for our newsletter!
Giveaway:
Save
Save
Save
Related Posts
Wolves and Roses was soooo much fun and I can't wait to devour the rest of this author's books! Check out my 4.5 Star Review below and enter a fabulous giveaway! Enjoy!