So in anticipation for the final book in this trilogy releasing October 26th, I re-read the first two books. And I loved this book just as much the second time around! Check out my 5 Star Review for Fractured Suns below and if you haven't picked up the 1st book in this trilogy, it's FREE right now! Enjoy!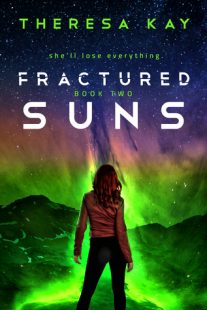 Fractured Suns
(
Broken Skies #2
)
by
Theresa Kay
Purchase on:
Amazon
, 
iBooks
Add to:
Goodreads
Synopsis:

Reunited with her brother, and surrounded by Flint, Peter and her new-found grandfather, Jax Mitchell has still never felt more alone. The choice to follow Rym back to the city to find answers and see Lir is an easy one, but their reunion is cut short and Jax is forced to leave Lir behind. She finds herself traveling with some unexpected companions and heading back toward a place she'd hoped to never see again.

After being imprisoned—and tortured—on the orders of his uncle, Lir hasn't seen daylight or linked to anyone in weeks. After a lifetime of connection, the pain and loneliness is almost too much to bear. Elated that Jax actually came, Lir finds renewed hope and strength to continue fighting his uncle's influence over the E'rikon, even when things look hopeless and Lir's been branded a traitor by the very people he's trying to save.

While Jax and Lir fight separate battles, their missions have more in common than they realize. It's a race against time to stop men driven only by greed and power. But the people they trust the most might be the very people working against them—and "family" doesn't mean what it used to. Will they recognize their friends from their enemies in time to save the people they love or will they lose each other in the process?
Review:
*Spoilers for Broken Skies #1
(but the 1st paragraph is safe to read)*
Oh you guys.  This book.  This amazing book.  I tear up even thinking about this story, because Fractured Suns was breathtaking.  It quickly pulled me back into the story and I found myself immersed in a world and surrounded by characters that I love.  And be prepared, because my emotions felt as though they were being pulled all over the place.  Happy and sad tears streaked down my face while I spent a good portion of the story smiling.  This book was so much fun.  It had peril, heartbreak, action, lies, betrayal, love, redemption and I was definitely glued to the pages.  But you want to know what the kicker was?  I'm not one of those people who will read until the wee hours of every night because my kiddos wake up at 6am, or earlier if I'm lucky ha.  But Fractured Suns refused to be put down.  I stayed up until 2:35am to finish, and it was so worth it!
"If our only focus is survival, then we're no better than them.  Without compassion…without forgiveness…we're nothing but animals." – Jax
We get to jump right back into the story at Peter's cabin, where Jax is stuck because her brother Jace is healing from a broken leg.  Their E'rikon grandfather, Jastren, is there along with her brother's boyfriend, Flint.  While her brother, grandfather and Peter are away gathering supplies, Jax gets a chance to go back and see Lir with Rym.  After their too brief encounter, they both find themselves fighting and struggling on their own journeys.  Without each other.
He lied.  He manipulated me.  He used me.  And when it came down to it, he made his choice. – Jax
When Jax and Lir met for that first time after the bond had been broken, eeks!!!!  I was terrified because I wanted to push them together and yell at them to kiss and make up.  But in all honestly, they really haven't known one other for that long.  Can they even trust each other?  Jax still harbors so much hurt from Lir's betrayal.  And with Lir not having a functional kitu, he doesn't know how to trust others without being able to sense their feelings.  And as the story progresses, I fell even more in love with both of them.  Jax and Lir grow throughout the story and it made my heart so happy with the choices and decisions that they had to make.  No matter how hard they were.  Jax is still resourceful and savvy but her heart becomes something truly beautiful.  And Lir.  Swoon!  Charming, brave, smart and sincere, Lir is one sexy alien!
"You would kill him for what he is," I say.  "But you never asked what I was."  I smile sweetly and bat my eyelashes right before I place a single finger to his temple – and send every bit of the fire raging through me straight into his head.
So of course I was devastated when Jax had to leave Lir, because there is still so much up in the air.  But guess what?  In Fractured Suns we got to be in both Jax and Lir's head!  I loved that we finally got to hear Lir's thoughts.  To see what he thought of Jax, because I have been obsessively trying to figure it all out once I finished the last page in Broken Skies!  For a few of Lir's chapters, the story seemed to move at a slower pace, compared to Jax's crazy journey.  But in the end, it made sense that we had to understand the people he was surrounded with, what he had gone through, and how he wanted to proceed.  I get it, and it more than made sense.
If I stop to think, if I do anything but move forward… I will fall apart.  And this time I won't be able to put the pieces back together. – Jax
But there is one point in the story that I never saw coming.  Everyone was asleep while I read that scene and I needed sob out loud.  To let out all of the pain.  But instead I had to bite my lip and allow the tears to continuously stream down my face.  Silently speaking the devastation I witnessed.  That twist left me in utter shock.  The ramifications, oh.  I'm at a loss.  But in a twisted way, I love when books can affect me that intense.  That I can feel that deep of a connection to characters and their feelings.  I just wish it didn't hurt that much.
So yes, I definitely recommend this book and series!  I can't wait to see what the final book has in-store for Lir and Jax!
***ARC was kindly provided by the author in exchange for an honest review***
Reading Order & Links:


Amazon

(click on covers)


Broken Skies #1
Reviews:
Jen

Fractured Suns #2
Reviews:
Jen

Shattered Stars #3
Reviews:


Jen
Save
Save
Save
Save
Related Posts