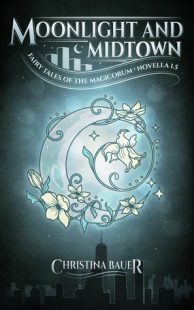 Moonlight And Midtown
(
Fairy Tales of the Magicorum #1.5
)
by
Christina Bauer
Purchase on:
Amazon
, 
iBooks
Add to:
Goodreads
Synopsis:

After battling werewolves and evil aunties, Bryar Rose is ready to enjoy her new life. No more crazy aunties. Her curse is toast. And Bry's new man, Knox, is literally a dream come true. Best of all, Bry will soon attend a regular high school. Forget those sketchy tutors! To get ready, Bry is dedicating the rest of her summer to some serious back-to-school shopping with her best friend, Elle. It's a blast, except for one thing:

Mysterious strangers are following Bry across Manhattan.

All these stalkers have oddly familiar scents and an uncanny ability to slip into the shadows whenever Bry tries to confront them. Even worse, their presence is making Knox act crazy with a capital C.

But Bry's having none of it. Enough of her life has already been ruined by secrets. With Elle's help, Bry plans to confront these strangers, find out what they want, and send them packing. Trouble is, the truth about their identity won't be so easy to manage, especially when Bry finds out how these stalkers could change her future with Knox…and not for the better.
Review:
*You can read my review of Book #1 Wolves and Roses here*
Moonlight and Midtown was a ton of fun and the perfect way to see what our favorite characters were up to.  Ultimately we got to watch Bryar and Elle's shopping extravaganza and oh my gosh, it was action packed and a little bit crazy lol.  But we also got to learn more about the world that they lived in and watch Bryar and Knox start to find their place in life. This novella was a quick, lighthearted read that left me feeling even more excited for the next book in this series!

Nyxa takes a half step backward. "I command you to leave my presence." But her words come out as a half whisper.
Nyxa is afraid.
As well she should be.
Knox and I share a quick look. There's no need to speak. We both know what we want to do.
I loved getting a peak into Bryar's struggles, since she learned what she was.  But the poor girl couldn't catch a break and her wolf was uncontrollable. Thankfully she had Elle, her bestie, who was ready to take her on a shopping trip since she kept destroying her clothes every time she shifted.  And speaking of Elle, we also got to see Alex, a warlock and Knox's best friend. The interaction between Elle and Alex was a lot of fun and I need to find out more about Elle's past and why that hinders them from being together.  They're so fabulous together!  See, I need that next book now lol.
Right here, this moment. This is what I like so much about being with Knox. He understands me like no one else ever has.
But my favorite in this series?  Knox. He was as seductive as ever.  And I loved what a good friend he had become to Bryar.  They worked together so well.  I mean, yes he was her mate, but still, I loved the way they meshed.  It warmed my heart how Knox would help Byrar out and that he was always by her side. Even though he had his own struggles……
His ice-blue eyes lock with mine as he twirls us around. "Say it again."
My face turns about three shades of red. "Mate."
Just like the first book in this series, this novella was beyond adorable.  So if you loved Wolves and Roses, definitely give this one a try.  It was a super quick read and it was a ton of fun.  I loved every minute of it!
*I voluntarily read and reviewed an advanced copy of this book, provided by Monster House Books LLC. All thoughts and opinions are my own.*
About Christina Bauer:
Christina Bauer knows how to tell stories about kick-ass women. In her best selling Angelbound series, the heroine is a part-demon girl who loves to fight in Purgatory's Arena and falls in love with a part-angel prince. This young adult best seller has driven more than 500,000 ebook downloads and 9,000 reviews on Goodreads and retailers. The first three books in the series are now available as audiobooks on Audible and iTunes.

Bauer has also told the story of the Women's March on Washington by leading PR efforts for the Massachusetts Chapter. Her pre-event press release—the only one sent out on a major wire service—resulted in more than 19,000 global impressions and redistribution by over 350 different media entities including the Associated Press.

Christina graduated from Syracuse University's Newhouse School with BA's in English along with Television, Radio, and Film Production. She lives in Newton, MA with her husband, son, and semi-insane golden retriever, Ruby.
Giveaway:
Related Posts
I had so much fun reading this Novella! So check out my 4 Star Review below and enter a fabulous giveaway. Enjoy!