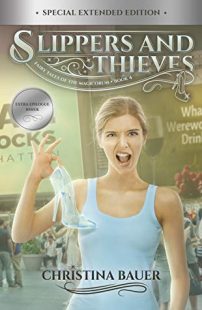 Slippers And Thieves
(
Fairy Tales of the Magicorum #4
)
by
Christina Bauer
Purchase on:
Amazon
, 
iBooks
, 
Book Depository
Add to:
Goodreads
Synopsis:

Years ago, Elle ― never call her Cinderella ― escaped her evil step family in order to build a new life for herself in Manhattan. Today, Elle's awful past is a distant memory. In fact, Elle even attends West Lake Prep, an exclusive high school where regular humans mix with members of the Magicorum, such as fairies, shifters and witches. Although she still must live in hiding from her evil step family, Elle always has found ways to get whatever her heart desires.

That is, until Alec Le Charme. Sure, Alec is the heir to the Le Charme dynasty of high-end jewelers, but he's also kind, charismatic, and has a knee-melting smile.

Long story short, Elle has fallen for Alec, hard. Unfortunately, thanks to Elle's evil step family, the Le Charme heir is absolutely off limits. In fact, if Elle and Alec so much as kiss, it could start a magical chain reaction that would end in powerful factions of witches and wizards going to war. As a result, Elle and Alec vow to stay friends, no matter what. Then West Lake Prep holds a masquerade ball. Identities get mixed up and forbidden kisses are finally shared.

Time for the Magicorum to go to war, and for Elle to confront her hidden past in ways she never thought possible.
Review:
Slippers and Thieves unfortunately didn't work for me. This makes me so sad because I loved this series. The previous books were intricate and made me smile and laugh. They were impossible to put down and I was always glued to the pages. But Slippers and Thieves didn't even feel like the others books. It felt choppy and there were inconsistencies with the previous books. I'm not sure what happened, but the further I got into this story, the more it didn't work for me. I'm so sad because I loved these characters, ugh. So here were some of my problems with this story…
✮ Elle's Backstory Differs✮
In Shifters and Glyphs, Elle didn't know she was a Warden. Until the Colonel told her what she truly was, and she was shocked. But in this book, she knew she was a Warden even before she met Briar Rose or the Colonel. Her parents told her when she was little.
Another inconsistency was that in this book, Elle said her parents took her wings. In the previous book, Colonel said he took her wings. It was so she could change the way she looked and escape the captors who imprisoned her since they knew she was the warden of fae magic. But that doesn't line up with the history we're given about her in this story – She was always with her parents, they took her wings in this book and she was never imprisoned when she was a child.
Also in the previous books, Elle said that she couldn't use her magic or her family would find her. But in this book, she couldn't use her magic because the fae would kill her if they found out she was their Warden.
✮ Missing Houses✮
In the first book, Wolves and Roses, Elle said she had other safe houses. Besides the cabin. Yet in this book, when they have to find a place to stay, she only says she has her place in the village. Where are the other safe houses? Why weren't they mentioned? And even though her cabin burnt down, she was supposed to have it rebuilt with the insurance money. The cabin wasn't even mentioned once in this story.
✮ Where's The Money✮
I don't get how Elle had two houses in the first book. Yes she returns stolen jewels to their rightful owner, but in this book she gets paid a few hundred dollars here and a few hundred dollars there. How did she afford two houses, especially one in the village? She couldn't access the money she saved, so I don't get it.
✮ Gustav✮
In the movie Cinderella, she was kind and friends with the mice. She had saved and fed them, in exchange they did favors for her. But in this book, Elle continually asked Gustav for help and why he kept coming back was beyond me. It always left a bitter taste in my mouth that she expected him to help and she never did anything back in return. Except that one time. But even that one time, she threatened him with something he hates. Not nice.
✮ Things That Made Me Say Why✮
I don't get why her dad said they needed the future step sisters help in their shop. Especially when he said they couldn't survive without them. Not only did he cover one of their shifts in the shop that left him frazzled, but they never did any work from what we saw. They just hid in the back. What was the point of that conversation between Elle and her dad?
✮ More Questions✮
In the previous books, Alex says his parents will pay a scholarship and give the girls an apartment in their building. But in this book, his mom was shocked they went to the same school and it wasn't even mentioned that they helped give the girls their apartment. The mom didn't even realize they were living there.
Also, in the first book, Elle was in Alec's office. People saw them together and it was such a huge deal they had to escape. But in this story we learn how his moves were being watched. Nothing was said to his mom, how did she not know?
There were so many more issues than this, but these were the ones that bothered me the most. If you can't tell, I struggle when there are inconsistencies in a story. Especially when it feels like I'm reading a beta version in a finished copy. So I'm sad to be walking away from this series. But when I constantly get pulled out of a story for hiccups, it doesn't matter how fabulous the characters are, I just can't go on.
*I voluntarily read and reviewed an advanced copy of this book, provided by the author. All thoughts and opinions are my own.*