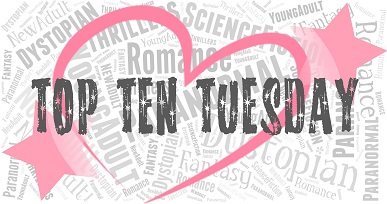 Top Ten Tuesday is a weekly meme hosted by The Broke and the Bookish
This week is – Books We Hope Santa Brings Us.  And they are….
1. Alex, Approximately by Jenn Bennett
  Amazon * Goodreads
Classic movie buff Bailey "Mink" Rydell has spent half of her junior year falling for a sensitive film geek she only knows online as "Alex." Two coasts separate them until she moves in with her dad, who lives in the same California surfing town as her online crush.
Faced with doubts (what if he's a creep—or worse?), Bailey doesn't tell Alex she's moved to his hometown. Or that she's landed a job at the local tourist trap, the oddball Cavern Palace Museum. Or that she's being tormented daily by Porter Roth, a smart-alecky yet irritatingly hot museum security guard. But when Porter and Bailey are locked in the museum overnight, Bailey is forced to choose whether she should cling to a dreamy fantasy in Alex or take a risk on an imperfect reality with Porter. The choice is both simpler and more complicated than she realizes, because Porter Roth is hiding a secret of his own: Porter is Alex. Approximately.
2. Resisting the Rebel by Lisa Brown Roberts
Amazon * Goodreads
Spirit committee leader Mandy Pennington is secretly in love with her best friend, Gus, but when he hooks up with her archenemy at a party, she decides to win him over once and for all. She just doesn't know how. But who better to help than hot loner Caleb Torrs?
Caleb's got his own problems, but when he sees Mandy pining over Gus at a party, he thinks she's finally smoked the spirit stick and lost her mind. Maybe he has, too, because he just asked Mandy to be his fake girlfriend. She'll get her loser friend's attention, and he'll get his stalker ex off his back. It's a win-win.
But soon one fake date blends into the next and before he knows it, he actually wants to kiss Mandy. For real. Too bad their plan is working, and Gus is finally noticing the one girl Caleb just might be falling for…
| | |
| --- | --- |
| (Jen's Choice) | (Jen's Choice) |
3. The Dead List by Jennifer L. Armentrout
Amazon * Goodreads
When Ella is mysteriously attacked on her way home from a party, her entire life changes as she finds herself at the center of an attempted murder investigation.
Ella tries to move on, but her attacker isn't done yet. He shows himself in the form of horrifying signs and symbols: a clown mask strewn on her bed, a dead bird in her backpack, a shadow moving past her window in the night. And as the weeks pass, it turns out that Ella isn't the only one being tormented.
With the help of an old flame, Jensen Carver, and her friends and family, Ella tries to attain some sense of normalcy, but she can't seem to shake the feeling that there's a dark pattern hidden in the killer's every move. Suddenly, even those in her innermost circle seem suspicious. In her seemingly safe West Virginia town, Ella starts to wonder who she can trust
4. Frostblood (Frostblood Saga #1) by Elly Blake
Amazon * Goodreads
Seventeen-year-old Ruby is a Fireblood who has concealed her powers of heat and flame from the cruel Frostblood ruling class her entire life. But when her mother is killed trying to protect her, and rebel Frostbloods demand her help to overthrow their bloodthirsty king, she agrees to come out of hiding, desperate to have her revenge.
Despite her unpredictable abilities, Ruby trains with the rebels and the infuriating–yet irresistible–Arcus, who seems to think of her as nothing more than a weapon. But before they can take action, Ruby is captured and forced to compete in the king's tournaments that pit Fireblood prisoners against Frostblood champions. Now she has only one chance to destroy the maniacal ruler who has taken everything from her–and from the icy young man she has come to love.
Vivid and compelling, Frostblood is the first in an exhilarating series about a world where flame and ice are mortal enemies…but together create a power that could change everything.
| | |
| --- | --- |
| (Jen's Choice) | (Chelsea's Choice) |
5. Some Girls Bite (Chicagoland Vampires #1) by Chloe Neill
Amazon * Goodreads
Sure, the life of a graduate student wasn't exactly glamorous, but I was doing fine until Chicago's vampires announced their existence to the world. When a rogue vampire attacked me, I was lucky he only got a sip. Another bloodsucker scared him off and decided the best way to save my life was to make me the walking undead.
Now I've traded sweating over my thesis for learning to fit in at a Hyde Park mansion full of vamps loyal to Ethan "Lord o' the Manor" Sullivan. Of course, as a tall, green-eyed,
four-hundred-year-old vampire, he has centuries' worth of charm, but unfortunately he expects my gratitude—and servitude. Right…
But someone's out to get me. Is it the rogue vampire who bit me? A vamp from a rival House? An angry mob bearing torches?
My initiation into Chicago's nightlife may be the first skirmish in a war—and there will be blood.
6. Renegades (Renegades #1) by Marissa Meyer
Amazon * Goodreads
The Renegades are a syndicate of prodigies―humans with extraordinary abilities―who emerged from the ruins of a crumbled society and established peace and order where chaos reigned. As champions of justice, they remain a symbol of hope and courage to everyone…except the villains they once overthrew.
Nova has a reason to hate the Renegades, and she is on a mission for vengeance. As she gets closer to her target, she meets Adrian, a Renegade boy who believes in justice―and in Nova. But Nova's allegiance is to the villains who have the power to end them both.
| | |
| --- | --- |
| (Chelsea's Choice) | (Chelsea's Choice) |
7. Amour Amour (Aerial Ethereal #1) by Krista Ritchie & Becca Ritchie
Amazon * Goodreads
The best aerial technique won't land 21-year-old Thora James her dream role in Amour—a sexy new acrobatic show on the Vegas strip. Thora knows she's out of her element the second she meets Amour's leading performer. Confident, charming and devilishly captivating, 26-year-old Nikolai Kotova lives up to his nickname as the "God of Russia."
When Thora unknowingly walks into the crosshairs of Nikolai's after-show, her audition process begins way too soon. Unprofessional. That's what Nik calls their "non-existent" relationship. It's not like Thora can avoid him. For one, they may be partners in the future–acrobatic partners, that is. But getting closer to Nik means diving deeper into sin city and into his dizzying world.
Thora wants to perform with him, but when someone like Nikolai attracts the spotlight wherever he goes—Thora fears that she's destined to be just background to his spellbinding show.
8. The Girl with the Red Balloon (The Balloonmakers #1) by Katherine Locke
Amazon * Goodreads
When sixteen-year-old Ellie Baum accidentally time-travels via red balloon to 1988 East Berlin, she's caught up in a conspiracy of history and magic. She meets members of an underground guild in East Berlin who use balloons and magic to help people escape over the Wall—but even to the balloon makers, Ellie's time travel is a mystery. When it becomes clear that someone is using dark magic to change history, Ellie must risk everything—including her only way home—to stop the process.
| | |
| --- | --- |
| (Chelsea's Choice) | (Chelsea's Choice) |
9. Blood for Blood (Wolf By Wolf #2) by Ryan Graudin
Amazon * Goodreads
For the resistance in 1950s Germany, the war may be over, but the fight has just begun.
Death camp survivor Yael, who has the power to skinshift, is on the run: The world has just seen her shoot and kill Hitler. But the truth of what happened is far more complicated, and its consequences are deadly. Yael and her unlikely comrades dive into enemy territory to try to turn the tide against the New Order, and there is no alternative but to see their mission through to the end, whatever the cost.
But in the midst of the chaos, Yael's past and future collide when she comes face-to-face with a ghost from her past, and a spark with a fellow rider begins to grow into something more. Dark secrets reveal dark truths, and one question hangs over them all–how far can you go for the ones you love?
10. An Ex for Christmas by Lauren Layne
Amazon * Goodreads
When a psychic tells spunky, superstitious Kelly Byrne that she's already met her true love, she becomes obsessed with the idea of tracking him down before Christmas. Kelly immediately writes up an "Ex List" and starts contacting old boyfriends to figure out which one is the one. When her college sweetheart rolls into town, Kelly convinces herself that they're meant to be. The trouble is, sparks are flying with someone she's never given a chance: her best friend, Mark.
Mark Blakely has watched the guys on Kelly's list break her heart, and he's not looking forward to watching them do it all over again. Mark's always been there for her, but the timing's never worked out for their relationship to be something more. Now, just as Mark is ready to move on, the sexual tension between them is suddenly off the charts. With Christmas morning around the corner, he just hopes Kelly will wake up and realize that everything she wants has been right in front of her all along.
So these are Books We Hope Santa Brings Us.  Do you have any of them on your present list too? Or have you already read them? And if so, will we love them?
Save
Save
Save
Save
Save
Save
Save
Save
Save
Save
Save
Save
Save
Save
Save
Save
Related Posts