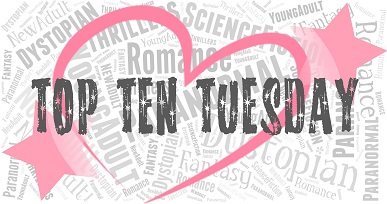 Top Ten Tuesday is a weekly meme hosted by The Broke and the Bookish
This week is – New-To-Us Favorite Authors We Read For The First Time In 2017. And they are….
| | |
| --- | --- |
| (Chelsea's Choice) | (Chelsea's Choice) |
1. Margaret Rogerson – An Enchantment of Ravens
Amazon * Goodreads * Review
A skilled painter must stand up to the ancient power of the faerie courts—even as she falls in love with a faerie prince—in this gorgeous debut novel.
Isobel is a prodigy portrait artist with a dangerous set of clients: the sinister fair folk, immortal creatures who cannot bake bread, weave cloth, or put a pen to paper without crumbling to dust. They crave human Craft with a terrible thirst, and Isobel's paintings are highly prized. But when she receives her first royal patron—Rook, the autumn prince—she makes a terrible mistake. She paints mortal sorrow in his eyes—a weakness that could cost him his life.
Furious and devastated, Rook spirits her away to the autumnlands to stand trial for her crime. Waylaid by the Wild Hunt's ghostly hounds, the tainted influence of the Alder King, and hideous monsters risen from barrow mounds, Isobel and Rook depend on one another for survival. Their alliance blossoms into trust, then love—and that love violates the fair folks' ruthless laws. Now both of their lives are forfeit, unless Isobel can use her skill as an artist to fight the fairy courts. Because secretly, her Craft represents a threat the fair folk have never faced in all the millennia of their unchanging lives: for the first time, her portraits have the power to make them feel.
2. Sally Thorne – The Hating Game
Amazon * Goodreads* Review
Lucy Hutton and Joshua Templeman hate each other. Not dislike. Not begrudgingly tolerate. Hate. And they have no problem displaying their feelings through a series of ritualistic passive aggressive maneuvers as they sit across from each other, executive assistants to co-CEOs of a publishing company. Lucy can't understand Joshua's joyless, uptight, meticulous approach to his job. Joshua is clearly baffled by Lucy's overly bright clothes, quirkiness, and Pollyanna attitude.
Now up for the same promotion, their battle of wills has come to a head and Lucy refuses to back down when their latest game could cost her her dream job…But the tension between Lucy and Joshua has also reached its boiling point, and Lucy is discovering that maybe she doesn't hate Joshua. And maybe, he doesn't hate her either. Or maybe this is just another game.
| | |
| --- | --- |
| (Chelsea's Choice) | (Chelsea & Jen's Choice) |
3. Brigid Kemmerer – Letters to the Lost
Amazon * Goodreads * Review
Juliet Young always writes letters to her mother, a world-traveling photojournalist. Even after her mother's death, she leaves letters at her grave. It's the only way Juliet can cope.
Declan Murphy isn't the sort of guy you want to cross. In the midst of his court-ordered community service at the local cemetery, he's trying to escape the demons of his past.
When Declan reads a haunting letter left beside a grave, he can't resist writing back. Soon, he's opening up to a perfect stranger, and their connection is immediate. But neither Declan nor Juliet knows that they're not actually strangers. When life at school interferes with their secret life of letters, sparks will fly as Juliet and Declan discover truths that might tear them apart.
4. Cookie O'Gorman – Adorkable by Cookie O'Gorman
Amazon * Goodreads * Chelsea's Review * Jen's Review
Seventeen-year-old Sally Spitz is done with dating. Or at least, she's done with the horrible blind dates/hookups/sneak attacks her matchmaking bestie, Hooker, sets her up on. There's only so much one geek girl and Gryffindor supporter can take.
Her solution: she needs a fake boyfriend. And fast.
Enter Becks, soccer phenom, all-around-hottie, and Sally's best friend practically since birth. When Sally asks Becks to be her F.B.F. (fake boyfriend), Becks is only too happy to be used. He'd do anything for Sal–even if that means giving her PDA lessons in his bedroom, saying she's "more than pretty," and expertly kissing her at parties.
The problem: Sally's been in love with Becks all her life–and he's completely clueless.
This book features two best friends, one special edition Yoda snuggie, countless beneath-the-ear kisses and begs the question:
Who wants a real boyfriend when faking it is so much more fun?
| | |
| --- | --- |
| (Chelsea & Jen's Choice) | (Jen's Choice) |
5. Cambria Hebert – #Nerd (Hashtag #1)
Amazon * Goodreads * Jen's Review
Two people from completely different worlds are about to be thrown together…
In more ways than one.
She wants to keep her scholarship. He wants to stay on the team. An awkward alliance doesn't even begin to cover Rimmel and Romeo's relationship.
But that's about to change.
It starts with a dare. An initiation. A challenge.
Quickly, it turns into more. But when you're a victim of your status, there is no room for anything real. The rules are clear and simple.
Stick to your circle.
And never fall in love with anyone on the outside.
6. Penelope Douglas – Punk 57
Amazon * Goodreads * Review
Misha
I can't help but smile at the lyrics in her letter. She misses me.
In fifth grade, my teacher set us up with pen pals from a different school. Thinking I was a girl, with a name like Misha, the other teacher paired me up with her student, Ryen. My teacher, believing Ryen was a boy like me, agreed.
It didn't take long for us to figure out the mistake. And in no time at all, we were arguing about everything. The best take-out pizza. Android vs. iPhone. Whether or not Eminem is the greatest rapper ever…
And that was the start. For the next seven years, it was us.
Her letters are always on black paper with silver writing. Sometimes there's one a week or three in a day, but I need them. She's the only one who keeps me on track, talks me down, and accepts everything I am.
We only had three rules. No social media, no phone numbers, no pictures. We had a good thing going. Why ruin it?
Until I run across a photo of a girl online. Name's Ryen, loves Gallo's pizza, and worships her iPhone. What are the chances?
F*ck it. I need to meet her.
I just don't expect to hate what I find.
Ryen
He hasn't written in three months. Something's wrong. Did he die? Get arrested? Knowing Misha, neither would be a stretch.
Without him around, I'm going crazy. I need to know someone is listening. It's my own fault. I should've gotten his phone number or picture or something.
He could be gone forever.
Or right under my nose, and I wouldn't even know it.
| | |
| --- | --- |
| (Jen's Choice) | (Jen's Choice) |
7. Susan McEachern – Shag Lake (Shag Lake #1)
Amazon * Goodreads * Review
When Geri McKenna takes leave from her dead-end assistance columnist job to go home for her brother's wedding, she thinks its just a happy coincidence that her old teen crush, Sean Eastman, has returned to town after being MIA for eight years. Distracted by his looming height, crystal blue eyes and the guns he's grown since high school, it doesn't even enter her mind that Sean's unexpected reappearance coincides with the mysterious disappearance of a woman in nearby Algonquin Park.
Until she runs into him at the crime scene.
Now he's her prime suspect in an investigation that is leading Geri into the covert world of an alien cover-up and a shadow government that will stop at nothing to protect the secret. So when Sean knocks down her hotel room door intent on taking her into hiding from men who want to shut her down permanently, Geri must decide if Sean is being honest or acting on behalf of the organization that wants her dead.
8. Meg Kassel – Black Bird of the Gallows
Amazon * Goodreads * Review
A simple but forgotten truth: Where harbingers of death appear, the morgues will soon be full.
Angie Dovage can tell there's more to Reece Fernandez than just the tall, brooding athlete who has her classmates swooning, but she can't imagine his presence signals a tragedy that will devastate her small town. When something supernatural tries to attack her, Angie is thrown into a battle between good and evil she never saw coming. Right in the center of it is Reece―and he's not human.
What's more, she knows something most don't. That the secrets her town holds could kill them all. But that's only half as dangerous as falling in love with a harbinger of death.
| | |
| --- | --- |
| (Jen's Choice) | (Jen's Choice) |
9. Christina Bauer – Wolves and Roses (Fairy Tales of the Magicorum #1)
Amazon * Goodreads * Review
Seventeen-year-old Bryar Rose has a problem. She's descended from one of the three magical races—shifters, fairies, or witches. That makes her one of the Magicorum, and Magicorum always follow a fairy tale life template. In Bryar's case, that template should be Sleeping Beauty.
"Should" being the key word.
Trouble is, Bryar is nowhere near the sleeping beauty life template. Not even close. She doesn't like birds or woodland creatures. She can't sing. And she certainly can't stand Prince Philpot, the so-called "His Highness of Hedge Funds" that her aunties want her to marry. Even worse, Bryar's having recurring dreams of a bad boy hottie and is obsessed with finding papyri from ancient Egypt. What's up with that?
All Bryar wants is to attend a regular high school with normal humans and forget all about shifters, fairies, witches, and the curse that Colonel Mallory the Magnificent placed on her. And she might be able to do just that–if only she can just keep her head down until her eighteenth birthday when the spell that's ruined her life goes buh-bye.
But that plan gets turned upside down when Bryar Rose meets Knox, the bad boy who's literally from her dreams. Knox is a powerful werewolf, and his presence in her life changes everything, and not just because he makes her knees turn into Jell-O. If Bryar can't figure out who—or what—she really is, it might cost both her and Knox their lives… as well as jeopardize the very nature of magic itself.
10. Annette Marie – The Night Realm (Spell Weaver #1)
Amazon * Goodreads * Review
A nymph, an incubus, and an arsenal of deadly magic. What could possibly go wrong?
Clio is good at all sorts of things. As a nymph, she's great at outdoorsy nature stuff. As a nymph living in exile, she's got the "blending in with humans" thing down pat. As a nymph living in exile because she possesses the rare ability to mimic magic, she's had to pick up some unique survival skills.
But stealing from the most dangerous spell weavers in the Underworld? Not so much.
Unfortunately, that's exactly what she has to do to earn a ticket back home. Conning her way into the night realm may have gone pretty well, but now she's got a new problem. His name is Lyre and he's a sinfully alluring incubus, a dangerously skilled spell weaver, and the only thing standing between her and stealing some damn magic.
Maneuvering around him without blowing her cover shouldn't be that difficult, but chaos has been dogging her every step, monsters hide behind beautiful faces, and Lyre keeps saving her neck even though they're enemies. Kind of enemies? Either way, her mission is geting complicated fast, and in the Underworld, even one mistake could prove fatal.

So these are our New-To-Us Favorite Authors We Read For The First Time In 2017. Have you read any of these authors we just discovered?  Or do you have any of their books on your TBR?

Related Posts