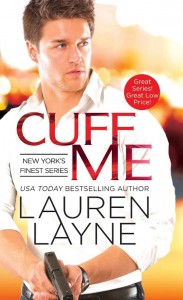 Cuff Me
(
New York's Finest #3
)
by
Lauren Layne
Purchase on:
Amazon
, 
iBooks
Add to:
Goodreads
Synopsis:

Vincent knows he's not the most charming of the Moretti brothers. He prefers brooding to flirting, reading to talking, and he sure as hell isn't about to give into his mother's insistence that he 'settle down with a nice girl.' Luckily, Vincent's gig as one of the NYPD's top homicide detectives keeps him busy. As does his long-time partner, Jill Henley–a tough-as-nails cop with the face of an angel and smart mouth that makes Vincent crazy in all the worst ways.

After six years of working the homicide beat with the tight-lipped Vincent Moretti, Jill figure she knows him better than anyone. Which is not at all. But when their most recent case points to a potential serial-killer situation, the higher-ups send them on a rare undercover mission to a place no NYPD officer dares go: the Upper Eastside.

Now the bureau's most antagonistic set of partners is posing as Mr. and Mrs. Brooks of Park Avenue. Spending 24/7 in the suspect's territory brings them closer and closer to their killer . . . and closer to each other. Soon Vincent and Jill are playing good cop/bad cop in and out of bed, and Jill's falling hard. But can she convince Vincent to give her a shot as partner in life, as well as at the bureau?
REVIEW
"We're gonna be okay, right?" she asked, her voice muffled against his shirt.
Vin closed his eyes as his hand closed over clasped arms, his head hilting back so that the back of his head rested lightly on the top of hers.
And because he cared about her-cared about her so damn much-he did the only thing that he could.
He lied. "Yeah. Yeah, we're gonna be all right."
Like many of Layne's novels, Cuff Me took my bad, tired mood and lifted it instantly with one chapter of banter between the Moretti brothers. I always get so excited when I see the opportunity for the New York's Finest ARCs and blog tours because I have fallen so madly in love with this wacky, flawed, no-nonsense family. This series isn't without it's flaws, but it never ceases to put the largest smile on my face despite my dwindling appearance of good moods lately.
Jill Henley was Vincent's opposite in every way.
Jill was chipper, charming, and smiley.
Vincent was…none of those things.
I have waited a long time for Vincent's story, seeing as the plot is one of my favorite types-friends to lovers. When I found out that Vincent was next and that it was going to center around he and his partner's apparent tension and mutual (although unnoticed) interest. Their banter, loyalty, and obvious affection for one another are an apparent love match in everyone's eyes but theirs…So what happens when they are both too blind to see it?
The phone would not stop ringing.
"What," he snapped into the phone without glancing at the caller ID.
He'd already heard from:
His mother (how come you never come to dinner anymore?)
His father (did you catch the guy yet?)
His grandmother (will you pick me up from my colonoscopy on Tuesday?)
Luc (Jill's not seriously marrying that guy, right?)
And Elena (do you want to buy my old smoothie machine? I'm getting an upgrade? No? What if I give it to you? Still no?).
Jill has been courted by another man, ripping Vincent's heart out just as he realizes he wants to be more than her partner. Jill has everything she could ever want-So why does she feel so…wrong?
"Okay, it's like this," Jill said, twisting so she could better face Elena. "When you were little, did you ever make your brothers play wedding with you? You know, make one of them pretend to be the groom?"
"Um, of course."
"Luc?" Jill asked curiously.
"Obviously. He's the nicest of the bunch, and the youngest, which made him easiest to coerce."
With a little (or a lot) of help from the Morettis, they begin to see all that they have missed before. But in true fashion of any romance, their story wouldn't be complete without a good dose of passion, stubbornness, and misunderstandings.
Ya know, I always adore every single one of Layne's characters-But Jill, at a certain point, made me want to punch her. I really, really liked her…but there's a certain point (you'll know) where I couldn't believe her actions. And, on the last negative note I really have, I didn't quite buy what the other guy was selling. Or rather, what their relationship was, nor how it was handled. I am normally okay with this, buuuut I just couldn't wrap my head around how easy it was.
"What is it you'd have me do? Hire an opera singer to serenade her? Hold a boombox over my head outside her window? Set up a scavenger hunt that leads to all her favorite kinds of tacos just to show I care?"
"Wait. She has multiple favorite kinds of tacos?" Luc asked. "That's either hot, or weird, I can't decide."
But oh my gosh, let me tell you-Luc, Anthony, and Nonna (odd comments and all) once again stole the show. Vincent is great, really, even a favorite! But when they are all together? My heart melts and I become goo in their hilarious Italian hands. When they hang out, I never cease to smile, laugh, and obsess over everything they do and say. And that is why this series is always such a joy to read-I can say it's the men and their girls-and it is, for the most part-but this family is the essence of everything, and I have to say it's why I continually come back for more. But that is what Layne does best, right?? Only this time, the series shines when the family is the one bickering.
"The indignity. I can't even. I'll take care of this. Straightaway." Ava handed the orange Jell-O cup to Luc. "Luc, take care of this. Straightaway."
He stared at the cup in his hand before shooting a puzzled look at the women. "And by take care of this, you mean…"
"Get her red Jell-O," Maggie said from the chair in the corner. "Obviously."
Luc glanced at Anthony with a what-the-fuck expression, but Anth held up his hands and shook his head.
Vincent was a wonderful, gruff, and backwards hero, all while being a wonderful partner and a badass cop-but underneath it all, he was as vulnerable as the rest of us, and it broke my heart when we began to see that. I am obsessed with each brother for different reasons and in their own way: Luc being sweet, funny, and always stirring the pot; Anthony for being the oldest, most abrupt, and straightforward brother; and now Vincent, the lonely, gruff, but left-out brother. They all are just so wonderful…I will always have a soft spot for Luc and Anthony, but Vincent definitely gave them a run for their money. I hope everyone takes the chance to enjoy this series as much as I do. 😛
Purchase Here:
Amazon | B & N | Google Play | iTunes | Kobo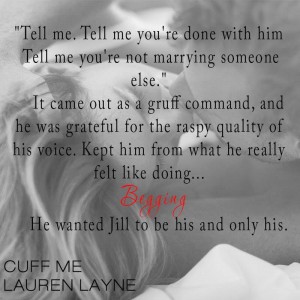 About Lauren Layne: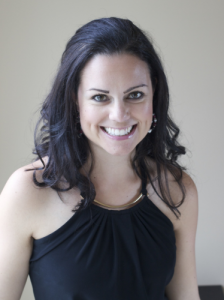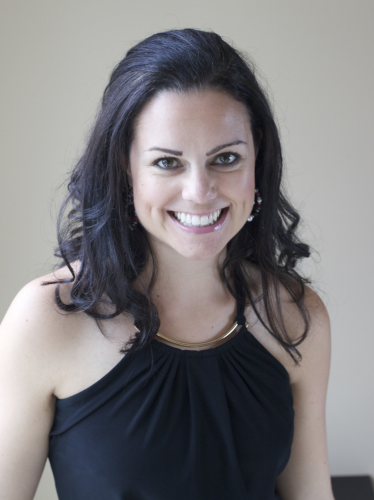 Lauren Layne is a USA Today Bestselling author of contemporary romance.  Prior to becoming an author, Lauren worked in e-commerce and web-marketing. In 2011, she and her husband moved from Seattle to New York City, where Lauren decided to pursue a full-time writing career. It took six months to get her first book deal (despite ardent assurances to her husband that it would only take three). Since then, Lauren's gone on to publish ten books, including the bestselling Stiletto series, with several more on the way in 2015. Lauren currently lives in Chicago with her husband and spoiled Pomeranian. When not writing, you'll find her at happy hour, running at a doggedly slow pace, or trying to straighten her naturally curly hair.
Website | Facebook | Twitter | Goodreads
Excerpt:
[scroll-box]There's something wrong with a man that grins like that at a crime scene."
Detective Vincent Moretti glanced up from where he'd been studying the gunshot wound of the vic and glared at the officer who'd been shadowing him for the past three months.
"I wasn't grinning."
Detective Tyler Dansen never paused in scribbling in the black notebook he carried everywhere. "You were definitely grinning."
"Nope."
Dansen glanced up. "Fine. Maybe not grinning. But I'm one hundred percent sure I saw you smile."
"How about you be one hundred percent sure about who shot this guy instead?" Vincent said irritably.
Dansen returned his attention to his damn notebook, but he didn't look particularly chagrined by Vin's reprimand.
Oh, what Vin wouldn't give to go back to those early days when all he'd had to do was look at Dansen, and the kid practically dropped into a deferential bow.
Three months of spending every workday in each other's company had the newly minted detective acting nearly as impudent as Vincent's actual partner.
Nearly being an important distinction, because Vincent didn't think they made 'em sassier, more stubborn, or more annoying than Detective Jill Henley.
And he would know. They'd been partners for six long years, and their pairing up as partners was proof of God's sense of humor.
Jill Henley was Vincent's opposite in every way.
Jill was chipper, charming, and smiley.
Vincent was… none of those things.
Especially not the last one. Although, if he was being really honest with himself, Dansen may have been right about Vincent cracking a smile earlier.
It's not that Vin was immune to death. There was absolutely nothing humorous about a man lying cold in his own blood and guts, dead from a gunshot wound to the stomach.
But after six years as a homicide DT for the NYPD, one learned to compartmentalize. To let the brain occasionally go somewhere else other than death even as you were staring straight at it.
It was the only way to survive. Otherwise it was nothing but puking and nightmares.
And speaking of puking…
Vincent stood and gave Detective Dansen a once-over.
"If you're gonna barf, do it outside," he said, just to needle the younger man.
Dansen threw his arms up in exasperation. "That was one time. One time! And I hear it happens to everyone on their first day."
"Didn't happen to me."
"That's because you're a machine," Dansen muttered under his breath.
Vincent didn't respond to this. It was nothing he hadn't heard before. Robot. Machine. Automaton.
He just didn't know what people expected him to do about it.
In the movies, there was always some reason for the semi-mechanical, unfeeling action hero.
Either a dead wife, an abusive past, or some other sort of jacked-up emotional history. But Vincent had always sort of figured he'd been born this way. Quiet. Reserved. Broody.
It's not that he didn't feel. Of course he did. He just didn't feel out loud. He wasn't sure that he really knew how to, and wasn't sure he wanted to learn.
[/scroll-box]
Reading Order & Links:


Amazon

(click on covers),

iBooks (click on titles) & Book Depository (click on book #)
***Each book can be read as a standalone, but best enjoyed in order.***

Frisk Me #1
Reviews:
Chelsea
Jen

Steal Me #2
Reviews:
Chelsea

Cuff Me #3
Reviews:
Chelsea
Giveaway:
  Tour Hosted By:
Follow the rest of the tour here: Click Here

Related Posts
Lauren Layne is easily one of my favorite authors-EVER-and this series is no exception. If you want laughs, a warm smile, and some intense feels in your future, take a look at the newest book in her New York's Finest series. I don't think you'll be disappointed. Take a look below for my 4.5 star review, a giveaway, and an excerpt from Vincent and Jill's story-ENJOY!