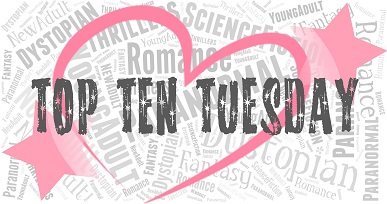 Top Ten Tuesday is a weekly meme hosted by That Artsy Reader Girl
This week is Books We Loved but Will Never Re-Read. 
Seems like an easy enough TTT right?!  Wellllllllll this created the most hilarious, drama inducing texts.  You see, we're really possessive and sensitive when it comes to our book boyfriends.  Arielle put The Selection which has Chelsea's Maxon.  Chelsea put Anew which has my Tristan and she also put Safe Haven which has Josh Duhamel on the cover (I've loved him for-ev-er), and I put The Fever Series which has Chelsea's Jericho.  Words were said, people tried to explain themselves and well it ended up being an emotional mess!  At the end of it all we were laughing so hysterically that both Chelsea's husband and mine asked us why we were laughing so hard.  What was so funny?  HA!  It was so ridiculous and hilarious and we definitely proved how loyal we are to our book boys!!  So here the books we won't ever read again……
| | |
| --- | --- |
| Jen's Choice | Jen's Choice |
1. Darkfever (Fever #1) by Karen Marie Moning
Amazon * Goodreads
If a series has more books than thee books then I find myself needing the romance to play a more dominant role.  And while this series is still one of my favorites, and I loved Mac and Barrons, the element of romance was definitely lacking for me.  So I can't ever see myself reading these books again.
2. Divergent (Divergent #1) by Veronica Roth
Amazon * Goodreads
I loved this trilogy.  And I more than got why it had to end the way it did.  I think I was one of the rare ones, since I thought it ended the way it should.  But I have no desire to revisit the inevitable heartache all over again.


Jen's Choice

 
Chelsea's Choice

3. Stolen Songbird (The Malediction Trilogy #1) by Danielle L. Jensen
Amazon * Goodreads
I absolutely loved this book!  It was beautiful, enchanting and I swore it would become one of my favorite series.  Ever.  But the last book RUINED this series for me.  It was nothing like the first book I fell in love with and I was left extremely bitter and angry about the ending.  Yes I know I'm emotional lol.  So not only will I not ever pick this book back up again but I will never read anything by this author again too.

4. Love Show by Audrey Bell
Amazon * Goodreads
Jack was one of the most EPIC boys ever….and I believe he was truly screwed over in this story. It sold him short and this book broke me into a million pieces. Yes-it has a HEA. No. It did not make me happy [after the shit show in the end]. Sometimes one moment alters a whole novel-this is the case here, unfortunately. #BITTER.
| | |
| --- | --- |
| Chelsea's Choice | Chelsea's Choice |
5. Shatter Me (Shatter Me #1) by Tahereh Mafi
Amaon * Goodreads
Amazing book. Amazing boy. Amazing story. I fell hard. I fell fast. Author changed my boy's personality to the point of no recognition. AUTHOR IS ON AUTO DO-NOT-READ list. Chelsea is FURIOUS. #BITTERER  (Jen agrees with this too!)
6. Safe Haven by Nicholas Sparks
Amazon * Goodreads
Yeah, random. I literally JUST saw this movie playing on tv yesterday…was so excited Because I loved the book AND movie…until I started watching and realized I now am married AND have a girl AND-when I saw him moving on with another woman and they start talking about his dead wife (he also has children)-I can't
. Just can't. Tap out. I started BAWLING. #DidISayBitter ?
| | |
| --- | --- |
| Chelsea's Choice | Arielle's Choice |
7. Anew (The Archers of Avalon #1) by Chelsea Fine
Amazon * Goodreads
This series, frankly, is really only a case of being underwhelmed by the final book and everyone else I read it with LOVING THE END. Nothing kills a reading boner like being  the loser in the group wondering why you're broken lol. #NotSoBitter

8. Paper Princess (The Royals #1) by Erin Watt
Amazon * Goodreads
This is one of those books and series that people either loved or hated when it came out.  I personally am OBSESSED  with Elle Kennedy's writing (who is half of the Erin Watt pseudonym) but this series turned a little too wildly unbelievable and dramatic with people mysteriously coming back from the dead and even just the blown up reputation of the Royal boys for me to make any recs.  
| | |
| --- | --- |
| Arielle's Choice | Arielle's Choice |
9. The Selection (The Selection #1) by Kiera Cass
Amazon * Goodreads
Don't get me wrong, I ate these books up when they came out during the time of the dystopian craze.  It was a fresh new premise that no one had really done before but in the end, Cass didn't pull it off to my liking.  There wasn't nearly enough world building and I felt like there was way too much skipped over and left unexplained in favor of the romance (which to me isn't really what dystopians are all about).
10. Evermore (The Immortals #1) by Alyson Noel
Amazon * Goodreads
It's been so long since I've originally read this series that I can't even really tell you what they were about.  I do know that I read them as soon as they each came out and loved them at the time but when I stumbled across them on one of my shelves on Goodreads, the ONLY thing I could remember was that the two main characters spend the ENITRE series trying to reverse this weird curse in which they hadn't been able to have skin-to-skin contact so they could pick up where they had been disrupted by some ordeal in the first book and have sex–I wish I was kidding.
So these are the Books We Loved but Will Never Re-Read. Do you have any of these books on your won't-ever-read-again-list?  Or are you upset to see any of them on here….like we were with each other lol!

Related Posts