Almost two years later, I'm jumping back into this book. It's a series I have wanted to finish and I'm so happy that I love it even more the second time around! If you haven't read this trilogy yet, I can't recommend it enough!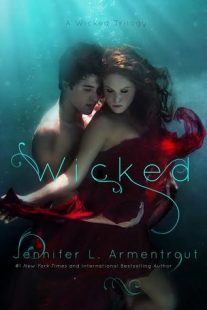 Wicked
(
A Wicked Trilogy #1
)
by
Jennifer L. Armentrout
Purchase on:
Amazon
, 
iBooks
, 
Book Depository
Add to:
Goodreads
Synopsis:

Things are about to get Wicked in New Orleans.

Twenty-two year old Ivy Morgan isn't your average college student. She, and others like her, know humans aren't the only thing trolling the French Quarter for fun… and for food. Her duty to the Order is her life. After all, four years ago, she lost everything at the hands of the creatures she'd sworn to hunt, tearing her world and her heart apart.

Ren Owens is the last person Ivy expected to enter her rigidly controlled life. He's six feet and three inches of temptation and swoon-inducing charm. With forest-green eyes and a smile that's surely left a stream of broken hearts in its wake, he has an uncanny, almost unnatural ability to make her yearn for everything he has to offer. But letting him in is as dangerous as hunting the cold-blooded killers stalking the streets. Losing the boy she loved once before had nearly destroyed her, but the sparking tension that grows between them becomes impossible for Ivy to deny. Deep down, she wants… she needs more than what her duty demands of her, what her past has shaped for her.

But as Ivy grows closer to Ren, she realizes she's not the only one carrying secrets that could shatter the frail bond between them. There's something he's not telling her, and one thing is for certain. She's no longer sure what is more dangerous to her—the ancient beings threatening to take over the town or the man demanding to lay claim to her heart and her soul.
Review:
Wicked was seductive, insanely addicting and had moments that were oh so funny.  I love picking up a Jennifer Armentrout book there's a great chance that I'm going to love the story.  But somehow I always forget how deeply immersed I become with the storyline and the characters.  So by the time I got to the end of Wicked, I couldn't help shaking my head because I had tears pouring down my face.  Again.  I don't know why I'm always shocked that I feel every single tiny moment of joy, hope and utter devastation with the characters she creates.  Because that's what always happens.  But her endings, oh my goodness, this one left my heart hurting yet I have lots of faith and can't wait to see where the story will go!
We lived with death and we knew it waited for each and every one of us. We were taught not to fear the inevitable, but again, what we were never taught was how to live on when those around us left.
It was so much fun being back in a world that somehow reminded me of the Covenant/Titan series.  I think I'm grasping straws here, but the setting took place in a world much like the one we are living in now.  Plus, the members of the Order have endured a lifetime of training and a dedication that they will protect those around them.  I was fascinated learning everything I could about them.
"Are you hitting on me?" Shocked, I shook my head. "Are you for real?"
"My momma probably thinks I'm real."
I ignored that. "While I have a stake at your throat?"
"You're also sitting on me, and sweetness, if you slide about an inch or so down, things are going to get real awkward."
Holy shit.
"Or fun," he added, and his lips did that slow curl again, like he savored the whole process of smiling. "I told you I found that move you made to be fucking hot. But I don't think you're going to be down for that."
Ivy is a member of the Order, and while she spent her days going to college, at night she hunted the fae.  I loved that she had aspirations to become more in life then what she was raised to be.  But it was fun watching her hunt the fae at night.  She was beyond brave and I quickly admired her strength and her perseverance to keeping others safe.  But during the day I got to see many other sides to her.  When she was around Tink, a brownie that she saved and was living with her, the humor that floated between the two of them was electrifying.  And then the naivety and uncertainty that she showed around Ren, a new transfer in the Order, just made me like her that much more.  She was so relatable, real, caring, ahhh you know what?  Ivy was someone that I would value and be grateful to have as a friend.
"You're going to have to get to know me better before you taste my cake."
Ren opened his mouth then closed it a second before he stopped and stepped right in front of me. I skidded to a stop to avoid slamming into him . The guy behind us cursed and shot us a dirty look as he walked around us. Ren ignored him. "Was that an invitation? Because I'm willing to get to know you in any way possible if that means I get to taste your cake."
"Invitation for . . .?" Oh my God. My words replayed. My face turned crimson. "You are such a pervert!" I smacked his chest hard. "That's not what I meant."
"That's a damn shame then," he said solemnly.
I hit him again, on the arm this time, then stormed around him. "You're such a dog."
Ren, oh my gosh. *shivers coat my skin* I loved how direct and to the point he was.  I loved that he knew right away that he wanted Ivy and he definitely had no problems physically and verbally expressing that to her.  He was forward, seductive, charming and I couldn't get enough of him!  While I'm usually not the biggest fan of a forward approach, he quickly had me begging for more.  The way he treated Ivy, the way he performed his job, actually everything he did I was a huge fan of.  I loved, loved, loved Ren.
"You wouldn't lie to me, would you, Tink?"
"No." He grinned. "You have Amazon Prime."
I couldn't end this review without talking a little bit more about Tink.  Tink was ridiculously hilarious.  That little bastard had me laughing so hard I had tears in my eyes.  My favorite moment with him was the 'Braveheart' scene, oh my gosh I had tears pouring down my face!  Add in the fact that he was obsessed with Amazon Prime and sugar, well I honestly think we could be best friends forever!  And I'm just as excited to see what happens to him in the future books, as I am about Ivy and Ren!  So yes, I easily fell madly in love with this story and the characters and hopefully you will too!
P.S. I love that Ivy reads and that she mentions The Marked Men by Jay Crownover (I 💗 Rule & Asa).
Reading Order & Links:


Amazon

(click on covers),

iBooks (click on titles) & Book Depository

(click on book #)


Wicked #1
Reviews:
Jen

Torn #2
Reviews:
Jen

Brave #3
Reviews:

Save
Save
Save
Related Posts