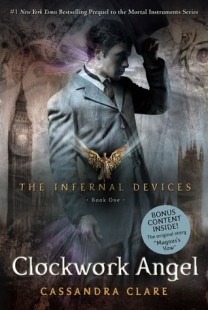 Clockwork Angel
(
The Infernal Devices #1
)
by
Cassandra Clare
Purchase on:
Amazon
, 
iBooks
Add to:
Goodreads
Honestly? I didn't know what to think when I started reading this novel. It is based in the 1800s (not AT ALL my comfort zone), and the way they spoke, because of being based so far back, was definitely different from what I am used to reading. It had a dark undertone, really the whole novel was dark, but through the darkness came a sliver of light and I was so very drawn and attracted to it. I can't explain what it was or why I eventually came to enjoy it, but it did eventually get under my skin, and for that I was very surprised.
The story starts with Tessa traveling to London from New York because her brother sent for her, saying how spectacular London was and that since they were all alone now, they should be together. Enter the Dark sisters, the creepiest characters I have come across in a long time. They teach her to use her "ability" in preparation for the Magister. It can only go downhill from there, and while it isn't a steady decline, it's as satisfying as it is tremulous. A weird combination, I know, but I grew to love Will, Tess, and Jem, and even Jess in some areas.
They grow to be close, and it is addicting to the reader. The writing takes a bit to get used to, but overall it isn't bothersome.
While the beginning was ok, and I say ok because at the time I was staring at the pages in utter horror, confusion, and repulsion, the adventure they start to unravel becomes so addicting I couldn't put it down. Because I hadn't grown to adore the main characters yet, I don't feel I enjoyed the beginning, which is a shame. We have Will-the everpresent, mercurial "badboy" who is unable to love, and we have Jem-the sweet, caring, and thoughtful boy. This was definitely YA and there was an heir of innocence, but it was alluring all the same. That is a hard feat to accomplish, and I felt it was done so wonderfully in my opinion.
My taste continues to amaze me, as I have been broadening my horizons and finding more "oh wow, that was good-I never would have thought so" novels. I have to say that immediately after finishing the first installment, I grabbed the second and dug right in. I am fully engrossed in the story, and I hope that the story stays consistently good, because I find this series to be very pleasing and worthwhile.
Related Posts