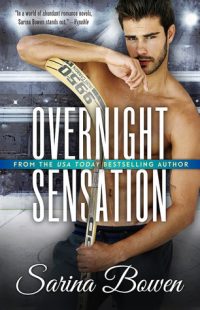 Overnight Sensation
(
Brooklyn Bruisers #5
)
by
Sarina Bowen
Purchase on:
Amazon
, 
iBooks
, 
Book Depository
Add to:
Goodreads
Synopsis:

Everyone knows the girl is off limits. But it's so good to be bad.


There's this girl...
Heidi and I have been trading hungry looks all year, and everything she does makes me smile. But I don't do girlfriends, and I certainly can't get involved with the league commissioner's daughter. I need shots on goal, not a hookup and a widely misunderstood paparazzi photo.
Can I resist her, though? The way she teases me should be a game penalty for interference with my libido. 


There's this guy...
Jason wants me, but he won't admit it. That man looks at me the way a hockey player eyes the lunch buffet after practice--and I love it.
But when victory is finally within my grasp, I blow it and humiliate myself. Even then I can't even avoid him--as the team intern, I'm in constant view of his hard body and cocky smile.
I need another chance. Jason Castro is about to learn the true meaning of an overnight sensation.
*Disclaimer: So I read this entire on vacation but in a super random order.  I wrote the reviews in the order I read them so that's how I'll be posting them, too!
Review:
"Here we are!" the driver announces cheerfully.
"My body is ready," she whispers. I wonder if they teach that at charm school.
Ughhhh guyssss. Time to do some not-so-serious complaining before I actually start my review. Okay, I knew when I started this binge that this was going to be a problem…I read all five of the books in this series when I was on vacation in Florida last week with no computer. I SHOULD have just written a mini review for each on my phone but I didn't want to waste any reading time because let's face it….I NEVER am able to read that much anymore. The last time I accomplished it was two years ago when I was a library conference with no baby or husband to interrupt me lol. Anyways, SO HERE I AM, desperately trying to remember all of what I loved about each of these books. Bare with me….
"Hi Pete!" she greets the gray-haired bartender.
"Hello, miss." He gives her a big smile. 
"I'd like a shot of tequila with a whiskey chaser," she says. 
Pete rolls his eyes. "You're underage. We've been over this. Besides—nobody orders that. We have to work on your smack talk." 
"What do I order if I want to make a statement?" she asks, pulling out a barstool and plunking her cute butt onto it. 
"A buttery nipple," Pete suggests. 
"What if I'm avoiding dairy?" 
The bartender laughs so hard he practically has an aneurism. That's the thing about Heidi. Once you've noticed her, it's hard to stop noticing her.
First of all, I need to throw it out there that these should be read in order. They don't *have* to be BUT I did NOT read them in a really ass-backwards way and ended up meeting all these characters that I didn't know and that didn't seem as special to me because I hadn't met them yet. (also as a side note, reading this one first ruined a bit of the anticipation on whether or not they were going to win the series or not during the first few books. In this one we find out right away that they had lost..) My favorite part of a sports series, or even any romance series, is when you get to meet this huge group of friends and they eventually wind up feeling like family. This series is no exception. I love all of these guys so much and am so glad I FINALLY took the time to read them all.
I can't quite decide if this one was my favorite or if Brooklynaire was….either way they were all incredibly good. I loved the bossy and macho Castro and Heidi was fucking hilarious (and equally bossy). The sexual tension between them was delicious and their banter and the way their relationship began and then progressed was just…ugh perfection.
I also really liked how Heidi just didn't quite know what to do with her life and didn't even really figure it out by the end. I think it's complete and utter bullshit that we as young people are supposed to just all suddenly KNOW what we want to do when we grow up. I mean I LOVE being a librarian but even I wonder sometimes if that's exactly what I'm meant to be doing (I know I've got the surrounded by books daily part right at least lol). Her dad may have been a complete dick to her, and basically prevented her from initially taking that job with Rebecca but it was so satisfying, seeing her do all of the jobs that she was assigned to without any complaints. She is amazing and I love her to bits. 100% will go back for a reread at a later time.
"I love you against reason, against promise, against peace, against hope, against happiness, against all discouragement that could be."
Side note: It should be mentioned that every book in the Brooklyn Bruisers and Brooklyn series can be read as standalones.  In my own personal opinion though, once you read one, you won't stop until you read the rest.
Related Posts