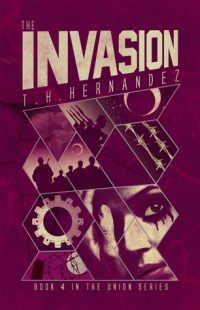 The Invasion
(
The Union #4
)
by
T.H. Hernandez
Purchase on:
Amazon
, 
iBooks
Add to:
Goodreads
Synopsis:

They failed. Evan and Cyrus risked everything to keep the Uprising from attacking the unarmed Union, but something went terribly wrong. Evan's home has been invaded by soldiers who are killing government officials and occupying the homes of her fellow citizens.

Captured by the Uprising, Evan fights for her life and her sanity, desperate to escape so she can find Cyrus and her family.

Reeling from an unexpected discovery, Cyrus is adrift until he uses his Uprising training to find a way to fight back against the invading force the only way he knows how.

With the help of old friends and new, they will do whatever it takes to protect each other and those they love, even if it means sacrificing being together, their way of life, and even their very lives.
Review:
If you haven't read this series yet, you can check out my review for the first book, The Union, by clicking here.
The Union Series continues to be one of my top favorites!  Especially since romance, action, torture, twists, friendship and political intrigue filled the pages!  So it was impossible for me to put this book down.  I had to know what happened next, since so many of these characters have become embedded in my heart.  I treasure the time I get to spend with them, and they make my emotions run from gut wrenching to over the moon happy.  So of course The Invasion continued to cement my love for this series.  I mean each time a new book comes out I think now this one is my favorite.  There's no way she can top it.  And then she does.  I'm always floored!  The Invasion is definitely one of my favorite books!

The chill becomes ice, turning my blood to slush. Two words repeat in my head: we failed. – Evan
So I thought I would talk about certain aspects or moments in The Invasion that made this a solid 5 Stars for me.  And they are –
* Evan's Struggle With Torture –
Death will be welcomed when we're done.
They have finally broken me. – Evan
The level of pain and the events that happened to Evan made this book so much more than I ever thought it could be.  It was intense, emotional and I sobbed for Evan.  I tried to be strong for her, but the extent of what happened to her, I just couldn't.  I felt gutted to the core, it was all so real and I was beyond terrified for her.  I'm not one who can usually handle torture, but I survived through it and it made me feel that much closer to Evan.  Plus the ramifications of what happened to Evan, and how it affected others, was brilliant.
* Evan & Mateo's Bond –
Mateo cradles my face, forcing me to meet his dark gaze. "No one's ever gonna hurt you again. I promise." – Evan
I loved that Mateo became such a great friend to Evan.  He quickly became a favorite in the last book, The Invasion, so I was ecstatic to see he had such a prominent role in The Uprising!  We got to witness Mateo be fierce, protective and caring towards Evan.  And that made me fall so hard for him. So I'm keeping my fingers crossed that when this series wraps up, he'll get his HEA.  Possibly with someone I will not say, but if you read this series then we may be on the same page? *wink wink*
* Character's Growth – Lisa and Colin have grown up so much in my eyes.  And in The Invasion, they became true adults and stepped up to the game when they were needed.  They were brave, took charge of situations and have become so much stronger than who they were in The Union.  I have become so proud of the both of them!
* Evan & Cyrus Figuring Out Their Relationship –
God, I don't deserve her. That's the only thing I can focus on as I struggle with my thoughts, wrapped around her, doing my best to protect her, even though I failed her over and over. – Cyrus
Evan and Cyrus have come a long way too, since The Union.  They've learned that they continually have to work on their relationship and communicating to one another.  Especially since so many outside factors try and tear them apart.  And while they still fight at times, I love that their relationship is built on trust, respect, friendship and love!  Their struggles individually and together have made their relationship that much stronger.  I truly believe they're almost to the point where together they will be a force to be reckoned with!
I'm learning that not facing the horror doesn't make it disappear, instead it eats away at my subconscious, waking me at night with hoarse screams that rip from my soul. – Evan
Now how this book ended?!  It left me SO excited for what's to come!  While I'm dying to know what happens next, I love where it left off.  And I love how we got more answers to some questions and more pieces to the puzzle.  It's continually coming together, and I can't wait to read the next book in this series!
Fuck fate, I'm done here. – Cyrus
PS My hatred of Bryce was cemented again in this book *smiles hugely*.  Is it wrong that I'm happy that others could possibly seethe with anger or hatred towards him because of what he did in The Invasion?!  Gah, I just love to hate that guy, and I'm not sorry at all lol!
*ARC kindly provided by Author in exchange for an honest review*

Get You Copy Today:
Amazon | iBooks | Barnes & Noble | Google Play | Kobo | Goodreads
Add To Goodreads:
The Union #1: Goodreads
The Ruins #2: Goodreads
The Uprising #3: Goodreads

About TH Hernandez:
When not visiting the imaginary worlds inside my head, I live in San Diego, California, with one husband, three children, two cats, and one dog. In addition to my day job as a technical writer and editor, I write young adult fiction. I love the intensity of teen emotions and the way they're still figuring out life. When I'm not writing, you can find me with my nose in a book, hanging out with family and friends, hiking, or knitting. I'm obsessed with Facebook, young adult novels, bad lip reading videos, pumpkin spice lattes, microbrewed beers, and the San Diego Chargers.
Goodreads | Website | Twitter | Facebook | Pinterest | Instagram | Author Amazon Page
Giveaway:
Save
Save
Save
Save
Save
Save
Related Posts
If you haven't discovered this series yet, I can't recommend it highly enough! It's a young adult romantic adventure set one hundred years after the second civil war. And it's soooo addicting! Check out my 5 Star Review below and enter a giveaway for the series along with a gift card! Enjoy!