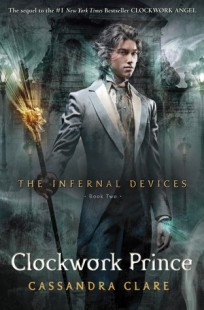 Clockwork Prince
(
The Infernal Devices #2
)
by
Cassandra Clare
Purchase on:
Amazon
, 
iBooks
, 
Book Depository
Add to:
Goodreads
An excellent installment to a surprisingly addictive series. I came upon Infernal Devices in a discussion for another book entirely. It too had a love triangle in it, and some of the girls happened to mention TID and it's apparently happy ever after for all characters involved. Seeing as how I am becoming increasingly aware of how much I love drama, to an extent, in novels, I had to hop on over and see what TID was all about. Upon reading the synopsis and seeing the cover of Clockwork Angel, I realized that I had passed it up months before. Boy do I ever see the error in my ways.
After the last novel, Tessa is now a permanent fixture in the Institute after Charlotte asked her to stay. We get to see how Tessa is affected after Will's unforgiveable actions and remarks, and how close her and Jem become because of it. With less time being spent daydreaming about Will(hardly), Tessa finds herself spending more and more time with Jem, thus forming a bond between them. I like both guys a lot. Will has hurt Tessa quite a bit, but underneath it all, I love him because he has a sweet side to him that can't be entirely hidden, and a passion for his work and also for Tessa. Jem is always there for Tessa, and it becomes increasingly clear he has strong feelings for her. Everyone around him (aside from Will) can see his feelings for her as clear as day, for he wears his heart on a sleeve.
I enjoyed every adventure and could hardly put the book down. I always seemed to be on the edge of my seat and reading at the speed of light-and I still wasn't reading fast enough. I also adore how each character has such raw passion for who they love and what they believe in. It is hard not to be attracted to each guy when they so obviously are attracted to and care for Tessa. Don't even get me started on Henry and Charlotte; they definitely add some adorable scenes to the story and make you smile when you least expect it.
So all in all, I really don't have many words. It is just one of those stories where you feel compelled to tell people about it and insist they read it. I found myself goofily smiling at the pages from Will's snarky remarks and funny scenarios he found himself in. He always seems to have the funniest facial expressions, and with Jem egging him on, it only fuels the fire. Now I finally see the light at the end of the tunnel, and I can't wait to see how it all ends and ultimately who ends up with whom.
Related Posts