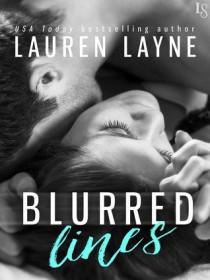 Blurred Lines
by
Lauren Layne
Purchase on:
Amazon
, 
iBooks
Add to:
Goodreads
Synopsis:

When Parker Blanton meets Ben Olsen during her freshman year of college, the connection is immediate—and platonic. Six years later, they're still best friends, sharing an apartment in Portland's trendy Northwest District as they happily settle into adult life. But when Parker's boyfriend dumps her out of the blue, she starts to wonder about Ben's no-strings-attached approach to dating. The trouble is, even with Ben as her wingman, Parker can't seem to get the hang of casual sex—until she tries it with him.

The arrangement works perfectly . . . at first. The sex is mind-blowing, and their friendship remains as solid as ever, without any of the usual messy romantic entanglements. But when Parker's ex decides he wants her back, Ben is shocked by a fierce stab of possessiveness. And when Ben starts seeing a girl from work, Parker finds herself plagued by unfamiliar jealousy. With their friendship on the rocks for the first time, Parker and Ben face an alarming truth: Maybe they can't go back. And maybe, deep down, they never want to.
Review:
**A truly intoxicating friendship to lovers story.  It was sexy, the banter was hilarious, and the elements of friendship and love were touching and done brilliantly.**
Lauren Layne has done it again!  Her books always contain the perfect combination of sexiness, banter, family, friendship and love.  And the writing always plays out like a movie in my head.  I can visualize everything so clearly, yet I'm not weighted down with a ton of details.  But this time around, I have a confession. Blurred Lines is now my favorite Lauren Layne book.  Please don't tell Mitchell and Julie from After the Kiss, because while I love them dearly, there is something intricately special to me about reading a friends to lovers story.  I've been there and done that when I was younger, but reading this twist on that trope still felt fresh to me.  So YES!  I. Loved. This. Book!  Blurred Lines was truly intoxicating, and I can't wait for you to meet Parker and Ben.
Parker Blanton and Ben Olsen have been best friends since their first year of college.  After graduation, they moved in together and their arrangement worked great.  But when Parker gets dumped by here boyfriend of almost 5 years, she decides that she wants to be more like Ben.  Which is having meaningless yet hopefully hot sex with strangers.  But a hiccup happens and now Parker is looking at Ben to be her one night stand man.  And when they do take that next step, oh my goodness, the sex is scorching HOT!  They were intimate, sexy and I loved every minute of it!  But being friends and having sex creates cracks in their friendship.  Where do they go from there?
From the first chapter, I could feel the fun, love and closeness in their friendship.  They had adorable little rituals like asking the other if they wanted to talk or mute when they were upset or seemed off.  And the banter between the two of them was hilarious.  I was laughing so hard that I was crying – hello Polly the doll ha!  But the love they had for one another shined through loud and clear.  Heck if I was Parker, I would be looking at Ben for sex too.  That's because she could count on him and trust him completely, plus he always had her best interests at heart.  Especially when he was sacrificing his own needs or wants to make her happy.  And each time he did that, my heart would be crying yet at the same time be happy because he was such a true friend.  Sigh, I loved Ben.  Especially his inner dirty thoughts haha.
But don't be mistaken, they were definitely not perfect or flawless.  I mean, Ben was a player and Parker could be a hypocrite or clueless at times, but that made them that much more real.  They screwed up, made mistakes and struggled with choices they made that were wrong.  But you know what?  When characters are imperfect, it makes it easier for me to relate or find little tiny pieces of myself in them.  Those are always the characters that I will remember months and years down the road.
So if you can't tell, Lauren Layne has quickly become one of my favorite authors.  She has a knack for writing memorable stories that feel real and relatable.  Especially when we get alternating points of view which allows me to understand Parker and Ben inside out.  I easily found myself attached to both of them and became lost in laughing at their antics and then crying in sadness and happiness for what happened to them.  Blurred Lines is a story that I will definitely be reading again and again in the future!  If you haven't read Parker and Ben's story yet, I highly recommend it!
*ARC kindly provided by Random House Publishing via Netgalley in exchange for an honest review*
Related Posts