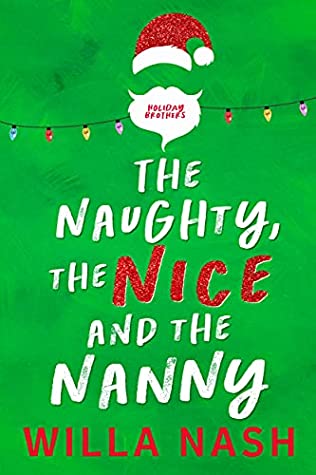 ---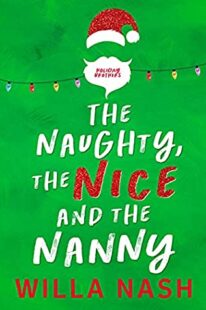 The Naughty, The Nice and The Nanny
(
Holiday Brothers #1
)
by
Willa Nash
Purchase on:
Amazon
, 
Book Depository
Add to:
Goodreads
Synopsis:

One week with one little girl—an angel, according to my staffing agency. Acting as the short-term nanny for a single dad should have been an easy way to make some extra cash. Until I show up for my first day and face off with a demon disguised as a seven-year-old girl wearing a red tutu and matching glitter slippers.

Oh, and her father? My temporary boss? Maddox Holiday. The same Maddox Holiday I crushed on in high school. The same Maddox Holiday who didn't even know I existed. And the same Maddox Holiday who hasn't set foot in Montana for years because he's been too busy running his billionaire empire.

Enduring seven days is going to feel like scaling the Himalayas in six-inch heels. Toss in the Holiday family's annual soiree, and Christmas Eve nightmares really do come true. But I can do anything for a week, especially for this paycheck, even if it means wrangling the naughty, impressing the nice, and playing the nanny.
Review:
Violet was a tutu-toting terrorist, but there was no way in hell a  seven-year-old girl was going to best me.
The Naughty, The Nice and the Nanny was a heartfelt story of new beginnings, family and love.  And while normally that's something I would fall had for, unfortunately I wasn't ever able to connect to any of the characters.  I liked them all, including the little girl.  I loved that we got to alternate between Natalie and Maddox and hear all of their thoughts.  And the story unfolded in a way that felt like an adorable Hallmark movie, with a little bit of steam.  But unfortunately, it just didn't work for me.  Everyone else seems to love this story, so I'm thinking it's definitely me!  Here's hoping you love this one, if you pick it up!
Maybe this was fast. Maybe it was reckless and a little crazy. But there  was something here. Something powerful and something worth holding on  to.
Something to chase.
---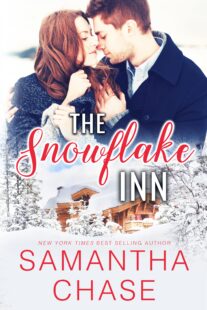 The Snowflake Inn
by
Samantha Chase
Purchase on:
Amazon
, 
iBooks
Add to:
Goodreads
Synopsis:

She's looking for a home for the holidays.
He wants to be anywhere but home for the holidays.

After ten years of tragedy and disappointment, Grace thought she had finally found a place to call home when she walked through the doors of The Snowflake Inn. But all her hopes and dreams for a future and a forever-home are dashed the moment Riley walks through the doors of the Inn.

Riley never had any desire to return to The Snowflake Inn, never mind run the place, but when his world is turned upside down, he has no choice. It was always his family's dream that he one day take over running the Inn, not his, and now he's ready to cut his losses and leave as soon as he can. Or that was his plan before meeting Grace.

Grace and Riley's plans couldn't be more different, but neither one of them can deny the attraction they feel for the other. With a little help from the magic of the Christmas season, The Snowflake Inn may just be the place where both their dreams come true.
Review:
The Snowflake Inn was a heartwarming Christmas story!  With characters with jaded pasts, a beautiful setting, and a story-line that you can easily read in one sitting, this book was a lot of fun.  Riley and Grace were so easy to love, even when they both made mistakes.  Riley was back home from being in the Marines after being injured.   His mom, Corrrine, had a bed and breakfast and it wasn't the best memories from his childhood.  So with the full focus to get his mom to sell the inn, Grace was the hiccup he never saw coming.  Grace became best friend's with Riley's mom and I adored their friendship.  And with Grace now working for Riley's mom, I loved how that didn't change their friendship.  Owning a bed and breakfast was Grace's dream.  So to say Riley and Grace butted heads is an understatement lol.
Riley knew Grace was beautiful. Hell, it was one of the reasons he kept following her. She intrigued him, and he couldn't seem to help himself. But now, with her standing here in his arms? Everything about her called to him. So he did the only thing he could do.
He kissed her.
Riley could be so focused and dense at times.  He thought what was best for others, was what he ultimately wanted.  So I loved watching him grow and finding out how to accept what is and how to make others happy.  He also showed us that he was kind and thoughtful. And while him and Grace were both attracted to each other, they didn't get along at first.  So it was great being able to alternate between the two of them.  Grace had a lot of healing to do too and we got to watch that slowly happen within the pages. We were also given both of their backstories, and it added so much depth to Riley and Grace. With a wonderful happily for ever, this book was adorable and steamy too.  I will definitely be checking out other books by Samantha Chase, since this was my first!
---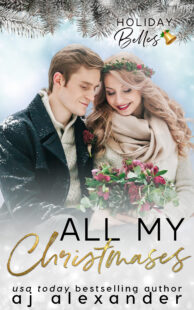 All My Christmases
by
AJ Alexander
Purchase on:
Amazon
Add to:
Goodreads
Synopsis:

I don't do Christmas. I'd even go as far as to say I hate it.

But when my baby sister asks me to walk her down the aisle on Christmas Eve, I can't say no. So, instead of soaking up the sun on a remote island, I'm freezing my ass off, surrounded by mountains of snow.

What I didn't expect was for my baby sister's best friend to turn into a curvy snow bunny. She's too young, too innocent, and too good for the likes of me.

But no matter how hard I try, Noelle Eden has thawed my ice cold heart.

I didn't come here looking for love, but I plan to ensure that the rest of my Christmases from now until forever are with her.
Review:
All My Christmases was a sexy Christmas story that was  a quick read!  Lincoln was jaded from his past and was coming back home for his sister's wedding.  But he desperately wanted his sister's best friend, Noelle, who was half his age.  He had never made his wants known before, but from the moment he laid eyes on her again all bets were off.  She was his.  We got to the sexy scenes quickly and they were definitely spicy and kinky!  If you adore dirty talk, Lincoln is your man!  But with a few hiccups along the way, family showed how they can be your best friend.  We were left with a wonderful happily ever after and a wonderful peek into the future!
"Why are you looking at me like I'm something to eat?"
"Because you  are," he groans before capturing my lips with his in a heated kiss and  pushing my back into the wall, trapping me with his body. 
Related Posts