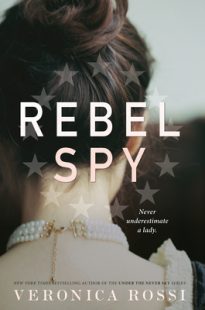 Rebel Spy
by
Veronica Rossi
Purchase on:
Amazon
, 
iBooks
Add to:
Goodreads
Synopsis:

A reimagining of the story behind Agent 355--a New York society girl and spy for George Washington during the Revolutionary War--perfect for fans of Tatiana de Rosnay's Sarah's Key and the novels of Julie Berry.

Rebellious Frannie Tasker knows little about the war between England and its thirteen colonies in 1776, until a shipwreck off her home in Grand Bahama Island presents an unthinkable opportunity. The body of a young woman body floating in the sea gives Frannie the chance to escape her brutal stepfather--and she takes it.

Assuming the identity of the drowned Emmeline Coates, Frannie is rescued by a British merchant ship and sails with the crew to New York. For the next three years, Frannie lives a lie as Miss Coates, swept up in a courtship by a dashing British lieutenant. But after witnessing the darker side of the war, she realizes that her position gives her power. Soon she's eavesdropping on British officers, risking everything to pass information on to George Washington's Culper spy ring as agent 355. Frannie believes in the fight for American liberty--but what will it cost her? Inspired by the true "355" and rich in historical detail and intrigue, this is the story of an unlikely New York society girl turned an even unlikelier spy.
Review:
Rebel Spy was addictive and completely enchanted me.  With blackmail, friendship lies, trust and honor floating across the pages, I fell in love with this story.  This was the first historical fiction I've read and I'm hooked and will be looking for more in this genre!  I loved how the story slowly unfolded.  It was thick, rich and mesmerizing.  So if you're a fan of historical fiction with a dash of romance, then you'll definitely want to add this one to your tbr!
I had only myself to count on now.
I brushed the wetness from my cheeks. I was going to have to be enough.
In 1776 Francisca was trapped.  She had an abusive and cruel stepfather who wanted more from her and her means of bringing them money was dangerous, wrecking for treasure in the ocean.  I instantly connected with Frannie and felt her pain. Her only solace was from one good friend and when she was fathoms deep in the ocean.  When the body of Emmeline Coates washed upon the shore, and she heard people searching for her in the distance, Frannie took a chance.  And fate led her towards a new life in Philadelphia.
I wanted to do things that mattered. I wanted to sink my teeth deep into the world. I'd stood by as Asa had been beaten. I never again wanted to feel that way again— like less.
I was so nervous and unsure over Frannie's future, just like she was.  But she was smart, brave, sympathetic, fierce and clever so I was also excited for her!  During those times, America was in the process of asserting their independence from the British.  But Frannie had been far away from war, now she was heading right into the middle of it.  And her first taste of it was with Asa Lane.  Asa was an American rebel who was on her ship, which was filled with loyalists.  He captured my attention right away.  Not only because he helped Frannie and made me smile.  But there was a chemistry and heat between them that couldn't be ignored.  I loved how they were open, honest and philosophical with each other.  But again, fate intervened and threw Frannie on a path that guided her heart to being a spy.
Everything coarse and uncivilized about me had to stay in the past. From now on, everything was going to be perfect.
I sank into a deep curtsy.
Then I rose, a lady.
Her new life in Philadelphia lead to a courtship with Lieutenant James Duncan.  And when she realized how her relationship with him could help the Americans, she became Agent 355 for George Washington.  And as someone who was awful at history, I more than appreciated how we slowly learned the world and history Frannie was immersed in.  It was all so easy to grasp and understand.  But one thing that was hard for me to watch was how she collected intel from those around her. Those who saw her as a friend or something more, like Duncan who seemed so open, honest and sweet.  But all's fair and love in war, or so I kept reminding myself.
Spying was stealing from the enemy— but what if that enemy was someone decent? Someone with a charming personality, perfect lips, and eyes like pools of honey when they caught the sunlight?
The atrocities of war were beyond horrific and there was nothing I could do but sit there and watch it unfold on the pages.  So of course I found myself cheering for Frannie and the rebels.  It was impossible not to, right along with having sweaty palms and tears in my eyes quite a few times.  I hurt for these people who had become my friends.  But at times I didn't want them to make rational decisions.  I wanted them to be selfish.  Especially since Frannie and one of the men had an impossible future.  Even though they fit so perfectly together.  
He kissed me then. Deeply. Passionately. We grasped and tugged at each other like we'd only breathe again if we became one, but that was what I'd always felt with him. Together, we made something whole.
Rebel Spy was vivid, enticing and slowly enraptured me in its story.  I was so wrapped up in this book that I forgot about that first chapter, which was a peak into the future in 1780.  So when the present collided with the future, I was not ready.  It stole my breath and I had to know what happened next.  I loved how the story flowed and the few jumps in time were done seamlessly.  And that ending, oh how I desperately wish there was an epilogue or a few more pages.  I kept clicking on my Kindle for more.  It ended with a HFN, happily for now, but I need more of Frannie's life please or a peak into their future.  I'm not ready to say goodbye to her or him♥.
*I voluntarily read and reviewed an advanced copy of this book, provided by the publisher. All thoughts and opinions are my own.*
Amazon I B&N I iTunes I Google Play
Favorite Quotes:
I stared into his eyes. He'd made me think. "I never thought about changing the world before, Asa. I never even thought I'd see any of it."
He tipped his head. "There you are, Miss Tasker. The world."
I looked through the window, at darkness and moonlit clouds. I couldn't actually see the world, but I felt it out there. Waiting for me. All that I'd never thought possible.
He snorted. "En't anybody ever teach you to watch your mouth?"
"Yes. Then I tried to kill him."
Hackett stared at me. "My, my, Little Salt. I think I believe you."
Rare is you, Frannie. Rare as a comet.
I'd thought spying would let me breathe— but lies were lies. Even when they were told for noble reasons. And yet, I wanted more. I needed more.
I couldn't put into words what Asa's hands were saying as they kneaded my cold ones back to life. But I wanted the whole world to be made of what I felt in them.
"Do you remember?" Asa whispered. "We were always burning."
I knew such flights of fancy were dangerous. I had a family and friends. I had Duncan. Nothing good could come of imagining other possibilities. But I couldn't leave the house, nor could I spy. Nor could I ask Asa what he'd meant by none but yours.
So I allowed myself to dream.
About Veronica Rossi: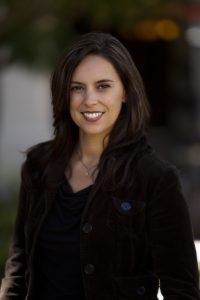 Veronica Rossi is the New York Times and USA Today bestselling author of the UNDER THE NEVER SKY series. She was born in Rio de Janeiro, grew up in California, and graduated from UCLA. She lives in the San Francisco Bay Area with her husband and two sons, one of whom just surpassed her in height. Find her online at veronicarossi.com or on Twitter at @rossibooks.
Website I Twitter I Goodreads I Instagram I Facebook
Related Posts
I have fallen for every single one of Veronica Rossi's books that I have picked up, so I jumped at the chance to be on this tour for her latest release. Rebel Spy enchanted me and I'm so happy I got to meet Frannie and all of the other characters in this story! Check out my review below ♥.