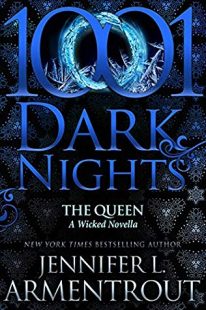 The Queen
by
Jennifer L. Armentrout
Purchase on:
Amazon
Add to:
Goodreads
Synopsis:

From #1 New York Times and USA Today bestselling author Jennifer L. Armentrout comes the next installment in her Wicked series.

The King must have his Queen....

Bestowed the forbidden Summer's Kiss by the King of the Summer fae, Brighton Jussier is no longer just human. What she is, what she will become, no one knows for sure, but that isn't her biggest concern at the moment. Now Caden, the King, refuses to let her go, even at the cost of his Court. When the doorway to the Otherworld is breached, both Brighton and Caden must do the unthinkable—not just to survive themselves, but also to save mankind from the evil that threatens the world.
Review:
The Queen was impossible not to devour in one sitting!  This story was emotional and packed with friendship, love, lies, secrets and betrayal.  It was a wonderful ending to the Wicked Series and that epilogue was more than I ever could have wished for.  So don't tell Ivy and Ren, but this spin-off is my favorite series in their world.  Plus it left the door open to future spin-offs, which I'm keeping my fingers crossed for.  So if you love fantasy, romance or Jennifer L Armentrout's books, then you definitely need to pick this one up!
I'd always dreamed about the kind of love where someone was willing to risk everything. I never thought I'd be on the receiving end of it, but I wanted it—wanted it so damn badly.
But was that kind of love worth everything?
With that huge announcement at the ending of The King, I desperately wanted to read this book.  But when we started to learn how the fae's lives worked, I was shocked, just like Brighton.  It all felt so hopeless.  Brighton was left with the choice of her happiness, or the safety of the world.  All the while, she was still mentally suffering from when she was held captive.  Her flashbacks were suffocating.  But Brighton was rational, strong and knew what she had to do.  Even if it meant keeping Caden at arms length and hoping her heart wouldn't shatter in the process.
He took a small, measured step forward. "But things are different. You have me now. You have all of me."
It felt like a knife being shoved straight into my heart. His words shouldn't make me feel that way. They should bring me nothing but happiness.
This isn't fair.
I. Loved. Caden!  The King, Caden, was loving, protective, strong, loyal and intoxicating.  Even though the world rested on his shoulders, there was absolutely nothing he wouldn't do to keep Brighton safe.  He cared so deeply and purely for her.  And as we got to see all that he would do for her, it made me fall that much deeper in love with him. I was obsessed.  Caden and Brighton seemed to be embedded into each other's hearts and souls.  So how could he choose another?  And how could she deny him the truth?  It all felt like an impossible feat.
He took my face in his hands. "You hold a part of my soul, Brighton. You are my everything. Nothing will change that. Ever."
With the appearance of so many favorites from the previous books and series, The Queen had it all.  Tink made me laugh so much that my sides hurt.  I loved that there was lots of laughter in the pages, but there was also so much that made my heart hurt.  This book was definitely heavier on the emotional aspect, then the action.  But it still felt like there was danger around the corner.  And I just want to say, I knew it!!  This book wrapped up with an epilogue that absolutely breathtaking.  And the door is wide open for future spinoffs, since there are some unanswered questions.  So yes, I absolutely recommend this series.  Just be prepared to not be able to put The Queen down!!
*I voluntarily read and reviewed an advanced copy of this book, provided by the author. All thoughts and opinions are my own.*
Reading Order & Links:
Amazon (click on covers) & iBooks (click on titles)

The Prince #1

Review:
Jen

The King #2

Review:
Jen

The Queen #3

Review:
Jen
Related Posts