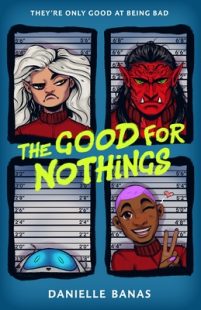 The Good for Nothings
by
Danielle Banas
Purchase on:
Amazon
, 
iBooks
Add to:
Goodreads
Synopsis:

Cora Saros is just trying her best to join the family business of theft and intergalactic smuggling. Unfortunately, she's a total disaster.

After landing herself in prison following an attempted heist gone very wrong, she strikes a bargain with the prison warden: He'll expunge her record if she brings back a long-lost treasure rumored to grant immortality.

Cora is skeptical, but with no other way out of prison (and back in her family's good graces), she has no choice but to assemble a crew from her collection of misfit cellmates—a disgraced warrior from an alien planet; a cocky pirate who claims to have the largest ship in the galaxy; and a glitch-prone robot with a penchant for baking—and take off after the fabled prize.

But the ragtag group soon discovers that not only is the too-good-to-be-true treasure very real, but they're also not the only crew on the hunt for it. And it's definitely a prize worth killing for.
Review:
The Good for Nothings was an incredibly fun twist on Guardians of the Galaxy meets YA.  It had heart, humor and charm wrapped up in a story that was oh so fun!  This is the type of book that is impossible not to devour in one sitting.  And space pirates?!  I. Was. Obsessed!  With characters that were flawed and relatable, I found myself deeply caring for this fabulous group of misfits.  I could read so many stories about their antics together!  So if you're looking for a book that is filled to the brim with adventure, friendship, and humor, then you have to add this one to your tbr!
We'd broken a criminal's only rule.
We got caught.
From those first few pages, I was sucked right in.  This story started out in a situation that mixed humor and action, along with technology like nothing I had ever seen.  I was completely addicted.  But eventually Cora and her android friend Elio ended up in jail together.  And from there they met Wren and Anders.  When the four of them were offered their freedom in exchange for going on a dangerous treasure hunt across the galaxies, they were all in!  They had SO many obstacles in their way!  Including themselves.  But I adored the four of them so much.  Especially while they were trying to figure out how to work together as a team.  The storyline was a wild ride and these characters etched themselves into my heart.  So here's a little bit about each of them…..
The only way I could steal from them was if they trusted us completely.
Cora:
My family was in the business of lying, and I could confidently say the best lies were the ones that you believed to be true.  They were the ones that you wanted so desperately; they were your first breath of air in the morning and the last before you went to sleep at night.
Cora was from a notorious crime family and her best friend in the world was her android friend, Elio.  They had the most beautiful friendship ever, one that felt like true family.  I loved Cora right away because she was brave, fierce and cared so deeply for Elio. I love that she tried her best but at times, life got in the way.  Be prepared for her to have the most random and bizarre distractions, during a crisis ha.  She was just so easy to connect with and love.  But Cora was keeping secrets and lies.  I understood the whys, I just knew my emotions were going to get tangled in the inevitable fallout.

Elio:  
"Beep! Beep! Beep!"
I couldn't lose him.  Not like this.  Not when we were so close.
Elio was the cutest android ever and was such a wonderful friend to Cora.  His heart felt so pure and I loved all of his little quirks.  Like wanting to eat and smell food, even though he wasn't a human or alien.  He was smart and I loved how fast he was able to process things, even sarcasm *heart emoji eyes*.  Elio was someone who was not only brave but resourceful and he rounded out their little group perfectly.  He is definitely going to charm everyone that picks up this book.  There's no way he won't sneak into your heart.
Wren:
Wren reached under her veil and squeezed my hand.  "Together we will accomplish great, but possibly not legal, things," she whispered.
Against my better judgment, I squeezed back.  "Aye aye, Captain."
Wren was impossible not to love too!  She was bubbly, fun and cracked me up!  But that girl knew how to steal stuff like no other.  And she could easily steal everything in sight ha!  She was a fabulous pilot, was beyond loyal and she was someone I'd want to be best friends with and have by my side for treasure hunts and battles.  Wren's heart of gold and bravery was commendable!
Anders:
There were too many words to describe the sensation, like the endless stars in the sky, the endless galaxies in the universe.  Even when we pulled apart, I knew that I would carry this moment, this brief little flash of existence where time and space held still and there was us – only us – with me for infinity.
Oh boy.  At first I wasn't sure what to think of Anders, since he was so closed off.  He tried his best to keep his walls up, but when they would fall down from time to time, the peaks we would get of him *sigh*.  Yup.  I was obsessed.  When his humor started to poke through I was a goner.  Anders was brave, fierce, deadly and someone I swooned very hard over!
He didn't need to know that whatever minuscule bit of camaraderie we had cultivated was a game that I desperately wanted to make real.
I absolutely loved the Good for Nothings!  There was a little bit of a romance going on that made me so happy!  And the moments where I got to be a part of their inside jokes, I felt like part of the team!  But deals with the devil were made.  Secrets were kept.  And impossible journeys and obstacles were around every corner.  This story even made me shed a few tears.  So if you're looking for a story that will make you smile, laugh and get lost in then definitely add this one to your TBR!  This is the second book I've read by Danielle Banas that I've loved and I can't recommend her books enough!
*I voluntarily read and reviewed an advanced copy of this book, provided by the publisher.  All thoughts and opinions are my own.*
Goodreads / Amazon / Barnes & Noble / iBooks / Kobo / Google Play
About Danielle Banas:
Danielle Banas is the author of THE SUPERVILLAIN AND ME and THE GOOD FOR NOTHINGS. She earned a degree in communication from Robert Morris University, where she spent slightly too much time daydreaming about new characters instead of paying attention in class. When she isn't writing, Danielle can be found loudly singing show tunes, spouting off Disney World trivia, and snuggling with her puppy. She lives in her hometown of Pittsburgh, Pennsylvania.
Giveaway:
Related Posts
I'm so excited to be on the tour for The Good for Nothings! This book was filled to the brim with adventure, friendship and humor! So check out my review below and enter in a fabulous giveaway. Enjoy! ♥