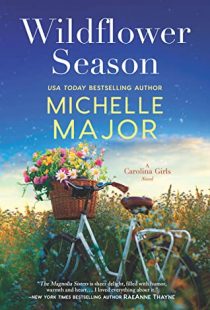 Wildflower Season
(
Carolina Girls #1
)
by
Michelle Major
Purchase on:
Amazon
, 
iBooks
Add to:
Goodreads
Synopsis:

She always followed the path of least resistance…until it leads her to a small town where she can follow her dreams.

When Emma Cantrell's marriage imploded, she learned a fast and painful lesson about trusting her heart. Then, on a visit to Magnolia, North Carolina, to see her brother, an elegant, if dilapidated, mansion for sale presents the opportunity to start over. Risking everything on her dream of opening the Wildflower Inn, Emma buys the house…just as the storm of the century hits, severely damaging the structure. But a chance meeting with Holly, a bride-to-be in desperate need of a new venue, gives her hope…and the name of a contractor who'll work fast and cheap, allowing Emma to repair the inn in time to host the wedding and save her investment.

A furniture builder who hasn't picked up a tool in the five years since his wife died, Cameron Mitchell has no intention of agreeing to help this beautiful—and, he'd guess, entitled—woman insisting that he fix her inn. Until he learns that Emma was sent by Holly, the little sister of his late wife. Grudgingly, Cameron agrees to do the work, with one condition: that he be left completely alone. But the more time they spend together, the more Emma touches a part of his heart he was sure died long ago, forcing him to try making peace with his past.
Review:
Wildflower Season was a heartwarming tale of love and hope.  With an abundance of characters to fall for, and lots of small town charm, there was a lot going on in the pages.  If you adore adult romance, with a strong presence of community and townspeople coming alive throughout the pages, then this book is definitely for you!
This might be a temporary detour on the path to the rest of her life, but she wasn't about to turn back now.
Emma Cantrell moved to Magnolia for a fresh start.  But after buying a house, to turn it into a bed and breakfast, the storm of the century hit.  And her new investment was plagued with a ton of repairs and work.  Thankfully fate had her meeting Holly, who was in need of a new venue for her wedding.  With lots of hope in the air, Holly had a plan to fix Emma's house and Emma had a plan to help Holly have her dream wedding.  Yet there was just one hiccup.  Emma had to convince Cam Arlinghaus to help repair her house, and from that first moment they met, there were sparks.
Hope, Cam understood as Emma walked toward the house, was a blessed and blasted thing.
Cam had been married to Holly's older sister, but she had died years ago. And Cam still carried the guilt of her death with him. He was beyond jaded and had kept to himself. He completely changed his life and was now doing fishing tours, instead of his passion of furniture making. But with the push of Holly needing help, he agreed to fix Emma's house.  And Cam was definitely book boyfriend material!  He was thoughtful, kind, caring and looked out for others, even if he got wrapped up in his life at times.
"I don't think you're a mess."
"Maybe that's because you're an even bigger one."
"Could be," he agreed with a smirk.
There was a lot of characters in the pages from beginning to end, which I did struggle with. I don't ever do this, but I had to make a cheat sheet. I couldn't keep everyone in their town straight. Maybe it would have been different if I would have started with the The Magnolia Sisters Series. But on top of that, it didn't matter how much I liked Emma and Cam, I could never connect with them. And for me to truly enjoy and fall for a book, I desperately need that connection. My heart was so sad I wasn't able to.
He closed his eyes for a moment. When he opened them, his gaze was so filled with desire it practically took her breath away. No man had ever looked at her the way he did.
Heart to hearts, guilt, redemption, hope, love and forgiveness filled the pages of Wildflower Season. There was sexual tension, the development of friendships and even a spicy scene or two in the pages. But at the end of the day, not being able to make that connection to Cam and Emma made me struggle. This story was easy to devour, so if you pick it up I hope you fall for this book!
Related Posts