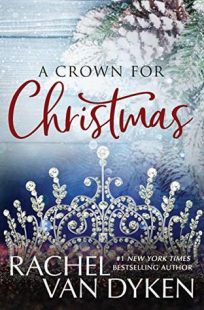 A Crown For Christmas
by
Rachel Van Dyken
Purchase on:
Amazon
, 
Book Depository
Add to:
Goodreads
Synopsis:

The first time I met Fitz or to most of the world Duke Fitzegerald Heraldo Belleville, I punched him in the throat.
I was actually aiming for his chin, but he was a few years older, clearly not wiser, but at least taller.
He started wheezing on his candy cane.
And well, the rest is history.
Hate replaced what could have been friendship, and for the rest of my teen years, I watched him flirt with every single breathing female.
I hated him.
Plotted his death with a smile on my face.
And knew that my first decree as Queen would be to chop off his head.
Except now that I'm finally old enough to inherit the title, there's one tiny little slip-up.
I need a man by my side.
The problem?
I may have accidentally scared them all away.
I have no options.
Until the devil rings my doorbell with a wicked grin on his face and revenge dancing like sugarplums in his gaze.
I hate that I need him.
It's a serious problem.
We have twelve days before we say I do.
I just pray we survive without killing each other first.
Review:
A Crown for Christmas easily became one of my favorite Christmas books! With enemies to lovers, irresistible banter, a forced marriage and snow falling how could I not fall madly in love with this story?! The prologue pulled me in and I was so addicted that I didn't put my kindle down until I read that last page. I can't recommend this book enough!
He stared at my mouth and then licked his lips like he wanted a taste, but that would be ridiculous. He hated me. I loathed him. It worked for us.
I shivered and looked away.
Princess Phillipa was expected to be Queen, but the law dictated that she had to be married first. Unfortunately she had run all of the possible suitors away, except one. Duke Fitzgerald Heraldo Belleville, aka Fitz. But where Fitz was concerned, there was one tiny problem. They had been enemies since they were children. We got to watch them, in the past, and the things they did and said to one another was horrifically awful. Yet I laughed so much. And in the present day, we witnessed a proposal and Phillipa being informed that a wedding would take place in twelve days. To her archnemesis. What's a princess to do?
I hated the way he stared at me too long.
The way his perfect emerald eyes lingered like he was mentally mocking me and doing a bang up job of it.
But most of all, I hated that he was beautiful.
The story alternated between Phillipa and Fitz and I loved them both so much! Phillipa was strong and level headed. She was a generous and loving princess. And I could easily see her being a role model and someone others could look up to as their Queen. Yet the moment Fitz was around, she couldn't help but find herself butting heads with him.
Her grin was pure evil. I had half a mind to kiss it off her face just to even the playing field, shock the hell out of her, and get to taste the peppermint all in one fell swoop. Pity her lips were probably poison.
Fitz could be such a trouble maker, but the man was as clever as he was seductive. He just had this way with people that made you instantly like him. Well except Phillipa lol. Fitz was thoughtful, witty, smart, devious and oh so quick with his replies. I was obsessed. And to Phillipa's dismay, she started to see those qualities in Fitz too. Especially when he helped her get her way at times. It was impossible to ignore his charm, even if Phillipa was bantering with Fitz in that next moment.
My body tightened. "I don't think I've ever wanted to pull someone's hair more in my entire life, not in an effort to chase them, but to pull them so closely to my chest that all I feel is their skin, their breath, and maybe a soft moan of pleasure."
Her eyes flickered to my mouth, and her lips parted. "This is crazy."
Regardless of how much they hated each other, you could still feel the attraction burning between them. But when the gloves came off and they played nice, was it truly sincere? Could they really trust each other? I loved watching the intricacies of their relationship unfold. Together they were swoon worthy and I was addicted with all of their interactions. It was so easy to fall for them!
"What changed?" I hooked my arm in his as we started walking.
"Everything," he whispered under his breath.
If you're looking for a romantic and hilarious Christmas story, then definitely add A Crown for Christmas to your tbr! This may be RVD's funniest book yet, but there were also a few moments I didn't see coming…..so there was no stopping my gasps. With fabulous characters, addictive banter and a wonderful story line, this book was such a winner! I loved it so much!
Related Posts