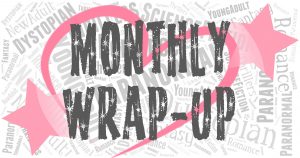 During our Monthly Wrap-Up, we'll take a look at what has happened around here in the last month. That'll include what's happened in my life, what we've read, any other posts we may have had, our most popular Instagram posts, and books that I've added to my ever-growing TBR.
*We linked this post to the December Monthly Wrap-Up Round-Up Link-Up at Feed Your Fiction Addiction*
Jen's Life:
So this is kinda scary to share…..but the reason I disappeared at times and stopped doing these posts for the latter half of the year was because emotionally I was very broken.  I started and ended the year losing those I love, my Grandma who I was extremely close with my whole life.  And my little dog, who was more like a child to us for the last 14 years.  When you throw in a serious health issue that I still haven't mentally dealt with yet.  To some of our family and friends getting scary sick from COVID.  And to me switching to being a teacher to our 2nd and 4th grader since there was no way I could subject them to distance learning again…..well I was an emotional mess to say the very least.  So this year I'm trying my best to heal or I guess start the path to healing.  This week I'm starting back up my 3+ mile walks and exercise to give myself sanity, spending all the quality time with those I love and just trying to find the joy in simple every day things like I use to.  I'm normally a person who is overly bubbly, talkative and smiles wayyyyy too much and I'd love, love, love to find that person again *fingers crossed*.  So if you're working on yourself in 2021 too, hugs and here's hoping we can get to where we want to go ♥.  Now onto all the bookish stuff…….
✮✩✮✩✮✩✮✩✮
What We Read:
5 Stars:
✮ In a Holidaze by Christina Lauren
✮ The Boss Who Stole Christmas (Reindeer Falls #1) by Jana Aston
✮ The One Night Stand Before Christmas (Reindeer Falls #3) by Jana Aston
✮ A Sky Beyond the Storm (An Ember in the Ashes #4) by Saaba Tahir
✮ Second First Impressions by Sally Thorne
✮ You Deserve Each Other by Sarah Hogle
✮ A Crown For Christmas by Rachel Van Dyken

4.5 Stars:
✮ The Darkest Temptation (Made #3) by Danielle Lori

4 Stars:
✮ Holiday With You by Claudia Y. Burgoa & Grahame Claire
✮ If You Give A Jerk A Gingerbread (Reindeer Falls #2) by Jana Aston

3.5 Stars:
✮ Let It Snow by Cassie Cross

2.5 Stars:
✮ Kissmass Eve by M.E. Carter & Sara Ney


DNF:
✮ The Clause in Christmas byRachael Bloome
✩✮✩✮✩✮✩✮✩✮
Our Favorite Books of the Month:
 (Arielle's Choice) – A Sky Beyond the Storm (An Ember in the Ashes #4) by Saaba Tahir
I can tell you with 100% certainty that these books and these characters will stick with me in my heart and soul until I die. While this isn't a light and fluffy series that can be re-read at any time during any mood, I know that I will be revisiting them for years to come. I really hope more and more people discover these books and you had better believe that once I start being able to see library patrons face-to-face again that I will be shoving this series at anyone who asks for a fantasy recommendation.
✩✮✩
  (Jen's Choice) In a Holidaze, The Boss Who Stole Christmas & A Crown For Christmas

I'm totally cheating by picking three, but oh my gosh I desperately needed help finding the joy in Christmas last year.  And each of those books helped me immensely.  If you ever need help finding joy and Christmas cheer around the holidays, definitely pick up one of these.
Instagram:
We thought it would be fun to share our most popular posts for December. And they were….
 

 

View this post on Instagram

 
 

 

View this post on Instagram

 
 

 

View this post on Instagram

 
✩✮✩✮✩✮✩✮✩✮
Books Added To Jen's TBR This Month:
✩✮✩✮✩✮✩✮✩✮
So this was our December….did you read any of the same books that we did? Or share the same favorite book as us? If not, then what was your favorite book? Or have you read any of the books I just added to my TBR?
Here's hoping you all had a wonderful December. And cheers to January being fabulous for all of us!
Related Posts