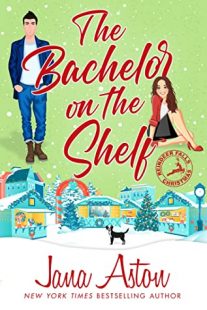 The Bachelor on the Shelf
(
Reindeer Falls #6
)
by
Jana Aston
Purchase on:
Amazon
Add to:
Goodreads
Synopsis:

My name is Carter Sheppard and I actually like Christmas and my Christmas-themed hometown of Reindeer Falls. In fact, when I learn I have to return home in order to collect an inheritance—my uncle's dog—it puts life into perspective for me.

Sure, playing professional baseball is great. But it won't last forever and every player needs a long-term game plan.

And I just found mine. Wrapped up in the feisty, bespectacled package of the town librarian.

Unfortunately, she thinks I'm a player in all aspects of the word, but I've got a plan to win her over. Starting with a fake engagement…

Warning: Christmas in Reindeer Falls is more naughty than nice. These stories are over-the-top festive with merrily-ever-afters guaranteed. Novella length for quick holiday binge reading. Enjoy!
Review:
The Bachelor on the Shelf was a sexy, heartwarming Christmas tale!  This was my favorite book about the Sheppard brothers!  With the fake dating trope and Christmas magic in the air, this novella was such a huge win!
It can't be possible for him to be a good guy. He has groupies, for fuck's sake. Shepphoes. He's just trying to fix his 'naked ass on the internet' scandal.
Right?
Carter Sheppard was a professional baseball player and was back in town.  One of his brothers' inherited their late Uncle's house, the other inherited his land, and then Carter inherited his dog Rudy lol.  Rudy had been spending time at the next door neighbor's house, Lexi.  She had fallen in love with Rudy and didn't want to give him back.  So when Carter proposed a fake engagement, to help his public image, and in return Lexi got to keep the dog, she couldn't say no!
All of his sexy smiles and his lustful glances looking me up and down are just his usual tools of the trade. I'm a librarian, he's a ballplayer. I know this story, and it won't end up well for me.
Lexi was best friends with Maggie and Sutton from the previous two books, and Lexi was my favorite by far!  She was Reindeer Falls head librarian and loved books passionately.  I loved that she was down to earth, sweet and had the biggest heart ever!  This story was told from her point of view and I loved her thoughts.  Some of them were quite hilarious and cracked me up at times.  But when it came to Carter, she knew she had to be careful.  Yes Carter was gorgeous, but the man had a player's heart and would only break Lexi's heart.
"You know, we are engaged," he says, voice low. "So, if you wanted to kiss me hello, you'd be welcome to."
 Carter had lived the ultimate bachelor's life.  Fans flocked to him and he could have any pick of women.  He was talented, seductive, beautiful and definitely sure of himself.  But I loved how Carter was so much more than meets the eye.  And as he slowly started to show all of his sides to Lexi, I fell for him ever harder.  Carter was the ultimate book boyfriend!
His lips meet mine like the first snowflake fluttering down in a storm. Light, unexpected. And then like an unexpected blizzard, we go from zero to a hundred in a heartbeat.
Lexi and Carter together were a ton of fun and steamy too.  With fake dates to help his image and to sell their fake engagement, each moment led to them touching.  And those times spent together created feelings that shouldn't exist.  Right?!  Because they were only playing a part.  What Lexi felt for Carter surely couldn't be real.  For a novella, this pulled off the fake dating trope perfectly and I was completely hooked!
He's looking at me the way people in the library look when they've found their favorite book. And as the horses tug us along the tree-lined path, Carter's hand reaches for mine.
And I take it.
Which is definitely crazy.
Even crazier, I don't think this date will be ending with just a kiss.
If you're looking for a quick, Christmas fix, I can't recommend The Bachelor on the Shelf enough!  Technically you could easily read this as a standalone, but I am glad I had read the previous books in this series.  Even if Lexi's besties were over the top.  And for those that love happily ever afters, there was an epilogue that was set a year later and I loved it!  We got to see what Lexi and Carter, Sutton and Jake and also Maggie and Ryan were up to!  I closed this book happy and smiling.  I loved being back in Reindeer Falls!
Related Posts