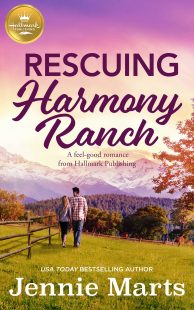 Rescuing Harmony Ranch
by
Jennie Marts
Purchase on:
Amazon
, 
iBooks
Add to:
Goodreads
Synopsis:

After her grandmother calls her asking for help, Jocelyn drops everything and heads back home to Harmony Creek, Colorado. Her grandmother runs a living history museum: a ranch and homestead where volunteers wear clothing from the early 1900s and demonstrate how things were done in the old West, from making soap to shearing sheep. The place is in financial trouble, and it needs the revenue from the annual festival to survive.

There's just one thing that makes this a little awkward: Mack, who's divorced, and who's now the caretaker and blacksmith at the homestead. Jocelyn and Mack have their own shared history, which includes both stolen kisses and teenage rivalry.

Even as the past and present collide, they have to save Harmony Ranch. Matchmaking grannies, a meddling mutt, and a flood of fun festival activities might just be enough to overcome their differences and forge two broken hearts back together.
Review:
Rescuing Harmony Ranch was a charming story filled with heart, romance and family. If you adore Hallmark movies, second chance romance and happily ever afters, then you'll definitely want this one on your tbr!
"I miss everything about this place," she whispered, hoping he knew she meant him too, even though she couldn't bring herself to say it out loud.
Jocelyn Stone was forced to leave Colorado with her mom, when she was a teen, and move to NYC. She left behind her Gram and boyfriend, Mack Talbot. Ten years later she's back. And while she thought memories from her past would haunt her, she didn't expect to see Mack. Especially not with him living and working on Harmony Ranch. But now they're going to have to pull together, to save her Gram's ranch. And it's the start of a brand new adventure!
They'd broken each other's hearts— not intentionally, but it had hurt all the same. This one moment felt like a chance to heal some of that pain… to start anew.
I adored Jocelyn. She was a hard worker who loved deeply. The moment family needed help, she dropped everything to go take care of them. But between her job, helping take care of her Gram and trying to save the ranch, she had her hands full. Thankfully there was Mack to help her out. And while they were childhood friends and then sweethearts, they could be so awkward around each other at times. Other times they fit together so seamlessly. You could tell that they both were interested in the other, but there was 10 years of misunderstandings in their way. With so much that needed to be said, I wondered which one of them was going to take that first step.
"Just dance with me. Don't think about all that other stuff. Leave the past behind us and the future ahead of us, and just be in this moment . Here. Now. With me."
She let out a breath and relaxed in his arms. He drew her even closer and moved them around the grassy dance floor.
I screamed out loud when I realized that we also got Mack's POV. After just a few pages with him, I was so attached! Mack had this gentle, soothing manner to him, but you could tell that his emotions ran strongly through his veins. Especially since he seemed to remember everything from their past. And the way he was thoughtful, kind and considerate to Jocelyn, it all melted my heart! But my heart also broke for Mack, he knew that Jocelyn was going to leave again. Just like last time. I kept the hope alive and my fingers crossed. Ohhhh and I absolutely loved Mack's dog, Savage! He was the hugest sweetie ever and his antics had me constantly smiling when he was on the pages.
He held her gaze, his voice dropping to a husky whisper. "I would do anything for you."
She sucked in a sharp inhale at the intensity of his words.
There was a gaping hole between Jocelyn and Mack that they needed to work through. But both of their Grandmothers, who were also best friends, loved to meddle. I enjoyed watching them try to discreetly push Mack and Jocelyn together. But trying to save the ranch also did that too. Shared meals, brainstorming meetings, dancing by the lake and so much more captivated me. Not only did I find myself rooting for the ranch to be saved, but for Jocelyn and Mack to be together too.
"When is the last time you let your heart decide?"
She swallowed. "Never."
"Maybe it's time you gave your heart a chance."
Romance lovers will be delighted with Rescuing Harmony Ranch! This story was so adorable and a lot of fun. I couldn't stop smiling at their antics and everything that unfolded. And I kept thinking that this would be the perfect Hallmark movie! If you're a fan of romance that is sweet, there's a great chance you'll fall hard for this book too!
*I voluntarily read and reviewed an advanced copy of this book, provided by the publisher. All thoughts and opinions are my own.*
Related Posts