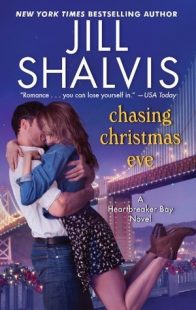 Chasing Christmas Eve
(
Heartbreaker Bay #4
)
by
Jill Shalvis
Purchase on:
Amazon
, 
iBooks
, 
Book Depository
Add to:
Goodreads
Synopsis:

Meet cute...

Run for the hills—temporarily. That's Colbie Albright's plan when she flees New York for San Francisco. Wrangling her crazy family by day and writing a bestselling YA fantasy series by night has taken its toll. In short, Colbie's so over it that she's under it. She's also under the waters of a historic San Francisco fountain within an hour of arrival. Fortunately, the guy who fishes Colbie out has her looking forward to Christmas among strangers. But she's pretty sure Spencer Baldwin won't be a stranger for long.

Make merry...

Spence's commitment to hiding from the Ghosts of Relationships Past means he doesn't have to worry about the powerful—okay, crazy hot—chemistry he's got with Colbie. Just because she can laugh at anything, especially herself... just because she's gorgeous and a great listener…just because she "gets" Spence immediately doesn't mean he won't be able to let Colbie go. Does it?

…and hope for a miracle.

Now the clock's ticking for Colbie and Spence: Two weeks to cut loose. Two weeks to fall hard. Two weeks to figure out how to make this Christmas last a lifetime.
Review:
Chasing Christmas Eve was such a charming story! While it can read as a standalone, it did leave me wanting to go back and see how the coupled friends ended up together. Especially since this is my first Jill Shalvis book and I was a little obsessed with another couple Elle and Archer. So while I had a lot of names to learn, I'm so glad that they all came easily and that each of them were unique and stood out. And when I closed the book, I was left with the same feeling after I watch a Hallmark movie. It was just so adorable, not too much drama, I quickly liked all the characters, and the HEA was just what I was looking for. This was such a feel good book.
"So you're saying…you're going to disappoint me?"
He felt his smile fade. "I have no doubt."
She stared at him for another beat and then nodded. "Good to know."
Colbie Albright and Spence Baldwin were such a great match. They're both famous in their own ways, neither of them want to be in the spotlight, and they also both have some family drama. They were kindred spirits in my eyes. Yet neither one of them wants to let the other one know exactly who they are. So it was fun watching them work towards a friendship, when they had so much attraction and chemistry between the two of them. And while I'm one of those that loves some drama, it was actually refreshing that there truly wasn't that much of it in Chasing Christmas Eve. What I found in it's place was this amazing dynamic of friendships between the people that lived or worked near Spence.
He was watching her. "So if there was a Santa Claus, what would you ask him for?" he asked.
You, she nearly said. She'd want him for Christmas and no take-backs. "I'd like my book to write itself," she said instead.
He smiled.
My favorite thing about Spence's world was all of the beautiful friendships that existed. His group of friends created their own family within one another. And it warmed my heart watching all of their interactions. Especially with girls night out….. oh my gosh, it was hilarious and left me wanting to go back to the previous books and read the instance that they talked about. Especially after witnessing what happened just in this book! But I loved how the friendships helped show who Spence was, and I loved watching Colbie interact with all of them too. It gave such a homey and more personal feel to the book.
"Colbie."
His voice. Low. Sexy. Perfect. Was she really going to be able to walk away? And even if she managed that, how was she going to move on and forget?
So if you adore books with a Harmark feel, a group of great friends, and a love story without a lot of drama, then you should give Chasing Christmas Eve a try. There's a few cheesy lines sprinkled in the first half of the book, but I'm definitely looking forward to trying more books by this author!
*ARC kindly provided by Random House Publishing in exchange for an honest review*
Purchase Links:
Amazon ✮ IndieBound ✮ Barnes & Noble ✮ Books-A-Million ✮ iBooks ✮ GooglePlay
About Jill Shalvis: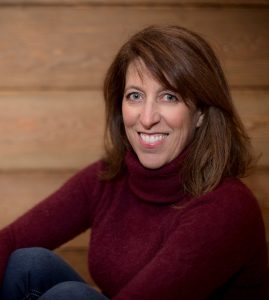 New York Times bestselling author Jill Shalvis lives in a small town in the Sierras full of quirky characters. Any resemblance to the quirky characters in her books is, um, mostly coincidental. Look for Jill's bestselling, award-winning books wherever romances are sold and visit her website, www.jillshalvis.com, for a complete book list and daily blog detailing her city-girl-living-in-the-mountains adventures.
Connect with Jill
Website ✩ Facebook ✩ Twitter ✩ Instagram ✩ Pinterest ✩ Tumblr ✩ Goodreads
Save
Related Posts