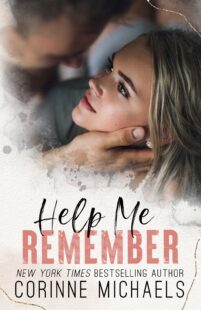 Help Me Remember
by
Corinne Michaels
Purchase on:
Amazon
Synopsis:

In one second, my life disappeared.

My past. My memories. My future.

The only certainty I have from the last three years is that my older brother is dead, and I am the only eyewitness.

In order to protect the case, the lawyers demand that no one give me any information about my life . . . I must remember on my own. My only help comes from my brother's best friend and world-renowned investigative reporter, Spencer Cross.

He has no idea how many nights I've spent dreaming of his name—and his body—next to mine.

Now we're a team and our goal is to recover my memories and retrace my past. But each day we spend together, he's looking at me as more than his friend's little sister and I find it harder to want my old life back. Instead I'm wishing for a new one—with him. His kiss feels like home. His arms make me feel safe, and I never want this to end.

As my memories return, forcing me to face my future, everything falls apart... especially when I find an engagement ring hidden in my apartment. I have no idea who gave it to me, or what it means about my past.

I may have asked Spencer to help me remember, but now I wish I could forget.
Review:
Help Me Remember was an adult romance that had so much potential. This story had me instantly liking the characters, story-line and suspense.  When Brielle woke up in the hospital, she learned that her brother was murdered and she was the only eye witness.  She couldn't remember the last 3 years of her life, and those around her weren't allowed to tell her anything to fill in the gaps.  So as not to compromise the case.  I loved the premise and that we got to piece the clues together with Brielle.  I already had so many guesses within the first few chapters.  Spencer was her brother's best friend who was always around.  His actions and words made it seem like he cared for her more than her brother's other best friends.  So my heart broke for Spencer.  For the loss he was currently consumed with.  By not only losing his best friend but possible the woman he loved forgetting him.  Or at least that's how I was hoping the pieces would land together.
"You were never forgotten. Not by the people who loved you."
"I know that."
"Not by me," I say softly.
His eyes find mine, and the way he's staring at me has my throat going dry. I would swear he wants to kiss me, which is crazy because Spencer doesn't look at me that way and we have never kissed . . . well, not like that.
The sexual tension between Brielle and Spencer was sigh worthy.  They felt right together, it was as though they were meant to be together.  And Spencer was someone who readers will adore.  He was protective, caring, kind and oh so patient.  So as Brielle's got flashes and moments of her memory trickling back to her, I was so excited.  I desperately wanted to know how Spencer fit into her past.  And what they truly were to each other.  Plus I was scared that the killer was still out there and could target her.  But by two thirds into this story, my struggles became too glaring.  I understood that those around her weren't allowed to answer questions about her past.  But I wish they would have evaded or said I can't answer that question, instead of just lying to her face.  Every single time that happened, it bothered and hurt me.  And by then I also struggled with some of the choices that Brielle made.  While I wanted to shake her a few times, when she pulled a TSTL move I knew I was done trying to make excuses for why she did what she did.  There was no coming back from that.  And my heart was sad because this was a story I could get lost in.  So while Help Me Remember didn't work for me, hopefully it'll be a better fit for you!
Related Posts