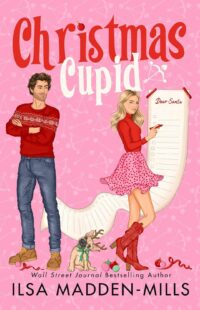 Christmas Cupid
by
Ilsa Madden-Mills
Purchase on:
Amazon
Add to:
Goodreads
Synopsis:

Dear Sneaky Santa,

I'd like to have a word about your sense of humor. Was it really necessary to stick me, a professional hockey player nursing an injury and avoiding the media, in an isolated cabin with a bratty, boot-designing princess who seems to have made it her mission to despise me? I mean, come on, what did I ever do to you?

And let's talk about our first encounter. Was it your intention for her to barge in on me while I was enjoying a soak in the tub? It wasn't exactly my finest moment, and I'm sure she didn't appreciate the view of my massive body floundering around as I tried to grab a towel.

Now, I'm stuck with her, thanks to a mutual acquaintance, in the middle of a snow blizzard, navigating through bear attacks, sketchy neighbors, and whole lot of tension. I had plans, Santa, plans to escape to Cabo and forget about the world, not to be trapped with a woman who thinks I'm unworthy of her time just because she can't stand hockey players.

Oh, and speaking of our delightful Iris, she's stingier with her food than Scrooge was with his pennies! I'm not asking for a feast, but a guy's got to eat! And could you possibly turn her yippy dog into a reindeer or something? It would certainly add to the Christmas spirit and save my eardrums.

I'm trying to rediscover the meaning of Christmas, and you throw me into this chaos? Is this some kind of test, or are you just having a jolly laugh up there in the North Pole?

So here's my Christmas wish, Santa: sprinkle a bit of your magic and either get me out of here or be a Cupid and ignite a fiery, undeniable passion between us, because right now, this scenario is frostier than a snowman.

Slapshotting Through the Snow, Kyler Blanchette
Review:
Christmas Cupid was a forced proximity, heartwarming Christmas story. With snow falling, enemies to lovers and an adorable dog, this book was so easy to read in one sitting!
I pop a piece in my mouth as I lean against the island. "Come on, sweetheart. I'm too pretty to throw out like dirty dish water."
She hoots. She actually hoots. "Hockey boys and their egos. You are pathetic."
"Like water off a duck. And you are a bratty princess. Tell me, did those boots slide in the snow? Did you bring any real shoes?"
"I can shove this boot up your ass."
I smile widely. Damn, I do like her spirit.
Iris' brother was a hockey legend who let her have the cabin he had rented, so she could find some peace and Christmas joy. A year ago, the boyfriend she thought would be proposing on Christmas ended up dumping her and marrying somewhere else. And Iris had been struggling and moping around for the last year. I adored Iris right away. I loved her thoughts and that she talked to her little dog too! There were a few times I questioned her being a good dog mommy, but I still couldn't help but like her. Especially when Iris' alone cabin time was ruined when she walked in on Kyler taking a bath in the cabin that was supposed to be empty. Her reaction was so fabulous!
I'm not making the mistake of coming on to my teammate's little sister, but damn if her lips don't look so sweet…
Dragging my hands down my face, I take a deep breath. It's cabin fever, driving me insane. That's all.
Kyler played hockey with Iris' brother and was offered the cabin too. He also was in desperate need of a break from his life. With a pinched nerve and surgery on the table, he was looking at being off the ice for the rest of the season. And that was eating him alive. So while my heart hurt for Kyler, I couldn't help loving him the most. The way Kyler messed with Iris had me laughing out loud every single time he got a rise from her. Add in that he was beyond sexy without even trying, especially when he always seemed to be in some form of naked haha, and it was impossible not to fall for him. When Iris and Kyler got stuck at the cabin, because of a blizzard, I couldn't wait to see their banter chemistry turn into more!
He's everything I've sworn to avoid: my brother's best friend, a hockey player, and definitely not my type. Yet there's something about him that makes me feel like I'm having fun for the first time in ages.
With spice, holiday cheer, and banter, this book was so easy to devour! I loved how Kyler and Iris truly communicated and talked things out. And Rob/Puck stole the show time and again! If you're looking for a quick read that will get you in the holiday spirit, and ends with a happily for now, this one may just do the trick!
*I voluntarily read and reviewed an advanced copy of this book, provided by the author. All thoughts and opinions are my own.*
Related Posts