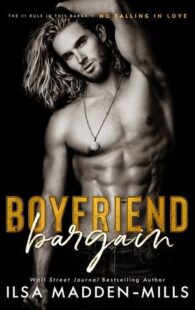 Boyfriend Bargain
(
Hawthorne University #1
)
by
Ilsa Madden-Mills
Purchase on:
Amazon
Add to:
Goodreads
Synopsis:

Wanted: one hot guy with rock-hard abs and a big stick.

Broke and desperate, Sugar Ryan has no use for arrogant, bad-boy athletes…until she's forced to bargain with the cockiest of them all.

If only he knew she was alive. Her mission? Get on this hockey player's radar any way possible. Zack Morgan is the king of the ice and the bedroom, but nothing prepares him for the mystery girl who shows up everywhere he does—frat parties, his favorite bar, and finally his front door with an offer he can't refuse. The only rule in her boyfriend bargain: no falling in love.

But after one (um, two) smoking-hot hookups, he's done with pretending and vows to make their fake relationship real. Too bad she can't trust a player with a reputation for breaking hearts.

Will this hockey star score his forever girl, or will this boyfriend bargain end in heartbreak?
Review:
He's the king of the ice, and I'm just… no one.
Boyfriend Bargain was an emotional read that was filled with fabulous angst, friendship, forgiveness and love. This New Adult story was beyond sexy and the characters were so easy to click with.  Plus the story line was so easy to devour.  If you love sports romance with fake dating, then make for sure this one is on your tbr!
"There's something going on between us that's…I don't know…interesting. I knew it the moment I saw you." He pauses. "I want you."
I want you.
Zack Morgan, aka Z, was the star hockey player at his college.  He was already picked up to play pro, but he stayed another year to finish out his schooling and to take his team to the championships.  Yes he was the ultimate player, but Z also stole my heart.  We learned from the beginning that he had severe anxiety coupled with panic attacks.  The guilt from his past was destroying him from the inside out.  Z was drowning, and not only was it crushing his ability to play, but it threatened to take everything away from him.  Z was the ultimate tortured hero.
Zack Morgan is an inferno that will burn me up. There's something about him that makes me lose my breath. And that…that must not be allowed.
Sugar Ryan desperately needed Z to be her fake boyfriend.  He was the key to get what she wanted.  And while Sugar was self-sufficient and had the hugest heart, she struggled with insecurities from her past.  I liked her so quickly and I loved that she matched her lipstick to her mood!  When Sugar and Z met, it was like fireworks exploded and electricity crackled between them.  The pull they had for one another was intense.  And all consuming.  So when Sugar proposed her fake dating plan to Z, he was all in.  He couldn't seem to get enough of her!
I'm toeing my boots off and shoving down my leggings and underwear. He's watching me, his hand palming his cock. With a growl, he picks me up, cupping my ass in his hands. He's rough, his fingers digging into my skin, a man who knows what he wants, and I moan in anticipation. This is the fastest, craziest sex I've ever had, but I know what to do. My legs wrap around him and hang on tight. 
Z was the ultimate player and Sugar had no desire to get attached to him.  Even when Z could be so smooth, Sugar kept her walls up high. Neither of them could deny though that they intrigued one another.  So the more time they spent around each other, they couldn't help but forge a friendship.  Or keep their hands off of each other.  There were so many moments between them that were explicit and scorching hot!  But there was also lots of angst too, and it was so much fun!  With their fake relationship, the line of what was real and what was pretend seemed to blur at times. And on top of that, Z was playing a dangerous game in regards to his past.  That's not something I can talk about, you have to discover on your own, but I was so nervous for how it would play out!
"We were supposed to keep this unemotional," she says quietly.
"I don't even care about that bullshit bargain. This is about you and me."
"It's not bullshit to me." Her voice is flat.
This story also had side characters I adored, who had Z and Sugar's backs.  Eric was one of my favorites, and I was beyond ecstatic to hear that he was getting his own book!  Boyfriend Bargain was so easy to read and I loved that there was jealousy, vulnerability and emotions that neither of them saw coming within the pages.  Z and Sugar both had emotions towards their pasts that they had to face head on.  So watching them help each other with their struggles touched me.  And getting to hear the story in both of their voices added a richness to their story.  Through it all, I was cheering for Z and Sugar to get the HEA they both deserved!
She's just a tiny bit intimidated by me when she's the one who's got me by the balls.
I'm going to make her mine. She just doesn't know it yet.
Boyfriend Bargain was a fabulous new adult story that was filled with all of the drama and angst.  With laughter sprinkled throughout the story and heartfelt moments, this book was a lot of fun!  And the epilogue at the end?!  We get to see into the future and anyone else who loves epilogues is going to absolutely LOVE this one!  If you're looking for a sexy, sports romance to pick up, definitely give this one a try!
Other quotes I loved…..
I tug at a strand of his hair. "I like how you look at me like you might die if you don't fuck me."
His lashes flutter. "I like it when you say fuck."
"Fuck me then," I say.
We take off across the quad and I know people are staring at us, but  ignore them completely, not caring that he's all that and I'm just…me.  The world is topsy-turvy, and even though I don't know which way is up or down, I do know that my heart is having a hard time telling him no.
"Don't be afraid of falling, okay?" I make eye contact with her, and I don't think I'm talking about skating anymore. 
Related Posts