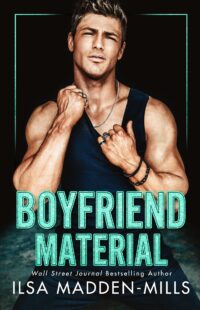 Boyfriend Material
(
Hawthorne Univeristy #2
)
by
Ilsa Madden-Mills
Purchase on:
Amazon
Add to:
Goodreads
Synopsis:

Can this hockey player prove he's boyfriend material?

#1 Amazon bestselling author Ilsa Madden-Mills delivers an all-new, heart-wrenching enemies-to-lovers sports romance...

Skyscraper cheekbones, lush lips, and magnetic topaz eyes.
I'm talking about Eric Hansen.
Rich prick.
Glorified hockey star.
Thinks he's amazing.
Yeah. The Golden Boy and I are well acquainted. In prep school he trampled on my heart and kept right on going.

Three years later, he's living the high life with frat parties and puck bunnies at Hawthorne University. On the other hand, people barely notice me. I'm the nobody, surviving in the seedy part of town as I struggle to keep my head above treacherous waters.

The avoidance game we've been playing on campus was working—until he rescues me from a bad guy and claims he wants to help me more. Hello. I don't need a knight in shining armor. This girl saves herself.

Yet, he keeps showing up just when I need him, and I'm not sure how long I can ignore the undeniable spark between us.
(It's not even a spark; it's a full-fledged blazing fire.)

Can Eric prove he's boyfriend material, or will this be a game we both lose?

*Boyfriend Material is an emotional (and steamy) new adult college romance perfect for fans of enemies to lovers or second chances. It's a stand-alone story about a new couple although reading Boyfriend Bargain (Book 1) may enrich the reading experience.

*Please note the trigger warning inside the book.

*Included in the HEA (happily-ever-after) is a 4,500 word epilogue about the couple in the future.
Review:
We have a history, a backstory that craves to be rewritten, and maybe this is how we do it.
Boyfriend Material was an angsty new adult read that I devoured in a day! With characters that leapt from the pages, a story-line that pulled at ones heart and sizzling scenes, this book had it all. If you love enemies to lovers or sports romance, you will want this one on your tbr!
A butterfly is proof that you can become something new.
It's rebirth and transformation.
Something beautiful.
Ethereal.
Someday that will be me.
Julia and Eric's best friends ended up together, in Boyfriend Bargain, yet they tried their best to avoid one other. Btw you don't have to read that book to enjoy this one, but I can't recommend it enough! When Eric and Julia were younger, Eric destroyed her heart. Years later with them both at college, Eric ended up saving Julia not once but twice. And those heart stopping moments led their enemies to lovers relationship to start to forge a tentative friendship. Yet they both had so many obstacles in their way. Not only between the two of them, but also within themselves.
"Can we wait a minute and just sit here? I-I don't want to let you go just yet."
My heart skips a beat. We've turned a corner somewhere.
I sense it.
She senses it.
If the blush on her face is anything to go by.
"Then don't," I say softly.
Julia was head strong, confident, likeable and was just trying to make ends meet while in college. She had a psycho ex Parker, who I wanted to see pounded down into the ground or destroyed, and a mom whose story will hurt your heart. I liked Julia right away and I wanted her to have some happiness or lightness in her world. And who would have ever thought she could get that from Eric?! The boy who had broken her heart.
"I guess your life isn't as perfect as I thought."
He laughs harshly, then sobers. "Uh, no."
Eric Hansen was a star hockey player at college, yet he definitely had demons from his past that haunted him. His relationship with his dad hurt, and the expectations that were pushed upon him seemed impossible to reach. With hockey and friends, he was able to push through each day. But when Eric saw Julia in trouble, his past is what led him to helping her. He couldn't deny he felt something towards her. Or that he was awful to her in the past. So the more they ran into one other, the more he realized he wasn't able to get her out of his head.
I may not have wanted a knight in shining armor, but he is one regardless.
Boyfriend Material definitely felt darker and grittier. There were intense moments that I didn't know if Eric would make it out okay. Characters that were pure evil. And as someone who can't handle certain sexual assault scenes, I was able to read the one in this book and it left me hoping for retribution! I wasn't sure where this story would lead me. There were so many emotional struggles, but through it all Eric and Julia had their friends who had their back no matter what. Reece, Boone and Eric's puck game had me cracking up! But ironically, Eric and Julia were able to find solace within one another at times. Their past didn't matter in certain moments. They defended the other. And I kept wondering and hoping when they would actually become more.
"We're rewriting the past," I say without meaning to, but there it is, out there in the universe.
"Julia . . ." he murmurs and I imagine I see a dawning in his depths.
A new beginning. Endless possibilities.
Am I crazy?
He growls as he kisses me hard.
Boyfriend Material brimmed with emotions that were raw and real. With off the charts chemistry, seductively sexy scenes, moments of redemption, this book was so easy to binge! If you're looking for a new adult story that has sports and enemies to lovers laced throughout the pages, check this one out! And the epilogue?! Oh my heart, it was everything! We also got to see characters from Boyfriend Bargain and you won't be disappointed! Don't mind me as I'll be patiently waiting to read whatever Ilsa Madden-Mills writes next!
PS Can Boone and Reece get their own books please?
I voluntarily read and reviewed an advanced copy of this book, provided by the author. All thoughts and opinions are my own.*
Related Posts