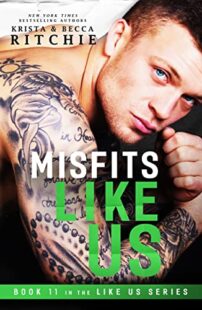 Misfits Like Us
(
Like Us #11
)
by
Krista and Becca Ritchie
Purchase on:
Amazon
, 
iBooks
Add to:
Goodreads
Synopsis:

As the eldest daughter of famous parents, Luna Hale is anything but normal. She escapes most days inside the fandoms she loves and the fics she writes, and she's accepted that real life just sucks more than fiction. But there is someone who could rival every swoony man inside her imagination.

And he only lives three floors below her. Too bad he's incredibly off-limits. Her brother's bodyguard, eight years older (okay, sometimes, nine), and the son of meth addicts—the tattooed, shameless bodyguard is the only one her dad really hates. But Luna isn't sure exactly why.

She's trying not to be hung up on him.

Paul Donnelly is trying not to be hung up on her.

With his life among the security team and his friends at stake, he doesn't need to make waves among the Hales, especially the notoriously overprotective Loren Hale, the self-proclaimed Emperor of Petty. But when Donnelly's two best friends set a time and place for a double—no, a "triple" date—the countdown to finding a date is on.

Donnelly has no idea who he should bring. He just knows it can't be her.

Luna finds herself in the same predicament as bad luck unfolds. Find a date.

And it can't be him.

Yet, the more they try to stay away, the more the universe has other plans. Nowhere in Luna's wildest imagination could she have predicted what happens next.

The slow burn heartache, feel-good fandom chats, lifelong friendships, and epic cosmic love of this next installment in the Like Us series will send your hearts into orbit with Luna & Donnelly, and you won't want to make a landing without them.
Review
Do I want to go on a triple date with my best friends?
Mostly, yeah, I do. It'll be a good time, and I like to strive towards those good things. Happy things. Lucky things. The things that make you stretch your arms out wide and breathe.

Where to begin, where to begin, where to begin? I probably should just come out and say it—I think this is my favorite book of this series so far. I have been excited about the prospect of Luna and Donnelly for quite a while now but I didn't know how their books would look or how they'd even work as a couple. It was obvious from the start that Lo was NOT going to be okay with these two together but I wasn't sure what other hurdles would wind up being thrown in their way. When I got to Charming Like Us and found out that Donnelly is giving up his entire paycheck to his uncle in exchange for him dropping his parental rights to Ripley I just fucking knew the Donnelly family was going to be the big ~thing~ of their romance arc to try to drag them down.

And this is the part of the story where I recognize that Paul Donnelly does not care if harm comes to him. Either he believes he's strong enough to defeat any evil, like most bodyguards would, or he does not value his life as much as he values the life of others.
In both circumstances, he is a good bean.

My biggest curiosity going into this book was who are Luna and Donnelly as people (other than being background/side characters) and what will it be like to get into their heads? Zhgoihfsioeghesogih let's just say the sisters did not disappoint. Luna was pretty similar to what I expected her to be but it fucking HURT getting glimpses into Donnelly's past, wow. The fact that he's as chill and as kind and as good of a bean as he is blows my mind. How do some people grow up in that kind of household and become crazy psychopaths while others stay good and true like Donnelly? Honestly I think a lot of it has to do with him meeting Farrow and Oscar and them becoming the reliable and sturdy fixtures in his life as they were/ still are. It makes me love Farrow that much more knowing he took Donnelly under his wing at a point in his life that definitely could have been close to a very major crossroads that could have had his life turning out very differently.

Sometimes, I picture myself with my fingers pressed to glass. Unable to touch the kind of love that exists within the things I so clearly watch and see. The romantic bits in my sci-fi fics and the star-crossed love on Battlestar Galactica and Roswell. I'm a voyeur to love. To soul mates.
I used to think mine might not exist.
Now, I'm more worried mine is out there and no matter what I do, I'm always unable to reach him. He's always going to be stuck on the other side of the glass.

That's not to say Luna's POVs weren't also painful. Because they were. At times she thinks that she's the family fuckup and doesn't think her writing is any good or feels down about how Orion isn't as well trained as Arkham or even when she's dealing with all the people that make fun of her for being weird and lame and "slutty." FUCK EM ALL, LUNA. You're the coolest space babe we know and we don't want you to change for anything. I also really enjoyed learning more about her fics and her extreme love for all things fandom, even if her opinions are in the minority sometimes. In this past year I've fallen deep, deep into the world of Dramione fanfiction and the community I've found in that corner of the internet is amazing. Even though that ship has become a lot more popular I know back in the day there was a ton of hate surrounding it and I can't even imagine what some of those authors must have went through. I will say, too, that by reading fanfiction I have become a lot more…open to the different kinds of wildly smutty things people write and how GOOD some of it is. The fact that (view spoiler) pisses me off SO MUCH. Write what you want to write and read what you want to read but if you don't have something nice to say about work that people have provided and spent COUNTLESS HOURS OF THEIR LIFE AND PASSION ON, then don't fucking say anything at all you assholes. Anywayyyyyyyy, lol.

This isn't a simple kiss. It's a kiss of life.
One that breathes oxygen into my lungs as I drive forward, as he holds me closer. My hands slide down his chest, and his fingers curl around my neck. Our tongues tangle in more fervent kisses, lips swelling beneath uncorked yearnings, and I only open my eyes to see the glittering light.

I will leave this review by saying how cosmically magical the romance is between Donnelly and Luna. Because Lo is Lo and doesn't approve of Donnelly, there's a LOT of pining and longing and what feels like hopelessness between these two and it's DELICIOUS. For those of you worried, I would say this ended a lot more hopeful that I had initially anticipated and I am so happy about it. I cannot WAIT to get more revolving around these two because they truly are so perfect for one another and bring out each other's best sides.

"Yeah," Maximoff says while he rises, letting me near his sister. He drills a caustic look into me before whispering, "Don't hurt her."
I'd rather die.