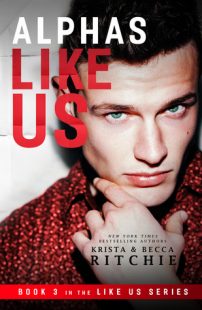 Alphas Like Us
(
Like Us #3
)
by
Krista and Becca Ritchie
Purchase on:
Amazon
, 
iBooks
Add to:
Goodreads
Synopsis:

His Bodyguard. His Love.

Maverick, know-it-all bodyguard Farrow Keene knows publicly dating American royalty comes with a great cost. Everyone wants a piece of their relationship. And as a protective boyfriend, he's not here for the malicious hands that grab at their love life and seek to rip them apart.

But Farrow is confident — he's confident that he could've never prepared for the storm to come.

Keep him safe.

Maximoff Hale isn't a big fan of change. And to regain the charity CEO position he lost, he agrees to a task that he's always rejected. One that could uproot his unconventional world.

But Maximoff is afraid — he's afraid of the consequences that could destroy his boyfriend and his family.

Keep him safe.

Changes are on the horizon.
Big.
Messy.
Complicated.
Changes.

Maximoff & Farrow will fight for their forever. And with every breath, they promise that their love story won't end here.

​​The Like Us series is a true series, one continuous timeline, that follows a family of wealthy celebrities and the people that protect them. You must read Books 1 and 2 before reading Alphas Like Us.
Tears scald our eyes, and we breathe and breathe, and I whisper, "You know, my heart is in your hand."
Another great book by the twins about love, family, and of course, drama. By now I feel fully immersed in the lives of the Hales, Cobalts, and Meadows–enough so that they could be real people that I'm old friends with. That is by far my favorite thing about all of these books. My family has always been super important to me so I have ALWAYS loved reading books/ series that feature characters that find family (whether they be blood or not) to be important. Maximoff in particular is a prime example of this. He would literally die to protect any one of his siblings, cousins, OR friends. Ugh it's almost hard to read about at times because not only does he have to deal with his own stress and shit but he basically is an empath and feels everyone else's pain and emotions whether he likes to or not. He is the definition of a precious (but also sexy AF) cinnamon roll that must be protected at all costs. He is too good for this world, really. I would love to have him in my family.
If he says you're "good people"—he'll surround himself around you, and you'll be glad. Because he's the kind of man who puts his whole soul into what he loves, and if he loves you, goddamn.
I think this is my favorite book in this series. We finally get to see Moffy and Farrow in a "regular" relationship without having to hide it in any way. They can be themselves and go on dates, even if they aren't always successful due to the ahole paparazzi. The reason I think I like this book the best is because the two come to terms (more on Moffy's end I guess) with the fact that they are in fact "it" for each other. Before Farrow, Moffy never considered that he might actually find someone that he could trust and then subsequently love enough to be with forever, marry, have kids, the whole deal. And being a person like Moffy who is just BRIMMING with pure love, I can see how that could have been so horrible. Loren and Lily may not be perfect as individuals or even as parents but you can bet that their love for each other and their kids was something that Moffy grew up seeing and wanting for himself. I just am SO FREAKING HAPPY that they will get their happy ending *sighhh*.
But he brings me this effortless joy, and I cling onto that for dear fucking life.
Another aspect of this book that I enjoyed was getting to learn more about Farrow. We got to learn more about his time as a resident, why he quit, and how he really felt about all of it. Part of me was initially annoyed about how things turned out in this book in regards to that stuff but I eventually got over it. Farrow came to terms with what he truly wanted and so I was able to, too. He managed to get everything he wanted and boy was I happy for him. Very satisfying "ending" to their trilogy (though the twins have said they would be interested in doing more—woo!).
And goddamn, we're both smiling.
I have to say I love getting to know each bodyguard even more, too. I am DYINGGGGGGGG for the book(s) featuring Jane and Thatcher. OMG those are going to be steamy AF I just know it. If you haven't looked at their Pinterest boards yet, I would recommend it. They constantly post things for each character and the posts for these two…*fans myself*. I also love that Thatcher's had a bunch of cats lol. Big, strong, serious man looking out for Janie's kitties. Wowwowwowwow. ♥ Overall I recommend, recommend, recommend. Read them all from the very beginning if you haven't already. They may not all be easy to read (especially Loren and Lily's books) but to me, it's so worth it.
Related Posts