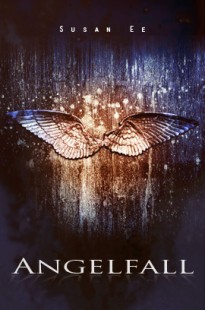 Angelfall (Penryn & the End of Days #1)
by Susan Ee
Purchase on: Amazon, iBooks, 
Book Depository
Add to: Goodreads


5+ THRILLING, INTENSE, ACTION PACKED, EXCITING, SWEET STARS!!
Angelfall was so much more then I expected, I was completely hooked from the first page. I found I had butterflies in my tummy from beginning to end. At times it was so intense, There wasn't a boring moment at all. It was fast paced but flowed really well, the writing just drew me in! I felt nothing was rushed and I just wanted more and more. I couldn't put this book down and I was excited all the time while reading this.
PENRYN was an amazing heroine. Right from the beginning I felt a connection towards her at not once did she annoy me YAY! I usually like having both the hero and heroines POV but with this I didn't miss the heros POV (even though I do love him) I loved being inside Penryn's head. I really liked how determined she was and always loyal to the ones she loved. She didn't want to like Raffe with him being an enemy but she couldn't help it and how could she not she is only human after all 😉 I loved that even when she was angry with him she still cared even though she didn't want to. She was feisty and could hold her own but had a heart of gold.
RAFFE oh boy this man will forever be in my dreams. He was literally mentally added to my BBF list at 15% into the story! His sarcastic ways and banter between him and Penryn was amazing. I loved how he came across arrogant but certain things he did or said or even the way he looked at Penryn you knew he cared and that made me swoon even more. He didn't talk much which I really liked it made him even more mysterious and made the times he did speak even more special. At the end my heart was breaking into tiny little pieces for this beautiful guy. Raffe was funny with a total dry sense of humour the things he would say to Penryn to try and help her forget for a while would either make me laugh or give me the biggest smile on my face.
I cant explain how much I loved the style of writing. It was smooth and I imagined everything so clearly. This book was so different to what I am normally used to… I always thought of angels to be good and watch over us. This story showed you another side, it made you imagine angels to be evil and your worst nightmares. The author turned it around from being a comfort knowing there could be angels to being terrified and I completely loved that.
The shocks, twist and turns was epic when ever I would think oh take a breather surely nothing else can happen then BAM something major happens and your heart rate is speeding up all over again. Towards the end so much was happening left right and centre I was literally saying NOOO out loud. I had so many emotions running through me at the same time scared, excited, nervous, sad, angry, happy I was getting whiplash!
I could go on and on about this book but I wont as I'm dying to dive straight into the second one now. I love Penryn and Raffe and I cant get enough. I cant believe I nearly skipped past this book its seriously too good not to read.. Thanks to certain GR friends for talking about this book over and over again and getting me so tempted to finally try it… This is the type of book I will still be talking about in years to come.
Related Posts