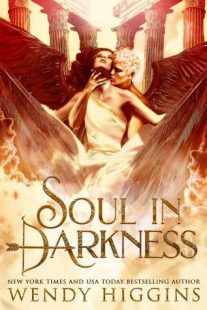 Soul in Darkness
by
Wendy Higgins
Purchase on:
Amazon
, 
iBooks
Add to:
Goodreads
Synopsis:

People travel from afar to the small isle in the Aegean Sea hoping for a single glimpse of Princess Psyche. Their adoration for the mortal woman is so all-consuming that citizens begin to shower her with the very gifts and offerings they once left at the alter of Venus, goddess of love and beauty.

But gods are known for their jealousy.

Cupid, the god of love, takes pleasure in causing strife and mischief in the lives of humans. He uses love as a weapon, humoring in the weakness of people at the whims of their feelings. When his mother Venus approaches him about punishing the human girl who dares to steal her offerings and affections from the people, Cupid gladly accepts.

Psyche's punishment is to be given to a mysterious creature who only comes to her in the dark of night under the pact that she will never lay eyes on him. She is terrified of this stranger, who the oracle described as a serpent. Her mate, however, is masterful in his dealings with his bride. He takes his time, morphing her fears into different sensations completely.

Based on the Roman/Greek mythology of Cupid and Psyche from Lucius Apuleius, New York Times bestseller Wendy Higgins brings the tale to life, weaving layers that show exactly how a sacrificial lamb can be enchanted by an unseen monster.
Review:
Soul in Darkness was enchanting, seductive and smile inducing.  This story was everything I love about Wendy Higgins.  It had the most delicious sexual tension, characters that I quickly loved and a story that made me fly through this book way too fast.  If you're a fan of Greek mythology, retellings, or Wendy Higgins then definitely pick this one up. I absolutely loved this story and can't recommend it enough!  
"Bright soul, why must you make this difficult?"
In his nearness, I felt his words on my cheek. A scream immobilized in my throat as I was suddenly overcome by the surprising scent of rain and honeysuckle. That was not what a monster should smell like.
If you aren't familiar with the mythology surrounding Cupid and Psyche, their story is an exhilarating ride.  Princess Psyche was said to be so beautiful that the villagers brought her gifts, instead of the Gods.  With Venus angered, she asked her son, Cupid, to punish Psyche.  Psyche's punishment ended up being married to a creature that was described as a dark-deeded winged serpent.  Oh how I loved Wendy Higgins' approach to this classic tale.  What unfolded was a story woven with betrayal, love, twists, friendship, trust and sacrifice that completely enraptured me .
"Sometimes," he said, "we fear that which we should embrace because we do not know better."
I swallowed, shaking my head, closing my eyes.
"When I touch you," he breathed, "your fear disappears. You enjoy my touch."
"No, I don't," I blurted.
"Your lies are useless."
Psyche was filled with such loneliness, beauty was truly her curse.  She had no friends, she was terrified to make her sisters jealous and men saw her for nothing more than her beauty.  My heart hurt for her. Especially when she showed us time and again what a kind heart she had.  So when her fate of marrying a monster was laid out to her, her bravery was remarkable.  Psyche proved herself in that moment that she was born to be a queen.  She was spirited, determined, smart and I absolutely loved her!
"Trust yourself, Psyche. Trust your soul."
Upon arriving on her husband's land, Psyche discovered there were rules.  She wasn't able to see her husband, yet he could touch her.  And while she had free reign of his lands during the day, she had to spend her nights with him.  Psyche's fears leaped off of the pages.  Her thoughts were consuming and I truly understood her horror of being a prisoner, married to a monster.  Yet her husband wasn't anything like she expected.
"I cannot say all the things I wish to say." His voice was deeper and huskier than ever, sending a ripple through me. "But if you listen, Psyche, listen to my touch…perhaps you will hear."
Psyche's husband showed her kindness.  He was compassionate, heartfelt, listened and tried to make her happy.  Yet creatures, especially those shrouded in mystery, can be deceiving.  So Psyche was waiting for the moment that he would cause her physical and mental anguish.  Now here's the thing. I don't care what others think, but I absolutely loved her husband.  While it seemed like he could give her the world, I only wanted what Psyche desperately needed the most.  To be able to see him.
All I knew for a fact was that if he was an enemy, he was the most dangerous enemy possible, because when I was with him, my heart, my body, and my soul wanted him.
I loved how Psyche's husband made me laugh, he had such a funny way with words.  And it warmed my heart that he called her bright soul. His words could be mesmerizing.  But what I loved the most, was when he touched her.  Soul in Darkness was extremely seductive, sensual and the tension between them was electrifying.  Even with fear looming in the back of Psyche's mind, she couldn't deny that her husband made her body come alive.
When I got to his earlobe, my teeth grazed the skin there as I took it into my mouth and dragged my lips away. He whispered my name and shuddered. Everything in me felt animalistic and proud that such a small gesture could bring about a reaction from an immortal.
While I guessed some of the secrets in this book, I still found my heart beating hard in my chest.  I could taste Psyche's terror and I was even filled with dread over her fate.  As the story unfolded, it took turns I wasn't prepared for.  I cried my heart out and I was ecstatic when I reached the end of the book and found an epilogue.  It left the hugest smile on my face.  So yes, I definitely recommend Soul in Darkness, this story was completely enchanting.
*I voluntarily read and reviewed an advanced copy of this book, provided by the author. All thoughts and opinions are my own.*
Related Posts