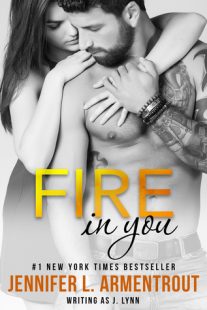 Fire in You
(
Wait for You #6
)
by
J. Lynn, Jennifer L. Armentrout
Purchase on:
Amazon
, 
iBooks
Add to:
Goodreads
Synopsis:

From the # 1 New York Times and International bestselling author, Jennifer L. Armentrout writing as J. Lynn, comes a richly moving story about heartbreak and guilt, second chances and hope. Full of familiar, fan-favorite characters and no two people more deserving of a happy ending, Fire In You will burn bright beyond the last page…

Jillian Lima's whole world was destroyed in a span of a few hours. The same night her childhood love, Brock 'the Beast' Mitchell, broke her heart, her life was irrevocably altered by the hand of a stranger with a gun. It takes six years to slowly glue together the shattered pieces of her life, but Jillian is finally ready to stop existing in a past full of pain and regret. She takes a job at her father's martial arts Academy and she's going out on her first date since a failed relationship that was more yuck than yum. Jillian is determined to start living.

She just never expected Brock to be a part of her life again. But he's firmly back in her life before she knows it, and not only is he older, he's impossibly more handsome, more teasing and more everything. And when he sees Jillian, he's no longer capable of thinking of her as the little girl who was his shadow growing up or the daughter of the man who gave him a second chance at life. He sees the woman who'd always been there for him, the one person who believed in him no matter what.

Brock knows she's the one he should've made his, and what begins as a tentative friendship quickly turns to red-hot chemistry that sparks a flame that burns brighter than lust. Falling for Brock again risks more than her heart, because when the past sorrow-filled and guilt-ridden past resurfaces, and a web of lies threatens to rip them apart, the fallout could lay waste to everything they've fought to build together, and destroy the dreams of those they care most about.
Review:
Fire In You was the perfect conclusion to the Wait For You Series!  Watching Jillian and Brock's story unfold reminded me yet again why Jennifer Armentrout is my favorite author.  You see she writes these characters that embed themselves deeply into my heart.  I feel every single emotion they take on, and I become completely invested into their lives.  And Brock and Jillian did just that.  The chemistry between them was insanely seductive and their story continually pulled at my heartstrings.  You must meet them!
I gave my heart so completely, so fully to someone else, that when my heart was broken, those pieces I'd freely given away weren't mine any longer.
My heart wasn't complete.
Jillian Lima has known Brock 'the Beast' Mitchell since she was eight years old.  Her father took in a fourteen year old Brock and helped him straighten out his life.  They became the best of friends, and Jillian was always Brock's little shadow.  She adored and loved him with her whole heart, until the night he shattered it and then her life was ripped apart by a gunman.  We start the story six years after that horrific night, and Jillian is finally ready to start living her life again.  She accepts a job at her father's company, and even agrees to go out on a double date with Cam and Avery.  BTW you get to see ALL of the people from the previous books, and yes it was beyond amazing seeing where they all were in their lives!  But Jillian isn't prepared for Brock to come back into her life.  He isn't part of her plan for living again, and she truly isn't ready to face him or her past.
He pushed off the wall, wrapping a large hand around my arm, stopping me. "We haven't seen each other in years and you're just going to walk away? No hug? No 'how have you been?' Nothing?"
"Sounds about right." I pulled on my arm, and after a few seconds he let go.
From the moment Brock walked back into Jillian's life and crowded her in that hall, I was a goner.  Brock makes you want to fan your face, laugh and melt into a puddle while you have a goofy grin on your face.  Okay maybe that's just me, but he's seductive, charming and I desperately wanted him on every single page of this book.  With his take charge attitude and an alpha personality he knows exactly how to push Jillian outside of her comfort zone.  Especially when he would say the right things, or touch her oh so perfectly.  Her traitorous body loved it, while her mind fought it.  Yet Jillian isn't the quiet little girl he once knew .  She stands up for herself at times, and it impressed not only me but Brock too.
"I don't know you anymore," he said quietly, and when I didn't respond— couldn't because the statement caught me off-guard, he tipped his head back. "I know the old Jillian. Could sit here all day and tell you about her, but this Jillian? I don't know her." A wry grin appeared. "But I want to."
Yet Jillian still feels hindered.  She has nightmares and she's self-conscious about the way surgery changed her features because of that night six years ago.  I felt not only her frustration but her nervousness and at times her fear.  I just wanted to give her a huge hug and make her understand that she was enough.  To tell her to have faith in herself and see how wonderful she was.  But as the story progressed, I became so proud of how much she grew.  And for how much strength she found in herself.
"Please tell me I'm dreaming right now."
"If you were dreaming , I'd hope we'd both have less clothes on."
"What?" My jaw hit the top of the table. Was he flirting with me?
While I loved watching Jillian and Brock in the present….you have to read the restaurant scenes because I can't stop laughing every time I think about those times…, we also got to peak into moments from their past.  Whether it was a flashback to the night where everything went horrifically wrong or to a story from when they were much younger, we got to see their whole relationship.  We fully understood what they meant to each other.  It made perfect sense why the story proceeded in the way that it did.  Oh my gosh, I could go on and on because I loved every part of this story but I'll let you discover the rest for yourself!  Just know that I laughed, I cried and I fell madly in love with Fire In You!  Jillian and Brock completely captured my heart and I promise you'll fall hard for their story too.
*ARC kindly provided by Inkslinger in exchange for an honest review*
Interview:
✮What is something that we might not know about Jillian and Brock?
 Jillian has never seen Star Wars and Brock is afraid of snakes.
✮What type of scenes are your favorite to write and will we find one of those moments in the pages of Fire in You?
I love to write first kiss scenes and there is definitely a first kiss scene in Fire in You.
✮What's your favorite quality in either Jillian or Brock?
My favorite quality in Jillian is her ability to forgive.
✮While I'm not ready to say goodbye to this series, I must know, who was the hardest character to write in the Wait for You Series?
Calla was the hardest character for me to write because she was dealing with both physical and emotional scars. It was difficult to find the perfect balance for her character in Stay With Me.
✮I always love how the characters from the previous books appear in the current book. Who will you miss writing about the most?
I'll really miss writing all of the characters because they're all different.  I had a good time writing their characters and their stories.
Amazon | Barnes & Noble | iBooks
Pre-Order a digital or paperback copy of FIRE IN YOU by Jennifer L. Armentrout, writing as J.Lynn, AND fill out THIS FORM by December 3rd, and get an exclusive bonus scene-an Epilogue featuring POVs from all the major couples throughout the Wait For You World on December 5th!
FIRE IN YOU will be available in paperback and eBook November 28th, 2016!
Trailer:
Each book can be read as a standalone, but you can catch up on the rest of the series here –
Reading Order & Links:


Amazon

(click on covers),

iBooks (click on titles) & Book Depository

(click on book #)


***Each book can be read as a standalone, but best enjoyed in order.***

Wait for You #1
Reviews:
Chelsea

Trust in Me #1.5
*Cam's POV-Wait for You*
Reviews:
Jen

Be with Me #2
Reviews:
Jen

Stay with Me #3
Reviews:
Jen
Chelsea

Fall with Me #4
Reviews:
Jen

Dream of You #4.5


Reviews:


Jen

Forever with You #5


Reviews:


Jen

Fire in You #6
Reviews:
Jen

Follow the Tour:
November 21
The Book Bratz-Review
This Wacky Mama Reads!-Review & Excerpt
Booklovers For Life-Character Q & A-Jillian
November 22
The Reading Geek-Review
Words With Sarah-Review & Author Interview
November 23
Grown Up Book Reviews (MundieMoms)-Review
Krista's Dust Jacket-Review & Excerpt
Oh My Growing TBR-Review & Excerpt
November 24
A Bookish Escape-Review
Star-Crossed Book Blog-Review & Author Interview
November 25
Book Bitches Blog-Review & Excerpt
The Irish Banana Reviews-Review & Author Interview
November 26
Stuck In YA Books-Review & Top 5 List
Step Into Fiction-Review & Excerpt
November 27
Less Reality, More Books-Review & Character Q & A-Kristen
My YA NA Book Obsession-Review & Author Interview
November 28
RentasticReads-Review
Stuck in Books-Dual Reviews
Mrs. Leif's Two Fangs About It-Review
MEReadAlot-Review
November 29
Milky Way of Books-Review
Love Between the Sheets-Review & Character Q & A-Brock
Book Boyfriend Reviews-Review
November 30
The Cover Contessa-Review & Top 5 List
Deity Island-Review & Excerpt
All Romance Reviews-Review & Excerpt
December 1
Cocktails and Books-Review
Readers Live 1000 Lives-Review & Character Q & A-Avery & Cam
K-Books-Review
December 2
Tome Tender-Review & Excerpt
The Book Hookup-Review & Excerpt
December 3
Nose Stuck in a Book-Review & Excerpt
Kimberlyfaye Reads-Review & Top 5 List
Giveaway:

About Jennifer L. Armentrout:
  # 1 New York Times and # 1 International Bestselling author Jennifer lives in Martinsburg, West Virginia. All the rumors you've heard about her state aren't true. When she's not hard at work writing. She spends her time reading, watching really bad zombie movies, pretending to write, and hanging out with her husband and her Jack Russell Loki. Her dreams of becoming an author started in algebra class, where she spent most of her time writing short stories….which explains her dismal grades in math. Jennifer writes young adult paranormal, science fiction, fantasy, and contemporary romance. She is published with Spencer Hill Press, Entangled Teen and Brazen, Disney/Hyperion and Harlequin Teen. Her book Obsidian has been optioned for a major motion picture and her Covenant Series has been optioned for TV. Jennifer has won numerous awards, including the 2013 Reviewers Choice Award for Wait for You, the 2015 Editor's Pick for Fall With Me, and the 2014/2015 Moerser-Jugendbuch- Jury award for Obsidian. Her young adult romantic suspense novel DON'T LOOK BACK was a 2014 nominated Best in Young Adult Fiction by YALSA. She also writes Adult and New Adult contemporary and paranormal romance under the name J. Lynn. She is published by Entangled Brazen and HarperCollins.
Save
Save
Save
Save
Save
Save
Save
Related Posts
I am so ecstatic to be on this tour, because I fell deeply in love with Fire In You! It was the perfect conclusion to the Wait For You Series! My 5 Star Review is below along with an interview I got to do with Jennifer Armentrout, there's a beautiful trailer to watch for the book and you will definitely want to enter the amazing giveaway! Enjoy!