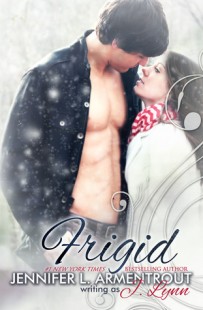 Frigid
(
Frigid #1
)
by
J. Lynn
Purchase on:
Amazon
, 
iBooks
, 
Book Depository
Add to:
Goodreads
I've loved you my entire life," he said, eyes locked on mine. "And I would love you for the rest of my life if you'd let me, Syd."
Anyone who takes the time to talk to me knows that I have been waiting anxiously for the release of this novel. It's no secret, I've been somewhat obnoxious in waiting for it's impending introduction to the book world. With me, this happens frequently; I highly anticipate an upcoming book, and then when I get it, it doesn't live up to my expectations. I don't think I ever doubted how much I would like Frigid, but I did find myself wondering if it would even come close to her other works and if there was even room in my heart for another favorite. Apparently I have no qualms about pushing other favorites aside to make room, because from chapter 1, this book stole a piece of my heart. I loved it, undoubtedly.
"I was Kyler's best friend.
And because of that, he would never love me the way I loved him."
Sydney and Kyler have been best friends since they were little and met on the playground. He pushed her down, and in turn, she made him eat a mudpie the next day. They were best friends from that day on. We get a sweet incite to their childhood lives in little snippets at the beginning, and while they weren't flashbacks per se, they were little memories put in place when either Kyler or Sydney had inner dialogue. I don't always love past tense situations in a current story, but in this case it helped build these characters into people we truly care about.
Sydney has always loved Kyler-even through all of the girls and partying. He is her best friend, and she his. They can truly be themselves around each other and would do anything for the other person. But Sydney secretly loves him, which makes it even harder when his parade of girls grows even larger. She continues to bite her tongue, and they continue to be each other's [though they don't know it] everything.
Sydney Bell had always been, and would always be, a few pedestals too high for me."
And then we have Kyler…ooooh, sweet Kyler. He too, has always had a thing for Sydney. Whenever a guy attempts to hit on Sydney, Kyler enters to be her savior and overprotective…friend? Forever parading around with tactless girls for senseless one night stands, he continues to hide his feelings for Syd, because he believes she will always deserve better than him.
"I thought about the time I'd climbed the tree to get into her bedroom. She'd been sick with mono and our parents had been keeping us apart for obvious reasons, but I'd been worried about her. Syd had always been small and I'd felt like I needed to take care of her.
I'd fallen out of the damn tree and nearly broken my leg."
"Even as sick as she'd been, when she saw me her smile lit up her face and her blue eyes sparkled and shit.
I'd always been a sucker for her eyes."
Finally, finally, they get snowed in while at a cabin in Snowshoe. They are forced to truly look at each other and see what the other person wants…to an extent. What would a romance novel be without a little misunderstanding, grovelling, and angst? Inevitably, Kyler and Sydney begin to scratch the surface of how much they mean to one another, and when they do, sparks fly. I can't even begin to explain what makes me tick, but when I read a love scene, this is a prime example of what grips me. A love scene doesn't have to be done perfectly, but you have to fall in love with the characters. If you truly connect with them, you're on an emotional roller coaster ride just like they are-you feel so deeply what they feel that you get swept into their personal moment like it's your own. Do you know how many times I have read a love scene and just been like…oh okay, movin' on. Not with Kyler and Syd- I felt it to my core. All because of the characters and the snowy, romantic world she built around them. I loved these two people so much, even more so together; I cared deeply what happened to them.
"You think I'm beautiful?" His gaze roamed over my face like he was committing every freckle to memory.
"I've always thought you were beautiful, Syd."
I don't know that I have ever been more content with a couple…this is a bold statement, because wasn't it inevitable that they get together? Yes, a little. But what got to me was how strong their roots were. Let me explain. They go back to ELEMENTARY SCHOOL. They know everything about each other. They like [love] each other no matter their flaws. They do everything together. When one has problems, the other considers it their problem as well. There are so many more instances, but the point is, I truly felt complete with these two. AND THAT TATTOO. GAH! It has the sweetest, deepest saying, and it made me love Kyler more than I already did. Overall a fun, light read…and well worth the wait.
*****
Oh…My Gosh. This book was just…SO adorable. JUST what I needed- a fun, light read with a friends-lovers romance. *review to come tomorrow* sigh. I just..can't. Kyler…welcome to Chelsea's Book BF club 😛
Related Posts