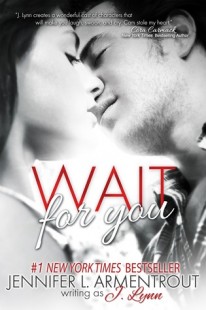 Wait for You
(
Wait for You #1
)
by
J. Lynn
Purchase on:
Amazon
, 
iBooks
Add to:
Goodreads
Jennifer has done it again-hooked me, line and sinker, to another of her compelling novels. I'm so glad she decided to do this "sekrit project", lol, because I don't know if I could have survived without her quirky writing style until the release of her 4th Lux novel or her other standalone coming this summer.
Let me start by saying that Cam…wow…there just aren't enough words to describe how sweet and attentive he is. From the beginning he emits an air of confidence with a mix of playfulness and sexual innuendos that will have you grinning like an idiot in public, or in the office in my case :/, and laughing out loud on numerous occasions.
What I love most, though, is that while Cam is sure of himself and pushes a very close friendship with Avery, he never once forces his hand when he starts getting feelings for her, thus ruining the friendship. That is a very refreshing and redeeming quality and I can't quite help but to love him even more for just that. He realizes something is off with Avery, but gives her the space she needs. And who wouldn't love a guy with a turtle named Raphael?? Adorable. A definite nostalgic reference that related to me. Nice.
Avery is another great character. She made me laugh with her quirky inner dialougue and hilarious references. However, she has some demons in her past she hasn't yet faced and this gets in the way of her possible relationship with Cam. OF COURSE this drove me mad the entire novel, but hey, complete and total intsa-love so isn't for me, so what would be the fun without some angst along the way?
These character traits and lifestyles are the reasons Jennifer is one of my favorite authors, and I say this because I know I can always pick up her latest story and count on her for a fun, passionate read. I would suggest this story to anyone, really any of her stories, and know that others would enjoy it too. Hopefully she has a few more "sekrit projects" or perhaps just secrets she isn't telling us, her loyal fans, so we can see some more of her work sooner rather than later.
Related Posts