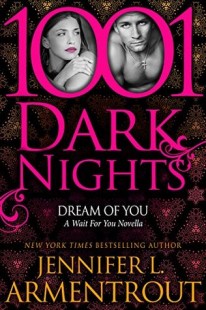 Dream of You
(
Wait for You #4.5
)
by
J. Lynn, Jennifer L. Armentrout
Purchase on:
Amazon
Add to:
Goodreads
Synopsis:

Abby Erickson isn't looking for a one-night stand, a relationship, or anything that involves any one-on-one time, but when she witnesses a shocking crime, she's thrust into the hands of the sexiest man she's ever seen - Colton Anders. His job is to protect her, but with every look, every touch, and every simmering kiss, she's in danger of not only losing her life but her heart also.
Review:
I was the kind of woman who got the guy in the books.
But not in real life.
Never in real life.
Dream of you was a playful book that I devoured way too quickly.  It had elements of intensity, sexiness and reality laced throughout the pages, which made for such an enjoyable read!  Abby and Colton were people that I easily became attached to and cared for deeply.  They were a wonderful addition to the Wait For You Series!  And while I may be wrong, this book felt as though it was the sexiest in the series!  And that's saying a lot, since it was only a little over 100 pages long.  Or maybe it was because there was so much crammed into such a short story.  But looking back over Dream of You, I love how the banter and sex scenes were written.  They were scorching hot from the beginning until the end!
Oh goodness, I had only ever read about men staring at women in a way that it felt like a physical touch before. I hadn't really believed it possible.
It was.
Abby is a character that you must meet!  She was a breath of fresh air and so many people will be able to find little pieces of themselves in her.  That's because not only does she fan-girl about books/authors that we've heard of, which was amazing, but she was self-conscious about her body.  She definitely didn't have the best self esteem in the world, and I have rarely seen that portrayed in books that I've read.  It was interesting listening to Abby's inner ramblings and negative comments about herself, because those are the things that so many of us do.  At times, she knew that she shouldn't be thinking those thoughts, but she couldn't stop them either.  But that's not Abby's only issue.  Four years ago her husband passed away, and in the meantime she has consumed her life with work which is editing books.  Fun!  But since her husband passed away, Abby hadn't been interested in a guy, let alone thought about wanting to get naked with one.  So when Colton stepped into her world, her insecurities flared to life.
Our gazes locked, and in an instant, a horrifying connection was formed. He saw me. I saw him.
I saw him shoot someone in the face.
And this man, this killer, knew that.
The way that Abby and Colton met was definitely not desirable.  She was a witness to a homicide, and Colton was one of the detectives at the police station that was to interview her.   The moment that he stepped into the room, I fell all over him.  Because Colton is another male, in a long line of guys that Jennifer Armentrout has created, that I am in love with!  He was protective, sexy, sweet, caring and did I say sexy?  I loved his brother Reece, in Fall With Me, and Colton was every bit as desirable!  There has to be something in their blood, because any words that would spill out of Colton's mouth made me want to throw myself at him.  Want to see proof?  Nicknames or terms of endearment can easily rub me the wrong way, I know, I know, I can be way too picky.  And I never thought that I would be a fan of honey, but when it came sailing out of Colton's mouth, it was perfection!
Closing my eyes, I exhaled softly. "You want to see me, but I'm not sure you really want to. I don't look like—"
"I know what you look like," he said, his voice low as his gaze met and held mine. "I have two eyes and I've been checking you out often. Enough that it would probably make you uncomfortable if you knew. I fucking adore what I see." He drew my hand to his groin, folding my palm over the rigid length. "I want what I see."
So even though this book flies by way too fast, it is a definite must read for fans of the Wait For You series!  The sparks between Abby and Colton, even during a basic conversation, were hot, hot, hot!  I loved it!  Oh, and I can't forget Abby's dirty thoughts.  The things that would pop into her head, my gosh, she had me giggling and covering my mouth while shaking my head no way.  I loved her!  So please do yourself a favor and pick up this book!  So much fun and sexiness is packed into such a quick story, and I loved every minute of it!
Reading Order & Links:


Amazon

(click on covers),

iBooks (click on titles) & Book Depository

(click on book #)


***Each book can be read as a standalone, but best enjoyed in order.***

Wait for You #1
Reviews:
Chelsea

Trust in Me #1.5
*Cam's POV-Wait for You*
Reviews:
Jen

Be with Me #2
Reviews:
Jen

Stay with Me #3
Reviews:
Jen
Chelsea

Fall with Me #4
Reviews:
Jen

Dream of You #4.5


Reviews:


Jen

Forever with You #5


Reviews:


Jen

Fire in You #6
Reviews:
Jen

Related Posts