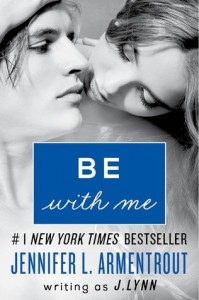 Be With Me
(
Wait For You #2
)
by
J. Lynn
Purchase on:
Amazon
, 
iBooks
Add to:
Goodreads
Synopsis:

Do Teresa and Jase have a real shot at getting together or will life get in the way?

Teresa Hamilton is having a rough year—she's in love with her big brother's best friend, but he hasn't spoken to her since they shared a truly amazing, mind-blowing, life-changing kiss. Then she got out of a terrible relationship. Now an injury is threatening to end her dance career for good. It's time for plan B: college. And maybe she'll have a chance to convince Jase that what they have together is real.

Jase Winstead has a huge secret that he's not telling anyone—especially not his best friend's incredibly beautiful sister. Even though he and Teresa shared the hottest kiss of his life, he knows that his responsibilities must take priority. He certainly doesn't have time for a relationship. But it doesn't help that all he can think about is kissing the one girl who could ruin everything for him.

As they're thrown together more and more, Jase and Teresa can't keep denying their feelings for each other. But a familiar danger looms and tragedy strikes. As the campus recovers, the star-crossed couple must decide what they're willing to risk to be together and what they're willing to lose if they're not. . . .
Review:
I love the way J. Lynn books make me feel! They are sweet, sensual and have just enough angst to drive me the right kind of crazy. The second installment had me nervous, because how in the world can anyone live up to Cam and his cookies and eggs?! But you know what? Jase did an exceptional job. He brought cupcakes to Tess, yes cupcakes. I'm a sucker for cupcakes, and each time that happened I kept falling for him more and more. Well, when he wasn't being his grumpy shut-down self, but more on that later! Be With Me was another exceptional book in the Wait For You series, and I loved each and every moment of Jase and Tess' story.
"I mean, do you believe that some things are just meant to happen?" He murmured as he dropped his head and his lips brushed my neck. Another strangled gasp parted my lips. "Like no matter what you do, what you tell yourself, things are just going to happen? Some things I don't think you can stop."
Being Tess, well, it's kind of complicated right now. After injuring her knee, she is stuck going to college where her brother Cam goes. It's only temporary, and while it's frustrating as hell, there is one benefit of having her dreams momentarily de-railed. Jase Winstead. Her brother's best friend. They kissed when she was 16 years old and heaven help her, but she hasn't ever been able to get him out of her head. She compares all other kisses to him, and sadly none have ever live up to that one blissful moment. Since then, Jase has been avoiding her. But with them going to the same school, there's no way he can keep running away. And she's right, because even during her first tour of the new town, she gets to drop by with her brother to see Jase. But she's about to learn that Jase can flip from hot to cold in the blink of an eye, and being around him will be one confusing ride.
He looked away, shaking his head. "You don't get it, Tess. I can't have you."
"But you do have me," I whispered, and then clamped my mouth shut. Did I just say that? Horrified, I could only stare as his eyes widened.
Oh my God, I did just say that out loud.
I loved Tess. Her inner thoughts were absolutely hilarious. She constantly had me cracking up and I loved the way she saw the world. She had a smart mouth, a huge heart and she knew what she wanted and wasn't going to compromise for anything less. Probably my favorite thing about her was her reactions to Jase's sexiness. His comments and actions had me grinning like a loon and her reactions were exactly how I would react, I loved it!
Jase – "Keep saying my name." His fingers bit into my skin, eliciting a hiss of pleasure from me. "And I'll never stop. I swear to you."
Jase was toe curling and smile inducing. Even when he was being the biggest jerk on the planet, I still couldn't get enough of him. Although his douche-bag jerkiness isn't excusable, that boy has a whole jeep load of baggage. It continually haunted him and while he was fighting his inner demons, he became the King of hot and cold to Tess! His sexy self would be intoxicating one instant and in the next he would be utterly intolerable. His whiplash feelings towards Tess drove me crazy. I just wanted to shake him and fix him. But when Jase was being good, oh wow, he was amazing. He was mind-blowing sweet and thoughtful. The cupcakes and all of the little things he did for her View Spoiler »finding something that made her feel like she was flying again, tucking her in, bringing her chicken noodle soup, picking her up from school « Hide Spoiler made my heart completely melt and fall for Jase hard.
Jase – "You know, I've tried staying away from you. I've tried ignoring how I feel about you, which isn't how I should feel. But it's like fighting a losing battle. And I don't want to fight it anymore. I don't want to ignore this."
I had so much fun watching Jase and Tess' story unfold. Having a smile on my face while I'm laughing, being giddy and nervous always means that I have fallen for a book. And I adored this book through and through.
Related Posts